Celebrities

There Is A Good Chance Ariana Grande's 'Imagine' Is About Mac Miller

934 votes
359 voters
28.4k views
6 items
List Rules Vote up the most compelling evidence "Imagine" is about Mac Miller.
The year 2018 was a whirlwind for Ariana Grande. The pop singer entered a highly publicized relationship with Saturday Night Live star Pete Davidson after her breakup with longtime beau Mac Miller. On September 7, 2018, Miller passed after an accidental overdose; shortly after, Grande ended her engagement to Davidson. Grande initially said she planned to take a break from the public eye post-Davidson, but then she delighted fans with a song about moving on, the infectious earworm "thank u, next."
Grande spoke candidly about how writing the song aided her healing process, saying, "I wrote it with my friends while we were just tipsy in the studio and I was going through a pretty rough period... Writing this album with them, with so many people I love, has really been a huge helping factor in my healing process and just feeling better."
While "thank u, next" thematically focuses on learning and growing from relationships, the second song she dropped (and presumably wrote with her aforementioned friends), "Imagine," examines a different aspect of the grieving process. What does Ariana Grande's song mean? After it dropped at midnight on December 13, 2018, fans started speculating - who is Ariana's "Imagine" about?
The recording sounds like an overview of relationships gone sour and imagining how they could have gone differently. But Grande previously alluded to a Miller-specific track being on her next album. So, is Ariana Grande's song about Mac Miller? After listening to "Imagine," there's compelling evidence it is.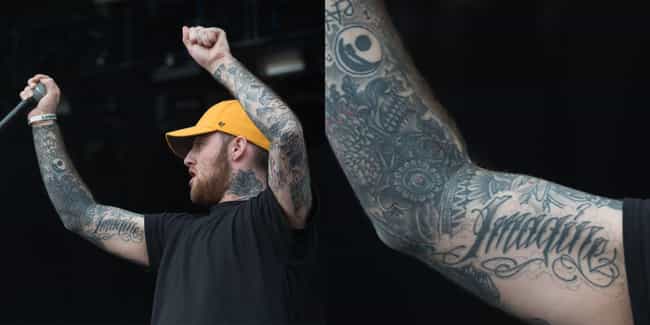 Miller Sported A Large Tattoo Of The Word 'Imagine'
While the lyrics of Grande's song properly fit the track's title, some believe Grande's choice to call it "Imagine" was an overt node to one of Miller's tattoos. Miller had a large script tattoo of the word "Imagine" on his right bicep.

Are you convinced?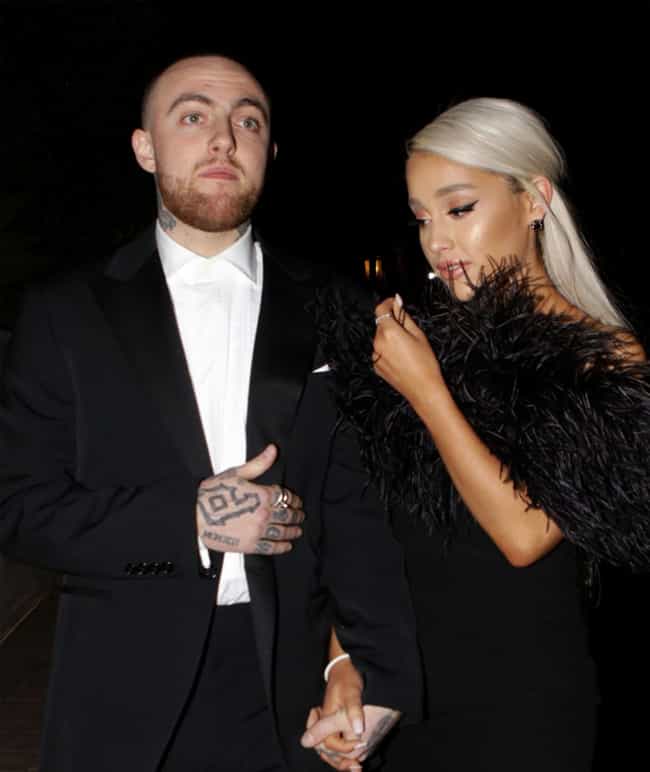 Some Of The Lines Mirror Miller's 'Cinderella'
Miller's 2016 album, Divine Feminine, featured not only a song with Grande, but a song about her as well. Grande was very open about the track "Cinderella" detailing her relationship with Miller. Most of the song dwells on Grande and Miller's more intimate moments, both in and out of the bedroom.
At one point, Miller raps, "And when you hungry I can shut you up with stir fry." In Grande's track "Imagine," she sings, "Staying up all night, order me pad Thai." Miller also raps, "You used to tell me all the time I ain't your type," and Grande seems to corroborate this in "Imagine," singing, "Feels like forever, baby, I never thought that it would be you."
Another important moment happens in "Cinderella" when Miller says, "You in my dreams, that's why I sleep all the time." After Grande's pad Thai lyric, she sings, "Then we gon' sleep 'til noon." Two months after Miller's passing, Grande tweeted his lyrics about her - presumably as she headed back into the studio.
Fans quickly pointed out the similar lyrics, further cementing the theory that "Imagine" is about Miller.

Are you convinced?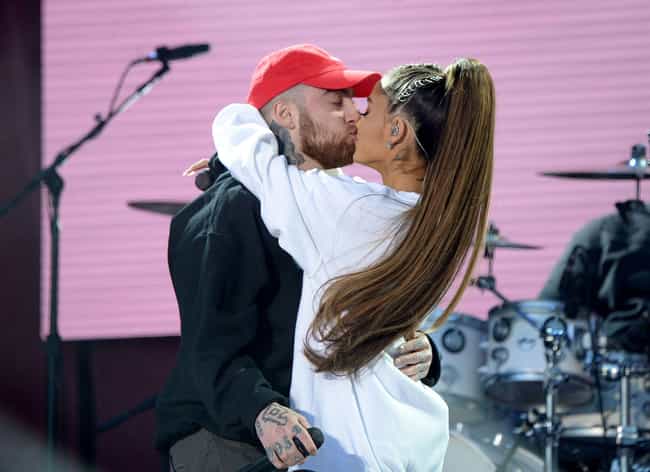 She Said It's About An 'Unattainable Love'
Grande hid references to her upcoming album in her video for "Breathin," where fans first spotted the title "Imagine." When fans asked Grande what "Imagine" is about, she said, "A simple, beautiful love that is now (and forever) unattainable."
This feels like a direct confirmation of whom "Imagine" refers to in its lyrics. In theory, Grande would be able to get back with any of her other exes if she wanted to, but with Miller, that remains impossible.

Are you convinced?
She Said The Song Is About 'Pretending It Never Ended'
Grande is very active on social media, and as she teased the second single, fans started to debate what the song would be about. One fan thought it would be "like a darker version of 'thank u, next,' possibly explaining about what it's like after a breakup and how to get through it."
The pop singer responded, saying the song is about "pretending like it never ended. Denial."
This could be interpreted in a multitude of ways. Grande could be refusing to accept the reality of a relationship ending, or she could still be unable to accept the fact someone is permanently out of her life, like Miller.

Are you convinced?