Culture
Insanely Detailed Nerd Gifts Dads Made For Their Kids

Updated December 21, 2017
104 votes
29 voters
1k views
11 items
List Rules Vote up the Dad gifts that make your nerd heart swell.
As most parents know, there are few greater joys in the world than the look on your kid's face when you surprise them with something they never expected to receive. It doesn't come as much of a shock to learn that there are some DIY dads out there with particularly nerdy interests who have taken those surprises to a whole new level.
The internet has provided us with stories of some truly amazing and geeky gifts that dads have given their children over the years, most of which are awe-inspiring to adults as well. By using a little creativity, some crafty building, and a wealth of nerdy knowledge, these fathers have given their kids gifts they'll never forget.
In honor of all the nerdy dads out there, here are some of the best geeky presents that fathers have built for their children.
1
The Greatest Star Wars Playhouse Of All Time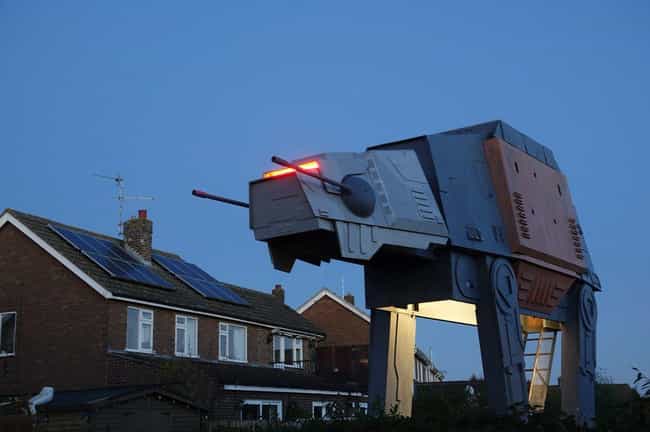 Colin Furze, a well-known inventor on YouTube, really topped himself with this one. Known for building true-to-life versions of classic movie and comic book gadgets, Furze partnered with eBay last year to create this Star Wars-themed playhouse shaped like a full-sized AT-ACT. Equipped with a ladder that leads to the interior of the AT-ACT's body, the playhouse is filled with nerf guns, action figures, and stormtrooper helmets.
2
An Amazing Father And Son Halloween Costume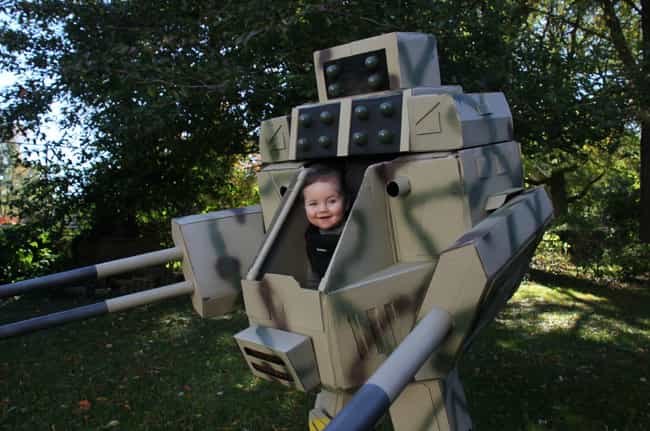 What better way to give your toddler the best first Halloween imaginable than with an incredible father-son costume?
One nerdy dad made this MechWarrior suit that incorporated both him and his young son into a Halloween costume. This dad went above and beyond to create an ensemble that keeps him concealed under a PVC pipe and cardboard frame. One of the best parts about this costume is that his son appears to be in control of the machine.
3
This Dad Built His Kids A NASA Simulator
Jeff Highsmith's sons may be too young to visit space anytime soon, but that doesn't mean he can't try to replicate the experience for them in his own unique way.
Highsmith constructed this NASA simulator in his sons' bedroom. With LED lights, a control panel, and even an iPhone mount, the simulator is a pretty impressive replica of the interior of a spaceship. And just in case that wasn't enough, Highsmith installed a bass shaker in the bottom of the simulator, so his sons can feel like they're really part of a rocket launch.
4
Nothing Better Than A Rollercoaster In Your Backyard
If this nerdy dad gift doesn't put a smile on your face, we don't know what will.
After taking his three-year-old son Wyatt to Disneyland for the first time, Scott Brazelton was absolutely charmed by how much his son enjoyed riding the park's roller coasters, even at such a young age. Naturally, his dad set out to replicate that experience by building Wyatt his own personal backyard coaster.