READ
Who Is Awkwafina, The Rapper And Actress Appearing In 2018's Biggest Films?

From Oceans 8 to Crazy Rich Asians, 2018 could be termed the Year of Awkwafina. But just who is Awkwafina, the triple threat actress/comedian/rapper? She seemingly burst onto the "new favorite celebs" scene from out of nowhere, but, as these Awkwafina fun facts prove, she's actually been performing for years. In fact, she's amassed quite an impressive resume built from a number of diverse creative endeavors.
Born Nora Lum on June 2, 1989, New York City native Awkwafina is the daughter of a Chinese American father and a South Korean mother. She grew up playing both classical and jazz music, and by the time she was 13, she was rapping. She focused on journalism and women's studies at The University at Albany, and went on to intern at the Times Union and Gotham Gazette. Then, in 2012, she released the video that made her a viral comic sensation.
Awkwafina is one of the best things that are things in 2018; we can only aspire to get on her level.
back to page 1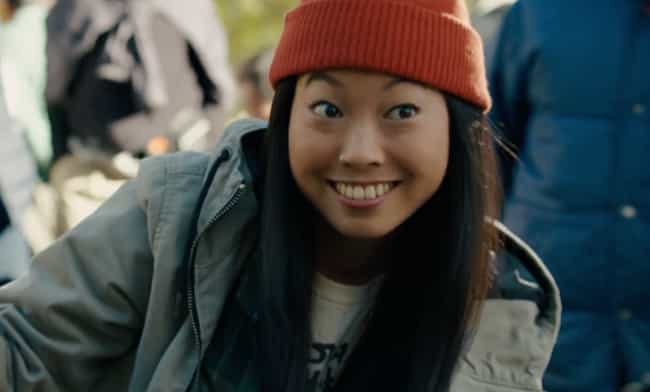 She Went To The Same High School As Nicki Minaj And Timothée Chalamet
Awkwafina went to LaGuardia High School, the same performing arts school attended by Nicki Minaj, Timothée Chalamet, and a slew of other future superstars. Growing up, music was both entertainment and creative outlet for Awkwafina, and she started creating her own tunes using GarageBand and Ableton.
She Can Produce Beats And Play The Trumpet
My school band played livin la vida loca on parent teacher night and I was feelin it so hard I overpowered everyone in the band so my teacher told me to be considerate of the woodwinds and I said man fuck the woodwinds let me shine pic.twitter.com/2J1vDVaJ8k

— AWKWAFINA (@awkwafina) March 14, 2018
As is evident in her viral hit, Awkwafina knows how to drop some sick beats. But she started out playing the trumpet, an instrument she learned entirely on her own. It was the same determination to master the trumpet that eventually inspired her to learn to produce beats.
"I started the trumpet rigorously, and I produced beats with the same fervor," she said. "Like, I'm a beast when it comes to producing beats... I have insane work ethic when it comes to that."
She Hosted A YouTube Show In Which She Traveled Around NYC And Interviewed Celebrities
After her viral success, Awkwafina was approached by various media companies, including Astronauts Wanted, who wanted her to create a talk show. Originally, she pitched a show that would have her chatting with sex workers and homeless people. The production company didn't bite.
Instead, they teamed up with Verizon's go90 to create the web series Tawk, in which Awkwafina interviewed various celebrities, mainly from the worlds of comedy and the internet, in between rap and comedy bits. The interviews typically took place in unexpected everyday locations like diners and laundromats, from Brooklyn to the Bronx. Guests included Pete Davidson, Hasan Minhaj, and Orange Is the New Black's Laura Gomez and Abigail Savage. In typical Awkwafina fashion, she held nothing back, asking the most hilarious and provocative questions. Jezebel called her "America's Future Favorite Talk Show Host."
"This is how Hollywood can negotiate that tension with people whose voices aren't put out there," Awkwafina said. "It's something that is completely raw, it's completely organic, it's not contrived."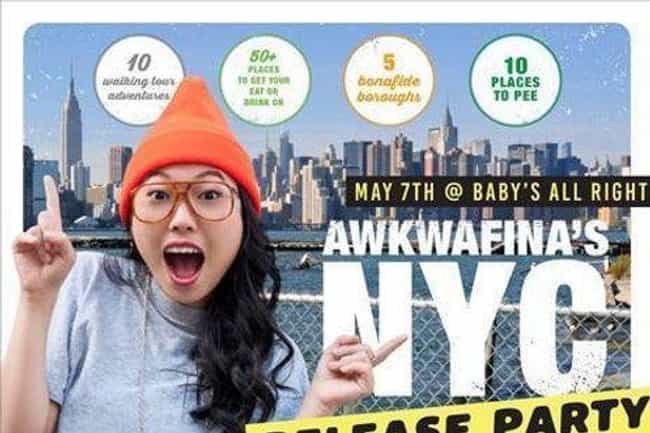 She's A Published Travel Writer
Awkwafina: rapper, actress, travel writer? Yes, it's true. In 2015, her book Awkwafina's NYC was published by Penguin Random House. Like its author, the travel guide is witty and fun and takes you to unexpected places in unexpected ways.
Take Staten Island, for example, which she calls the "glorious butt-end of many bad and overused native New Yorker jokes." Historical information and recommended tours and destinations are interspersed with humor and lighthearted banter.