Entertainment
The Most Epic Meltdowns in The Bachelor History

1.2k votes
338 voters
24.5k views
15 items
There couldn't possibly be any clips of girls crying on The Bachelor, right? LOL, you're funny. That's at least 90% of the show! If you don't want to wade through years worth of emotionally unbalanced women searching for the best Bachelor meltdowns ever caught by reality TV cameras, fear not. They're all right here.
Here you'll find everything from crazy to sad to funny clips from The Bachelor, brought to you by women who's hormones have managed to drive them even bat shit crazier than you on your worst day. You'll see people freaking out on The Bachelor over everything from being eliminated to being picked, only to discover that reality can look a lot different than life in front of the camera.
The next time you're feeling a little down, just watch these clips from ABC's wonderful dating show,
The Bachelor
. No matter what life throws at you, there's pretty much guaranteed to be one among these
The Bachelor
meltdowns that'll have you thanking God that no matter what's going on in your life, at least it's not unfolding in front of millions of viewers.
Trish Strikes Back... Even After Being Booted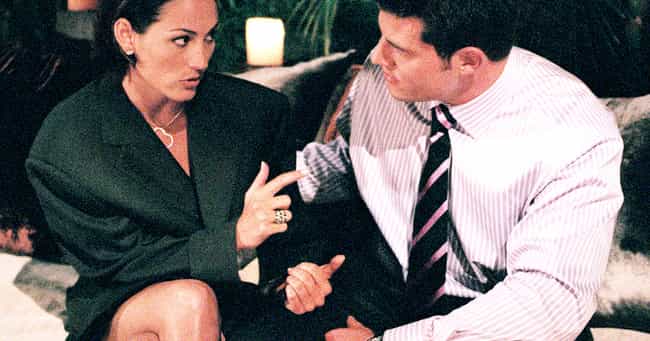 Few meltdowns have gone down in infamy quite like the stalker like antics of season 5's Trish. Even after being eliminated, Trish proceeded to check into the same hotel as Bachelor Jesse Palmer and the three final contestants, crash his overnight date with another woman, and tell him he'd made a tragic mistake in letting her go.

Is this breakdown epic?
Kelsey's On-Camera Panic Attack
Known as "the Black Widow" among viewers, Kelsey first started raising crazy flags by super openly plotting just the right moment to drop the fact that she was a widow on season 19's Bachelor, Chris. Her subsequent conveniently-timed panic attack, which many suspect was fake, may have taken the crazy cake.
Is this breakdown epic?
Victoria's Drunken Bathroom Stall Meltdown
Viewers who tuned in for season 18 didn't have long to wait before the crazy train began initial boarding in just the second episode. Things were going fairly smoothly until Victoria got a little too cozy with a Champagne bottle and had one of the drunkest on-camera meltdowns in the history of both alcohol and network television dating shows.
Is this breakdown epic?
When Tierra LiCausi Couldn't Even with Her Rogue Eyebrow
During one of the most iconic meltdowns in

The Bachelor

history, season 17's

Tierra LiCausi came up with one of the best scapegoats of all time: her own eyebrow. Unable to understand how the other girls couldn't grasp her lack of control over the rogue brow, she remained steadfast in refusing to let them take away her "sparkle."
Is this breakdown epic?