Reality TV Stars
13 Times Bachelors Or Bachelorettes Regretted Their First Impression Rose

Updated June 5, 2018
15.8k views
13 items
Whether you're a devoted member of #BachelorNation or not, chances are you know exactly what the "first impression rose" is. Here's a quick refresher: The Bachelor first impression roses are the first roses that the Bachelor or Bachelorette hand out every season. Scoring a first impression rose means that the Bachelor/ette sees more potential with you than any other contestant, and wants to get to know you better. Of course, on reality TV, the honor of being selected for a first rose is bound to have some drama attached to it.
In fact, the majority of first impression roses end up going to the season's eventual "villains." For example, Sean gave his first impression rose to Tierra, who drove the other women in the house crazy over the course of the show; Emily gave her first impression rose to Doug, who turned out to have a criminal history of theft and assault.
The most regret-filled Bachelor and Bachelorette first impression roses fill out the canon of Bachelor lore right alongside juicy behind-the-scenes stories and some of the show's most cliché lines. Between the drama of matchmaking and the magic of finding true love, it's not wonder the show garners such a dedicated fan base.
Becca Gave The Rose To Garrett, Who Liked Offensive Content On Instagram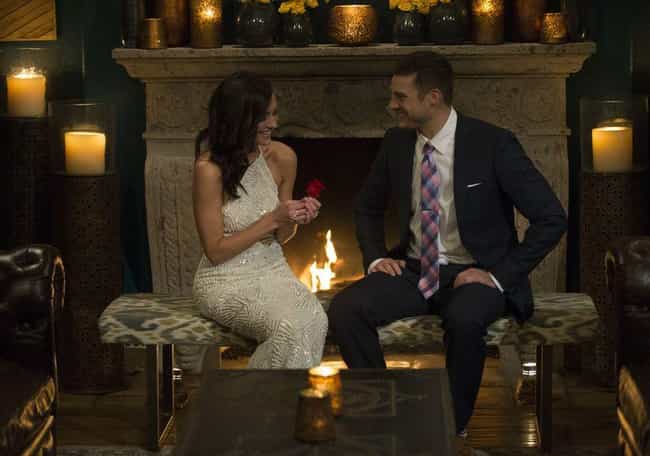 On Bachelorette Becca Kufrin's season, she kicked things off by giving the first impression rose to Garrett Yrigoyen — a seemingly sweet guy who "loves fly fishing, hiking and snowshoeing." After the episode aired, however, the news broke that Garrett had liked some seriously offensive content via his Instagram account, including transphobic memes and posts making fun of the Parkland shooting survivors. Yeah, probably not first impression rose material.
He later apologized, saying, "I have learned an extremely valuable lesson and am taking steps to grow, become more educated, and be a better version of myself." As for Becca, she added, "Everyone is entitled to their own opinions... It's difficult for people to say certain things about any of these guys, and so I would really just hope that they watch the entire journey and get to know them for who they really are."
Arie Gave The Rose To Chelsea, Who Became A Villain For A While
On the first episode of Arie Luyendyk Jr.'s season of The Bachelor, contestant Chelsea Roy pulled a move that left him wanting more, but left her fellow contestants seething with rage. Arie had more than 25 women vying for his attention that night, and most of them tried to be respectful of each other's time. Most, that is, except Chelsea. The woman touting "Mama don't play" pulled Arie away from conversations with other women not once but twice, cementing her status as the season's cutthroat villain (at least for that episode).
Instead of considering this attitude aggressive, Arie found Chelsea attractive and rewarded her tenacity with the coveted first impression rose. His attraction was apparently limited to that initial influence, though, as he ended up sending her home soon thereafter.
Juan Pablo Gave The Rose To Sharleen, Who Talked About How Dumb He Was Behind His Back
Possibly the most controversial Bachelor in the show's history, Juan Pablo Galavis Guinand seemed to get everything wrong from the start. After meeting more than 20 potential wives, the former pro soccer player singled out Sharleen Joynt for the first impression rose. Sharleen, a fan favorite, was an obvious choice: beautiful, educated, well-spoken, and an opera singer. Her one flaw? Hating on Juan Pablo — and his intelligence level — behind his back all the time.
In interviews, Sharleen made it known that even though she found Juan Pablo attractive, she didn't find him intellectually stimulating in the least ("he misunderstood me so we would just start making out"). Eventually, she left the show — and Juan Pablo — in pursuit of someone smarter.
Jillian Gave The Rose To David, Who Got Drunk And Aggressive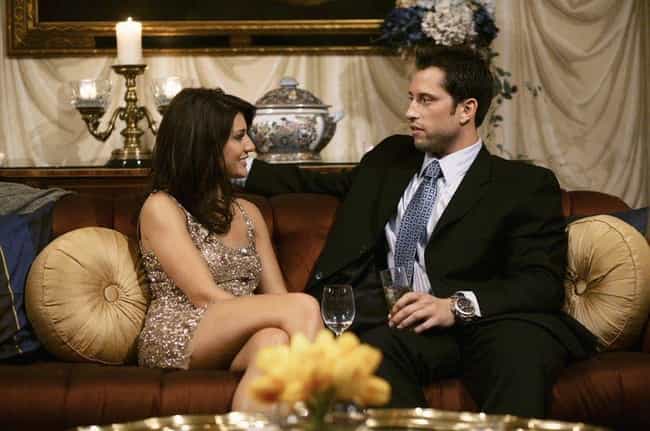 When Jillian Harris gave her first impression rose to David Good, she thought she may have found The One. Over the following weeks, however, David proved to be anything but good for her. The cameras caught his heavy drinking habit, which caused him to lash out and get aggressive towards his fellow contestants, at one point even admitting, "We had been in the house together for almost a month and it came to a head. I said, 'I want to kill Juan,' but that doesn't mean I want to kill Juan."
Eventually, there was a point at which David went in for a kiss and Jillian turned her head away, indicating to #BachelorNation at large she'd had enough of David's antics.