Scandals
The Biggest Scandals In Bachelor And Bachelorette History

Updated August 14, 2019
62.9k views
16 items
The Bachelorette and The Bachelor are presented as light, escapist entertainment. The ridiculous group dates are hilarious. But that glossy veneer often hides behind-the-scenes controversies and uncomfortable revelations. Sure, some of the wild scandals from The Bachelorette and The Bachelor are filmed for our viewing pleasure, but oftentimes, the real drama goes down when the cameras aren't rolling. Consider contestant Rozlyn Papa, who had an affair with a producer, or the case of Lincoln Adim, who was convicted of battery while his season was still airing.
With the rise of social media, Bachelor scandals have multiplied at alarming rates. The contestants' Instagram and Twitter feeds are on display for the world to analyze, and fans of the show are proving to be modern-day sleuths, uncovering scandal after scandal with a little help from social networks and Google searches.
In fact, Becca's 2018 season of The Bachelorette faced some serious scandals thanks to an unexpected source: former Bachelor hopeful Ashley Spivey. As a moderator on a Bachelor-themed Reddit thread, Spivey was privy to some inside information about contestants Garrett Yrigoyen and Lincoln Adim, and she wasted no time revealing their questionable actions to the public.
Hannah's Season: Jed Had A Girlfriend The Entire Time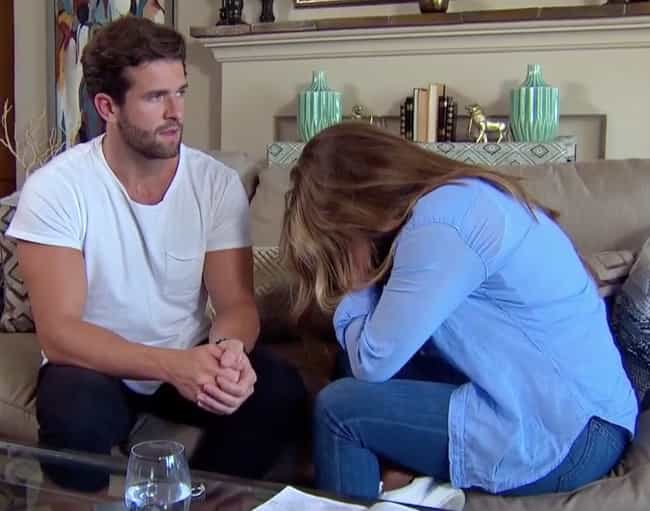 On the final episode of Bachelorette Hannah Brown's season, she confirmed she had broken off the engagement with Jed Wyatt because he had been dating ex Haley Stevens the entire time. He reportedly told Stevens that Brown meant nothing and being on the show was just a scheme to further his music career. However, when Brown found out (thanks to a cover story in People), he claimed he had never really dated Stevens, despite admitting they had met each other's families, gone on multiple vacations together, and said "I love you" more than once.
Brown handed back the ring, leaving her once again single at the end of the season. However, she did ask runner-up Tyler Cameron out on a date in the reunion live show on the finale.
'Bachelor In Paradise' Season 5: Jenna Was Accused Of Having An Affair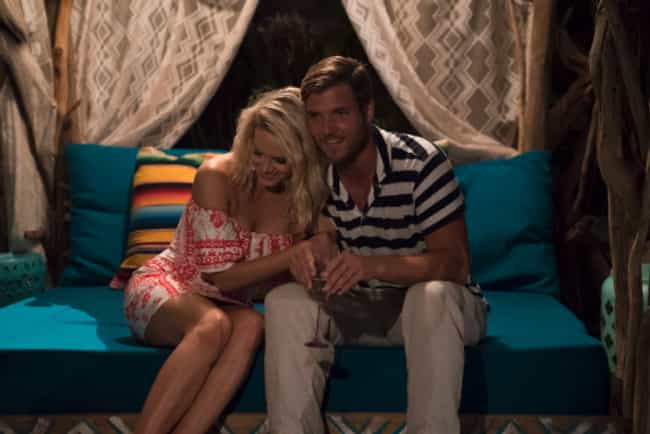 As Jordan Kimball and his fiancée, Jenna Cooper, were in the beginning phases of planning their wedding in September 2018, a story broke on blog Reality Steve alleging that Cooper was in a relationship with another man. The blog post featured screenshots of text conversations between Cooper and the supposed other man, whose identity was not disclosed.
Cooper denied the allegations in People, saying, "I am aware of the allegations being made against me and they are simply untrue. I am choosing to focus on my relationship right now. Thank you for respecting my privacy at this time."
According to People, Kimball was completely caught off guard. "It felt like a body drop," he told the magazine. He spoke candidly of his hesitation to believe Cooper's denial:
I know my Jenna, and I read those texts and in my heart, I know it's her... she was saying she didn't do it, but hinting towards the fact that there's a possibility it happened. In all reality, I don't expect her to own it... I would never have expected this. I feel sick about it. I just don't understand why someone would say that they're better than me and have ill intentions. If this whole thing sticks, and it's true, I will be hurt much more than the depths of romance. I will be hurt as a person and as a friend. There are so many layers to a relationship and right now I feel all of them peeling back.
Kimball is apparently still on the fence as to whether or not he and Cooper are still an item. "I don't even know what piece to pick up or how to put it back," he said.
Becca's Season: Leo Was Accused Of Harassment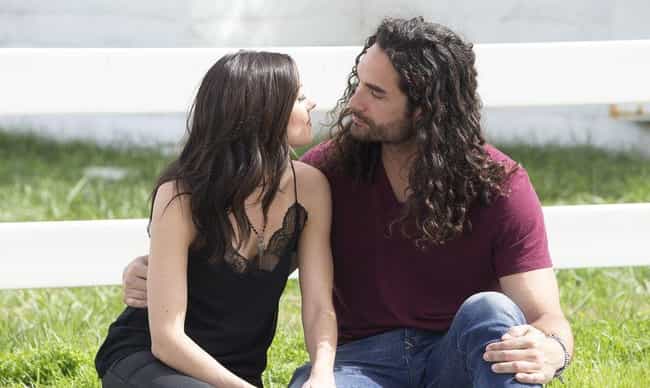 On August 2, 2018, Bekah Martinez (Arie's season) accused Bachelorette contestant Leandro "Leo" Dottavio (Becca's season) of sexual harassment. Martinez posted screenshots on her Instagram story from women who had DM'd her details about Dottavio's alleged behavior. The direct messages from the accusers included everything from unsolicited photos and messages saying, "you need my big d*ck."
Martinez has never met Dottavio in real life. She told the New York Post that she didn't feel bad posting the accusations.
"It's not a coincidence that multiple women would be saying similar things about the same person. There's no way these women happen to be lying about the same thing before seeing what other women are saying," Martinez said.
The day after the allegations, Dottavio denied the claims with an Instagram story. "I want to start by saying no one has ever accused me of sexual harassment. No one has ever come to me in any way and told me I made them feel uncomfortable." He then admitted he is "not a perfect person nor have I ever claimed to be."
Becca's Season: Lincoln Was Convicted Of Indecent Assault And Battery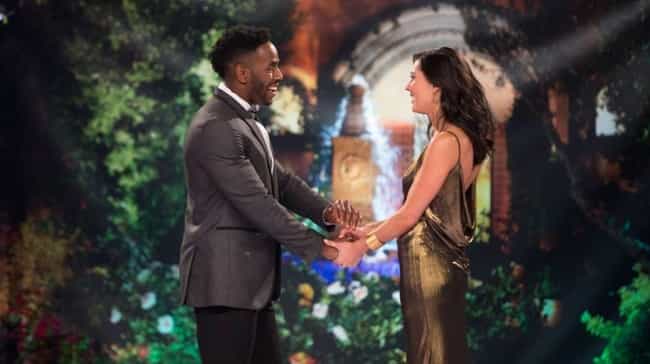 In 2016, Lincoln Adim was accused of indecent assault and battery when he accosted and groped a woman on a cruise ship. Fast forward to 2018, when he appeared as a contestant on The Bachelorette. Bachelorette Becca Kufrin, producers, and #BachelorNation were none the wiser until former Bachelor hopeful Ashley Spivey was tipped off to Adim's recent conviction and sentencing, and teamed up with blogger Reality Steve to make the matter public.
Even though the incident took place in 2016, Adim wasn't convicted until May 2018 - well into the airing of his season of The Bachelorette. The judge ordered him to a year-long stay in a correctional facility, to be postponed for a two-year probationary period. By law, he also needs to register as an offender.
How did Admin end up on The Bachelorette? Warner Bros. issued a statement:
No one on The Bachelorette production had any knowledge about the incident or charges when Lincoln Adim was cast, and he himself denied ever having engaged in or having been charged with any... misconduct. We employ a well-respected and highly experienced third party who has done thousands of background checks consistent with industry standards to do a nationwide background check in this case. The report we received did not reference any incident or charge relating to the recent conviction... We are currently investigating why the report did not contain this information, which we will share when we have it.