Weird Nature
10 Gruesome Wounds Inflicted By Venomous Animals That You Can't Look Away From

WARNING: GRAPHIC IMAGES BELOW
A lot of people tend to forget humans are helpless meat-bags, but nothing puts the fear of death into someone like suffering a venomous animal bite. While media outlets love to report on scary animal attacks, pictures of animal wounds rarely make the TV screen. This likely stems from the fact that animal bite photos often resemble something out of a horror movie. No matter whether they come from the venomous fangs of a pit viper or the barb of a stingray, these wounds are definitely going to leave some serious scars; for the really unlucky ones, some of these animal attacks lead to death.
These animal bite photos make for rather graphic material, but they offer a rare glimpse into the defense mechanisms of some of the most deadly animals on Earth. Every image below depicts a real, a genuine wound from a venomous animal. These images are extreme, so think carefully before you continue. If you have a morbid desire to see rotting flesh and gruesome swelling, then congrats, you came to the right place.
This Fer-De-Lance Bite Required Amputation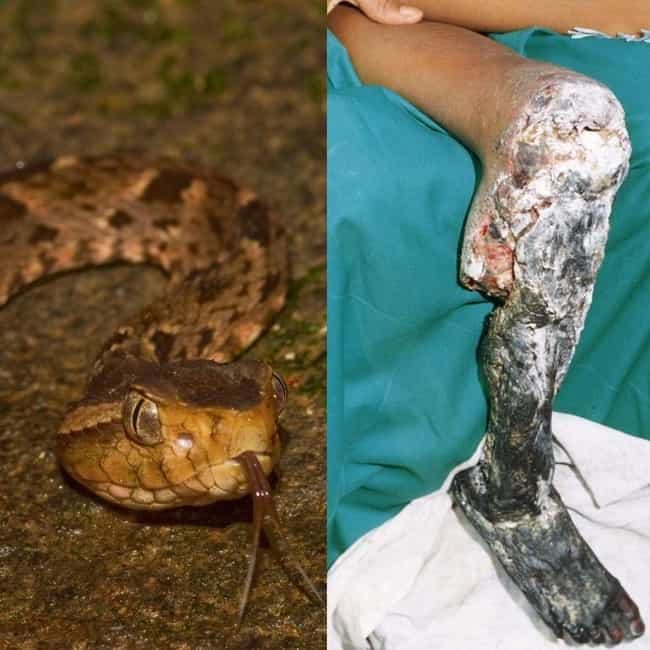 This happens when you improperly treat a bite from a fer-de-lance, one of the most venomous snakes in South America. Despite their danger, fer-de-lane bites are not uncommon, accounting for nearly half of all snake bites on the continent. This photo shows the necrotic leg of an 11-year old boy after doctors mistakenly treated him with antibiotics instead of antivenom. What usually starts as inflammation got so severe that the effects have spread far beyond the wound. Untreated, venom will rot through skin, muscle, and ultimately bone. The boy survived, but his leg required amputationd.
The Brown Recluse Spider Has Venom That Rots Flesh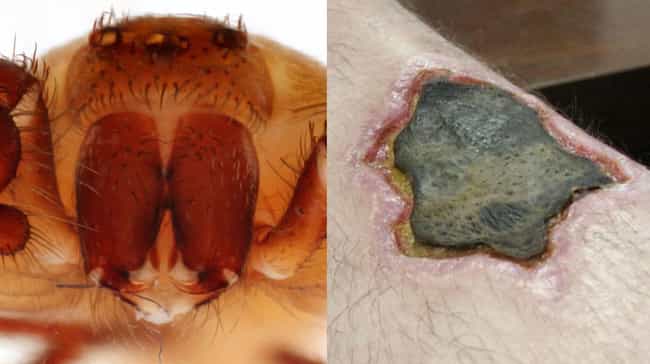 Photographer Jeffrey Rowland took this photo one month after a brown recluse bit him in May of 2004. The flesh around the bite suffered from tissue rot and ended up being surgically removed two months after the initial bite. According to Rowland, the bite left a massive scar and a permanent loss of feeling in his ankle. The brown recluse is one of four spiders that are dangerous to humans, and one of two known to have killed people, the other being the black widow.
Wasps Are The Venomous Animals With The Highest Kill Count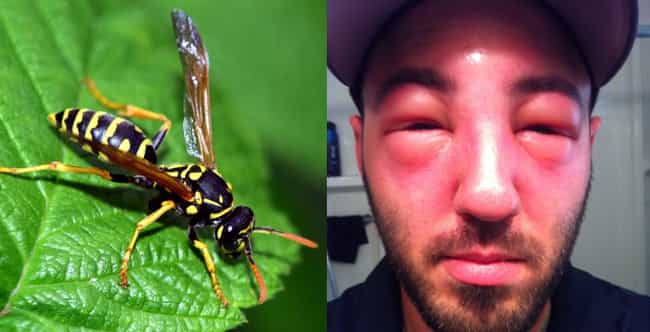 This man goes by the Reddit username two_stumps, and he uploaded this photo himself not long after being stung in the face by a wasp. At the advice of other users, he sought out medical attention and received treatment for the swelling. Wasps kill more humans than any other venomous animal, and their stings often lead to such fatal side effects like anaphylactic shock.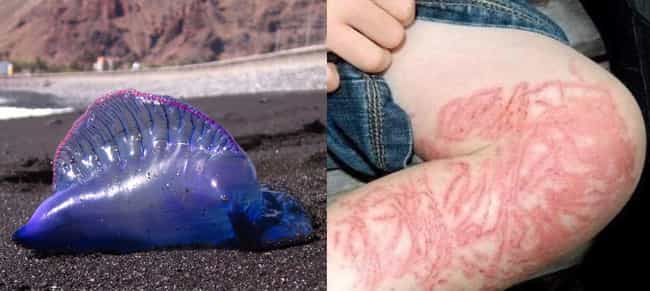 While it looks like a jellyfish, the Portuguese man o'war is actually a variety of different organisms all living together to survive. They get their names for the way they float on the water, which looks kind of like an old warship. The tentacles make up just one of the organisms within a man o'war, capable of growing to a remarkable 165-feet in length. While a sting from a man o'war is rarely fatal, they do cause a massive amount of pain.
see more on Portuguese Man o' War