Weddings
20 Overbearing Brides That Took It Way Too Far

Updated December 13, 2019
143k views
20 items
Getting married can be the happiest day in a person's life. Until it's not.
From issues with the menu to problems with the guest list, a bride can turn full bridezilla over the smallest detail. Like a mythical monster, the bridezilla will stomp on good intentions like a seaside city, determined to destroy anything and anyone who dares question her opinion or her tactics.
On Reddit, people share their stories of their close calls with assorted demons in a white dress, hopefully inspiring others to do better.
From Redditor /u/ymirshiddentalent:
This happened over a year ago but I still go back and forth about it...
The bride, who is a friend of my girlfriend, lost her father in a car accident when she was very young. Her fiancé never had the opportunity to meet her father, and this had a huge impact on her when they were planning their wedding.
She didn't want anyone else to walk her down the aisle and walked alone, which in my personal opinion, is understandable considering the circumstance, albeit unusual. However, there was a stipulation that her future mother-in-law and her fiancé were NOT ALLOWED, under ANY circumstances, to have the formal "mother-son dance" because she couldn't have a "daddy-daughter dance". When she informed her fiancé and future MIL, the MIL was very upset, because the fiancé is her only child (!), but the bride refused to budge.
When the wedding finally rolled around, there was not a formal dance for the mom and son. The night had been going on for some time and eventually a slow dance rolled around. The MIL and son took that opportunity to dance together and share a moment. The family of the groom, totally unaware of the bride's unofficial rule, begin cheering as they watched them dance together, people started taking pictures, a crowd formed.
The bride, who was already not happy when she saw the two of them begin dancing, is now FUMING. She ran outside the banquet hall to the bathroom and had a huge hissy fit complete with mascara tears, swearing, ranting and raving.
At this point my girlfriend and I were leaving so we had to awkwardly walk past as all of that went down. I still can't believe that one small detail blew up so badly, but it's weird because I understand why to a certain degree. But at the same time, I would never impose a rule like that when it came to my in-laws? They really tried to be respectful of the bride's wish (despite how selfish it was), and it ended up being a huge shitshow that people still talk with hushed voices about over a year later.
Anyway they're still together and the wife is pregnant now.
2
An Elaborate Game Of Telephone
From Redditor /u/SpecialEndeavor
We weren't allowed to talk directly to the bride. Her mom and maid of honor were the only ones allowed to.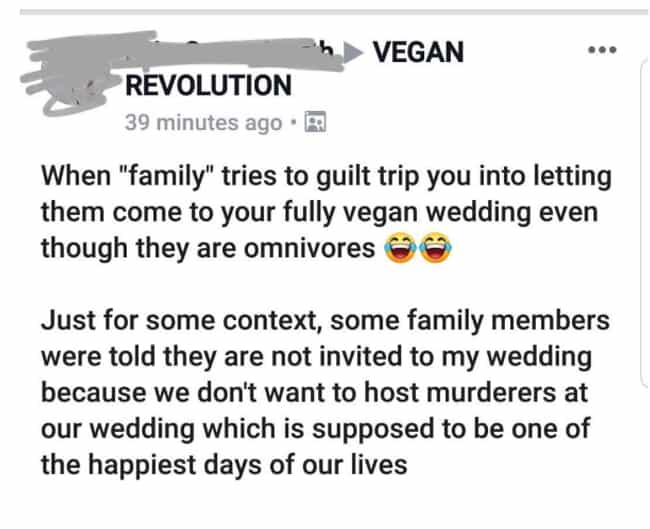 4
Christmas Will Be Awkward This Year
Posted by Redditor u/International-Aside:
Bride has uninvited people who didn't make the bridal wedding shower due to winter weather. She posted on Facebook:
"Yesterday was an eye opener and because of that I've decided that anyone who didn't show because of the weather and anyone who no call no showed will no longer be on my guest list. It's a winter event and I get it. It sucks to drive in the snow but guess what it's what we wanted. So...the new people that have been on my secondary guest list will be reached out to and the ones who bailed on me.. I love you all but I'm not rich and I'm not paying for noshows ever again. Many thanks to all the people who did brave the weather yesterday and I look forward to seeing you all in a few months. PS: This venue is tiny, 60 people tops so don't be all bent outta shape if you don't get an invite this time around either."
For context, it was the first big storm of the year in our area and came up rather unexpectedly. The forecast was: [City], N.Y. -- A winter storm warning has been extended into Central New York for a storm that could bring heavy snow and some ice Sunday and Monday. The National Weather Service said 9 to 18 inches of snow could fall in Central New York, with a tenth of an inch of ice mixing in. The snow forecast is growing in much of Central New York because the storm track appears to be shifting toward the northwest, putting [City] in the storm's bull's-eye."
Because it had been really warm the week before, many people didn't have snow tires on yet either. The roads were bad and visibility was very poor at times. I get being annoyed with no-call/no-shows but yikes.