Buildings
List of Famous Baghdad Buildings & Structures

Updated June 8, 2017
10.4k views
7 items
List of the famous landmarks that make up the Baghdad skyline, listed alphabetically with photos when available. Baghdad architectural landmarks as well as other major buildings, dwellings, and other structures in Baghdad are included on this list. Information about these Baghdad buildings is included on this list, such as when the building first opened and what architectural style it falls under. List includes both new buildings in Baghdad and older historic landmarks.
The list you're viewing is made up of buildings like Saddam Hussein Gymnasium and Plan for Greater Baghdad.
This list answers the question, "What are the most famous buildings in Baghdad?"
This is a good reference for research into the historical architecture in Baghdad. Famous architectural houses within the city of Baghdad are included as well, sometimes by address, other times listed by the name of the original home owner.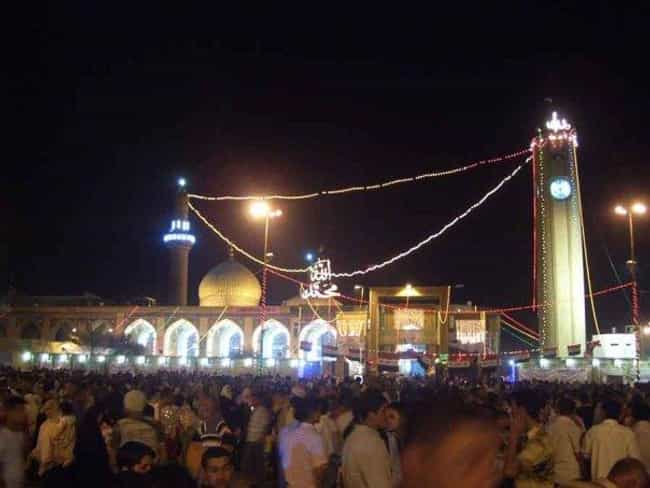 The Abu Hanifa Mosque is one of the most prominent Sunni mosques in Baghdād, Iraq. It is built around the tomb of Abū Ḥanīfah an-Nuʿmān, often called the "Great Imam", the founder of the Ḥanafī madhhab or school of Islamic religious jurisprudence. It is in the Sunni-dominated Al-Adhamiyah or al-Aʿẓamiyyah district of north Baghdad, which is named after Abū Ḥanīfah's byname of al-imām al-aʿẓam. ...more on Wikipedia
City/Town: Places in Baghdad
Al-Shaab Stadium also known as The People's Stadium, is a multi-purpose stadium in Baghdad, Iraq. The stadium was a gift to the Iraqi government from the Gulbenkian Foundation, is used mostly for football matches, is the home of the Iraq national football team and has seating for 40,000 people. It was built in 1966. The opening match featured Iraq and Benfica, for whom Eusébio was playing. The Iraqi national team did not play any international fixtures in the stadium for more than two decades due to security reasons; During the 2003 U.S. invasion of Iraq the stadium was turned into an army base for the United States Army. The stadium was re-qualified in 2007 and national football fixtures ...more on Wikipedia
City/Town: Places in Baghdad

The Al-Aaimmah bridge' is a bridge over the river Tigris in the Iraqi capital of Baghdad. The bridge links the areas of Adhamiya, which is a majority Sunni Arab area, from its East bank with the Shia area of Kadhimiya on its west. It was the place of a deadly stampede on 31 August 2005 when hundreds of Shiite pilgrims were crushed. The stampede caused the railings to give way, allowing hundreds to fall to their deaths in the river. The bridge had been closed for the three months prior to the incident. Although Adhamiyah has been the site of many clashes between Iraqi insurgents and US forces as well as tensions between Shia security forces and Sunni residents, in September 2005, the ...more on Wikipedia
City/Town: Places in Baghdad
The al-Sarafiya bridge crosses the River Tigris in Baghdad. It was built in the 1940s or 1950sand connected the two northern Baghdad neighborhoods of Waziriyah and Utafiyah. Having been previously damaged by American bombing in 1991, the bridge partially collapsed when an abandoned truck bomb exploded on April 12, 2007 at 0700 local time, UTC+3. At least 10 people were killed and 26 injured, though there were reports of 20 more trapped in cars that had gone off the bridge. The bridge was reconstructed in a year and two months and reopened on May 27, 2008, when Prime Minister Nouri al-Maliki inaugurated it. It also used to be the longest bridge in the world during that time, as it was ...more on Wikipedia
City/Town: Places in Baghdad