Restaurants

Bahama Breeze Recipes

123 votes
86 voters
14.4k views
7 items
Bahama Breeze recipes - the easy way to prepare the best dishes from the Bahama Breeze menu. These are copycat recipes, not necessarily made the same way as they are prepared at Bahama Breeze, but closely modeled on the flavors and textures of Bahama Breeze popular food, so you can bring the exotic tastes of one of the best chain restaurants in America to your own table for a fraction of the cost.
The first Bahama Breeze location opened in Orlando, Florida in 1996 and since then has expanded to approximately 33 locations, centered primarily in tourist-heavy locations in the US.
From Red Lobster Cheddar Bay Biscuits to Buffalo Wild Wings hot sauce, chain and franchise restaurants are popular destinations around the world. Eating out too frequently can be costly, not to mention that it's hard to control portion size, ingredients, or the style of cooking to suit your preferences.
Making Bahama Breeze recipes on your own allows you to save money while enjoying your favorite menu items from the casual dining spot. This list collections the best copycat Bahama Breeze recipes from around the Web.
Black Bean and Corn Salsa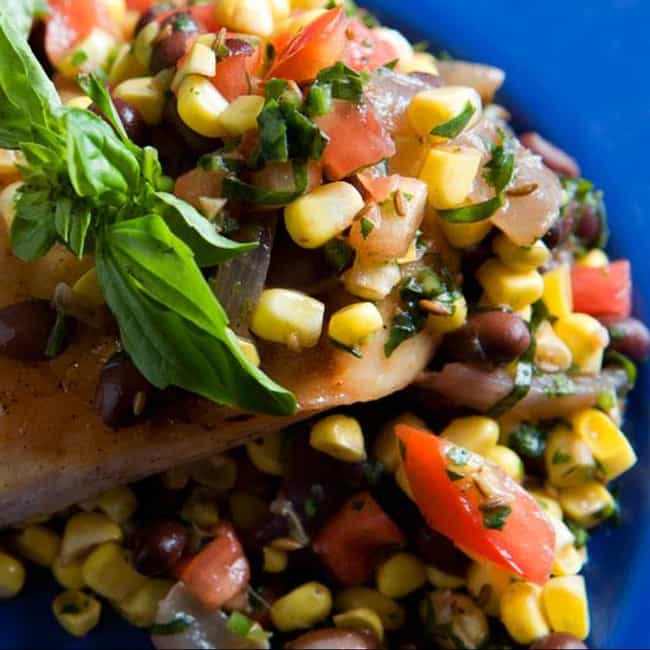 Black beans, canned 10oz
1 can
Corn kernels, canned 10oz 1 can
Red Onions, ¼" diced 4 Tbsp
Red Bell Peppers, ¼" diced 4 Tbsp
Green Bell Peppers, ¼" diced 4 Tbsp
Cilantro, chopped 2 Tbsp
Olive oil, extra virgin 4 Tbsp
Salt and Pepper to taste
- Drain the corn and black beans.
- Rinse beans in a colander to remove extra juice.
- Add all other ingredients; mix with rubber spatula.
- Place in a refrigerator. Serve cold.

Would you try this?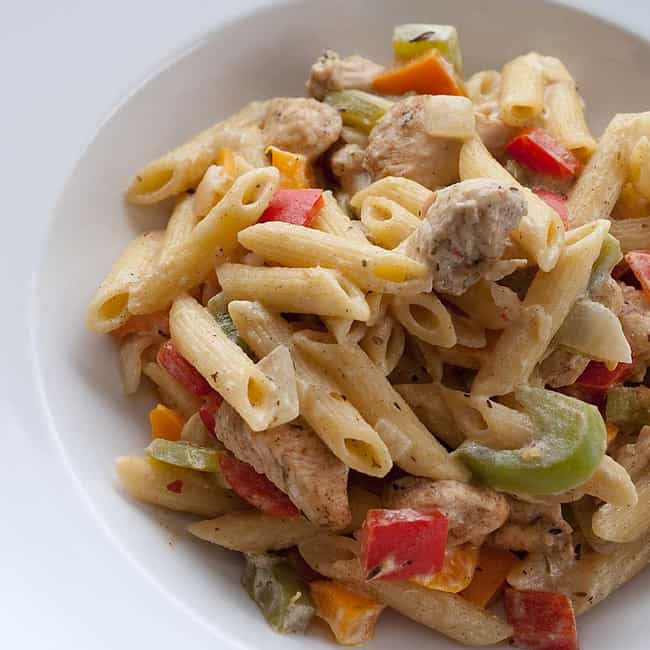 4 boneless chicken breasts
1/2 cup butter
4-5 garlic cloves, crushed
1 cup half-and-half
1/2 cup chicken broth
1 teaspoon cornstarch
1 teaspoon herbs, of your choice, rosemary, marjoram, oregano
1 tablespoon cayenne pepper
1/2 stalk asparagus
8 ounces sliced mushrooms, pieces and stems
3 tablespoons parsley, crushed
salt and pepper, to taste
8 ounces bow-tie pasta
- Melt butter in skillet over medium/low heat; add garlic.
- As garlic becomes fragrant, add cayenne pepper and chicken; increase heat.
- Cook chicken to preferred tenderness; remove from pan, leaving the butter/garlic/cayenne mix.
- In a separate deep pan, fill pan with 1/4 full of water.
- Place drainer on top of the pan, add asparagus; cover and steam for 5-10 minutes.
- In a separate pan, cook bow-tie pasta according to the package directions; set aside.
- In a cup stir together half-and-half, chicken broth, and corn starch; pour into chicken.
- Bring to a boil and reduce heat; simmer for 3 minutes with constant stirring.
- Stir in parsley, herbs, mushrooms, and asparagus for 3-5 minutes.
- Add chicken to heat through.
- Add pasta and toss. Serve.

Would you try this?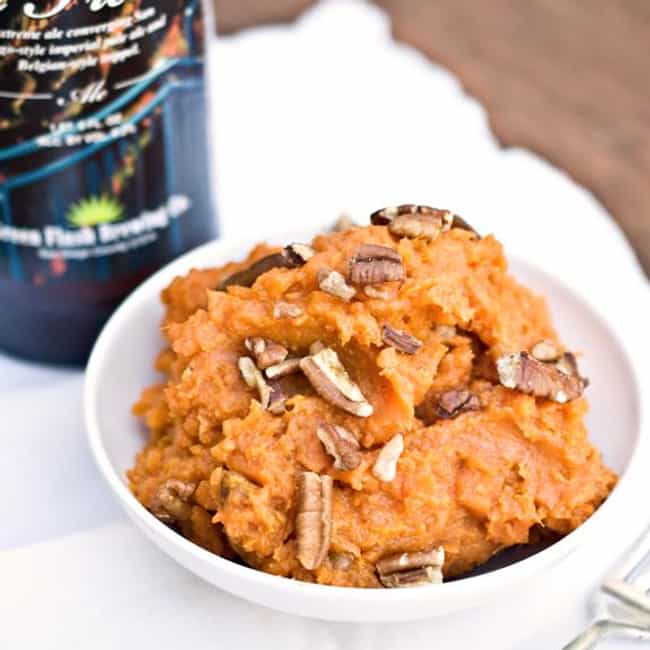 5 pounds of yams, peeled and 2" diced
2 quarts water, hot
1 tbsp salt
8 oz butter, cold, 1/2 dice
1 ½ tsp cinnamon, ground
1/4 tsp pepper, white, ground
1/2 cup brown sugar
- Place yams in a large stockpot.
- Add hot water and salt; place the pot on stove over medium heat.
- Bring to a boil and cook for 35 minutes until yam can be fork-pierced easily.
- Drain water from yam; transfer yam into a mixing bowl.
- Mash with wired whisk until yams are broken up.
- Add diced cold butter, ground cinnamon, white pepper and brown sugar.
- Mix until yams are smooth and all ingredients are mixed evenly; season with salt if needed.
- Place cinnamon yam mash on a serving platter; garnish with fried malanga chips and chopped parsley.
Would you try this?
Bahama Breeze Mango Salsa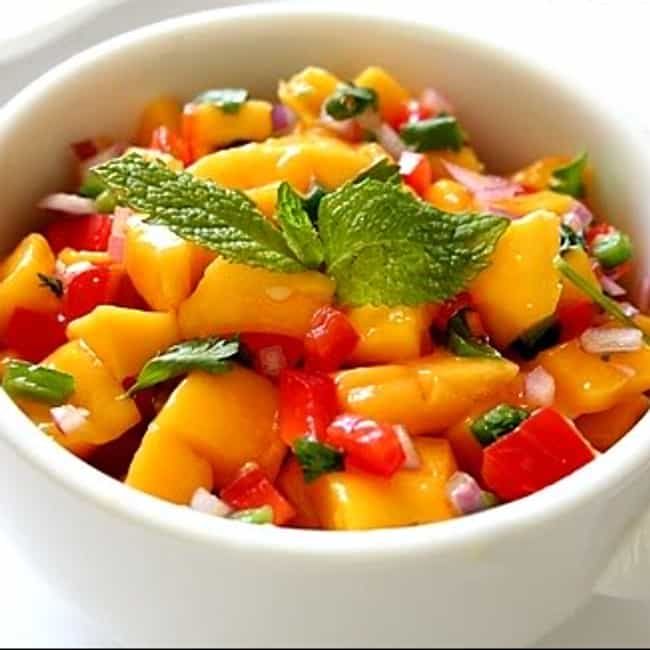 2 medium cut in 1/2-inch dice - Mangoes
2, stemmed, seeded and chopped - Jalapeno peppers
1/3 to 1/2 cup- Finely chopped cilantro leaves
3 Tbsp - Fresh squeezed lime juice
2 Tbsp - Fresh squeezed orange juice
1 small - Red bell pepper diced
1 small- Red onion, diced
Kosher salt and freshly ground black pepper to taste
- Place all ingredients in mixing bowl.
- Gently fold together until evenly mixed.
- Cover and refrigerate for up to 3 days.

Would you try this?