Living
Here's What 25 Celebrities Who Usually Have Bangs Look Like Without Them

How do you feel about celebrities with bangs? Do you think they're hiding something? Maybe an extra eye or four extra inches of forehead? Celebrity haircuts are tricky, especially if you're adding or taking away bangs. For some actors and actresses, bangs are their calling card, their hair de plume, if you will. Even if you're not a celebrity, a person's relationship to their hair is the most important thing that they can have; double that if you spend most of your life having people take photos of you. Like everyone else, most famous people find a style that suits them and stick with it until they're dead just in case they're unrecognizable without their signature look, but a few celebs are brave enough to grow out their bangs or snip off their locks whenever they feel like it. And for that, these celebrities who grew out bangs should be saluted.
There are a lot of different celebrity hairstyles with bangs. There's the classic adorkable look patented by Zooey Deschanel; there's the "cool" guy swoop that showed up in the early 2000s and has somehow managed to stick around for almost 20 years; and there's the "I lost my mind, and now I accidentally have a pixie hair cut" version of the style. Whichever kind of celebrity bangs is your favorite, it's represented in this collection of photos that capture celebrities at their most and least banged.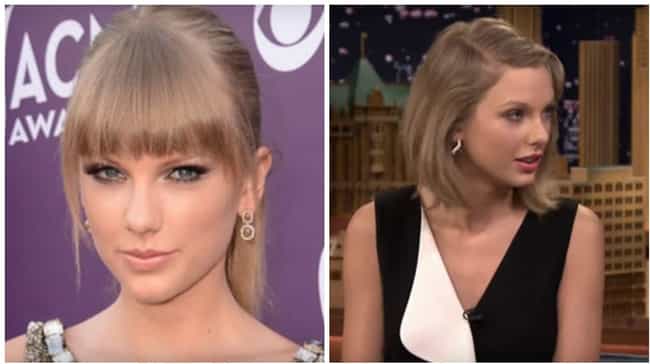 Back in 2013 at the ACM Awards, Taylor had some pretty severe bangs that give her that '60s ingénue thing; it's very Nico. Her unbanged hair gives her more of a demure Jackie-O thing, which is also kind of cool and very '60s. Is Taylor Swift a time traveler?
see more on Taylor Swift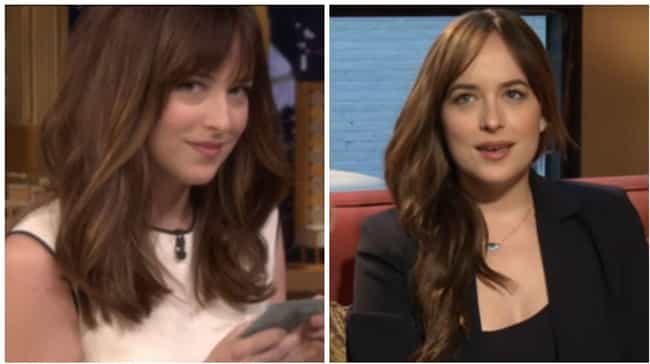 Having never read 50 Shades of Grey, it's impossible to know whether or not the major Anastasia Steele character note is that she has bangs. Is that in the book? It must be because, by the time Johnson was on the How to be Single press tour, she'd gone full middle part.
see more on Dakota Johnson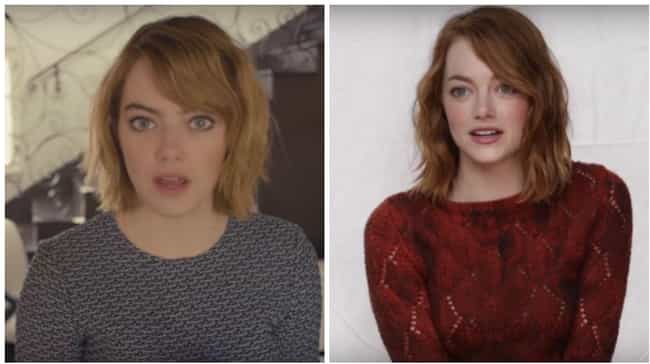 Somehow within months in 2016, Emma Stone managed to grow her (kind of weird) bangs out into a slightly longer version of those bangs. Thank goodness she's got enough gumption to pull off that kind of thing.
see more on Emma Stone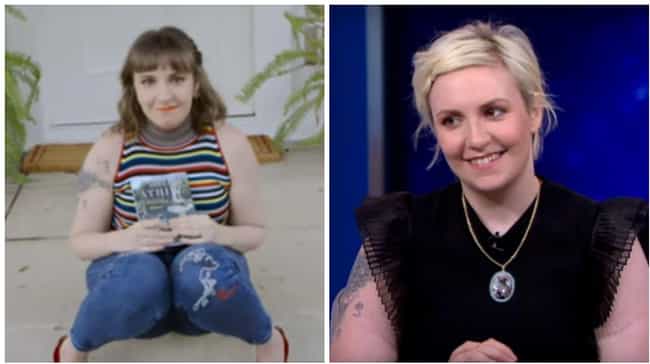 After she finished filming Girls, Dunham cut her hair into a very nice set of bangs. It's a pretty far cry from the hair she had on the book tour for Not That Kind of Girl in 2014 when Dunham had sort of a '90s Lori Petty thing going on, and it looked very nice. Although she missed a trick by not adding some sparkly hair clips.
see more on Lena Dunham