Graveyard Shift These Spooky Tales From Bangor, Maine, May Just Inspire Stephen King's Next Novel

Bangor, ME, is famous to fans of horror, even if they don't necessarily know it. Stephen King's house is there, behind a wrought-iron gate decorated with bats and spiders. Many of King's scariest novels are also set in and around fictionalized versions of Bangor and other places in Maine.
It's no wonder King found so much of his inspiration in the town. Maine is an old state with a lot of history, some of it chilling and mysterious. Ghost stories and scary unsolved mysteries haunt the state, and Bangor has more than its share of both. There are haunted houses, ghost-filled hotels, and even King's alma mater, the University of Maine, has a ghost or two.
These haunted places around the town of Bangor, ME, could well provide the inspiration for King's next book. After all, a few of them already have.
Floral Perfume And Cigarette Smoke Drift Through Hill House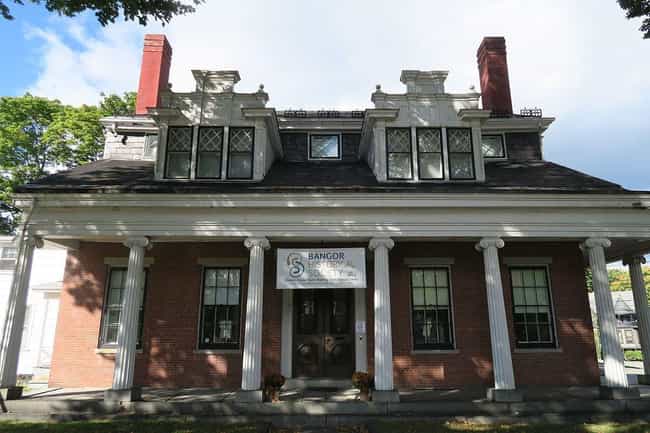 The Thomas A. Hill House is located near the corner of Union and High Streets. Today, it is home to the Bangor Historical Society and the starting point for the ghostly walking tours the society gives every October. While the walking tours take visitors all over the streets of Bangor, the Thomas A. Hill House has ghosts of its own, some of the most famous in town.
Two of the spirits said to occupy the grand old house built in 1835 are former Bangor mayor Samuel Dale and his wife, Matilda. Dale's passing in 1871 was tied up with a scandal. As the residents of Bangor reportedly raised some $10,000 for those affected by the Great Chicago Fire, the money, which was entrusted to Dale, went missing when the mayor passed in the second-floor bedroom of the Thomas A. Hill House.
Matilda Dale continued to live in the house for many years after, and employees of the Bangor Historical Society claim the ghosts of the couple linger on, often playing small pranks on members of the staff. Small items go missing and staff members detect phantom whiffs of floral perfume or cigarette smoke. "People have claimed to see a lady and gentleman figures as well as a cat," said Historical Society director Matt Bishop.
The Isaac Farrar Mansion Is Said To Be Haunted By The Ghost Of A Child And His Nanny
Besides being terrifying, Stephen King's novels are known for their astute portrayals of grief and guilt. The ghostly story of the Isaac Farrar Mansion would be right at home among them. Construction on the three-story mansion on Second Street in Bangor began in 1838 but wasn't complete until Isaac Farrar and his wife moved in in 1845. The house was designed by Richard Upjohn, the architect who also designed the Thomas A. Hill House and several other notable structures in Bangor.
The tragedy that began the mansion's supposed haunting, however, didn't take place until after the Merrill family took residence in 1893. According to the stories, one of the Merrill's children passed from choking on a marble. The nanny watching over him at the time was so distraught she took her life in her room on the third floor. Both are said to haunt the building. Residents report footsteps and voices as well as doors opening and closing on their own.
Owners And Guests Report Eerie Activity At The Charles Inn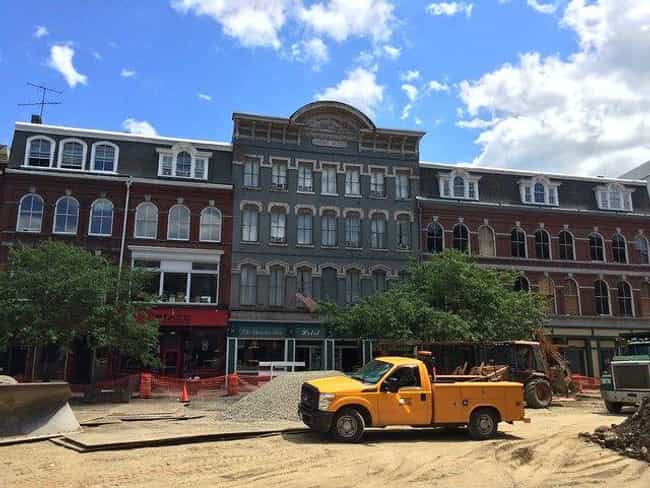 When Leanne and Allan Hewey took over the Charles Inn in Bangor in 2015, they didn't realize the business they were buying was famously haunted and a regular stop on local ghost tours. It didn't take long for them to find out; the owners reported hearing and seeing things they couldn't explain, including dishes that moved on their own and strange voices in the night. "I heard this little tiny voice go 'nee nee nee nee nee,'" Leanne recalled. "Then I got completely cold."
The Heweys aren't the only ones to experience strange happenings at the Charles Inn. Guests have also heard voices, squeaking floorboards, and knocking on their doors when no one else was around. In an effort to try to get to the bottom of the hauntings, the Heweys reached out to a group called the East Coast Ghost Trackers to do a paranormal investigation of the famously haunted property. Since then, the Heweys have learned to embrace the unsolicited spirits rather than fear them.
A Former US Vice President Supposedly Lingers At The Tarratine Club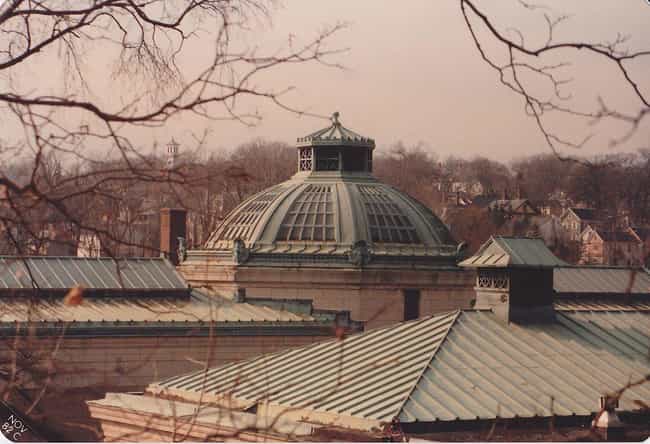 Hannibal Hamlin served as Abraham Lincoln's vice president during Lincoln's first term in office. Years later, Hamlin collapsed while playing cards in Bangor's Tarratine Club, an establishment he helped found and whose members were said to be able to "write million-dollar checks." He passed on a couch in the club later that same night in 1891.
Some say Hamlin's ghost still haunts the Tarratine Club, perhaps looking to finish that last game of cards. It is unlikely, though, given the building where he passed was actually the club's former Main Street location. It didn't move to its Park Street location until 1907.
The couch where Hamlin drew his last breath was saved from a fire that ravaged downtown Bangor in 1911; it currently resides in a place of honor in the rotunda of the Bangor Public Library. Perhaps it's this couch that Hamlin's unquiet specter haunts. Certainly, no one else is allowed to sit on it, and a plaque on the couch claims Hamlin was the last person to use it.