Horror
Are These Horror Movies Really "Based On A True Story"? Truth Is, They're Reaching

Updated November 5, 2019
2.2k votes
477 voters
26k views
16 items
List Rules Vote up the movies you still love, even if they aren't factually accurate.
Based on a true story. It's a tagline sure to attract curious viewers to any movie making the claim, but horror movies supposedly based on true stories are especially compelling. The idea that creepy and unexplainable events are happening all around us, and that real people have to live through such terrifying traumas, are unspeakably compelling. Sadly, however, the truth can sometimes get lost in creative interpretation.
So, while some classic movies may declare otherwise, these horror films claiming to be true are, in reality, stretching the real stories to fit a certain narrative. In many cases, events have been greatly embellished to create a more chilling and powerful story. In other instances, the movies are based on outright fabrications, and are basically entirely fictional. Hollywood is Hollywood after all, and making up exciting stories is what they do best. Let's explore a few horror films that aren't based on true stories... despite what the filmmakers might claim.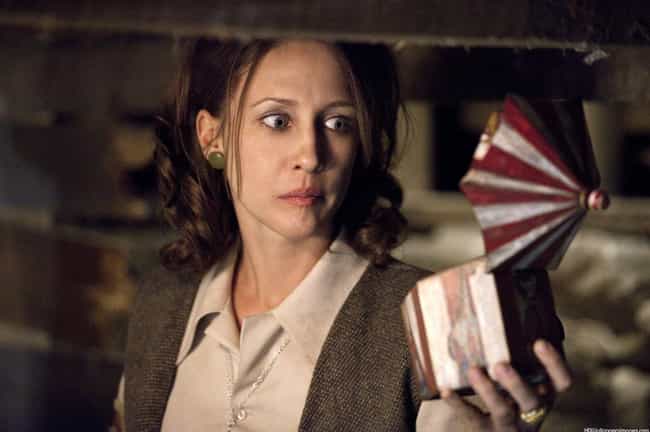 The Conjuring has a stronger factual basis than most other horror movies "based on a true story." Paranormal investigators Lorraine and Ed Warren did indeed meet a family, The Perrons, who were experiencing what, for all intents and purposes, was a haunting.
But the movie took some pretty substantial creative liberties with their story. The biggest stretch was the movie's portrayal of Mrs. Perron trying to kill her own kids. By all recorded accounts, that just never happened.
Actors: Vera Farmiga, Patrick Wilson, Joey King, Lili Taylor, Ron Livingston, + more
Released: 2013
Directed by: James Wan
Is this movie still great?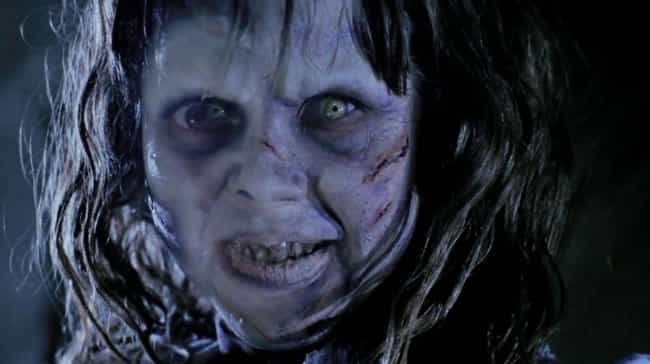 Some of the events in The Exorcist really happened, but the larger story is all fiction. William Peter Blatty, who wrote the novel the film was based on, used a single newspaper article about a teenage boy who claimed to be possessed by demons as his inspiration. "Everything is made up," Blatty told The Washington Post. And, yes, that includes the head-twisting and pea-soup vomiting.
Actors: Max von Sydow, Ellen Burstyn, Linda Blair, Lee J. Cobb, William Peter Blatty, + more
Released: 1973
Directed by: William Friedkin
Is this movie still great?
The original version of The Texas Chainsaw Massacre never claimed to be based on real events, but the 2003 remake did. The truth, however, is much different. There never was a "chainsaw massacre" like the one featured in the movie. Many hypothesize the filmmakers were basing their story on the real-life account of serial killer Ed Gein, who really did kill people and wear their skin. But there were never any chainsaws involved. Also, the Gein murders happened in Wisconsin. But, to be fair, The Wisconsin Non-Chainsaw Skinning doesn't have the same ring to it.
Actors: Gunnar Hansen, Marilyn Burns, Edwin Neal, John Henry Faulk, Jim Siedow, + more
Released: 1974
Directed by: Tobe Hooper
Is this movie still great?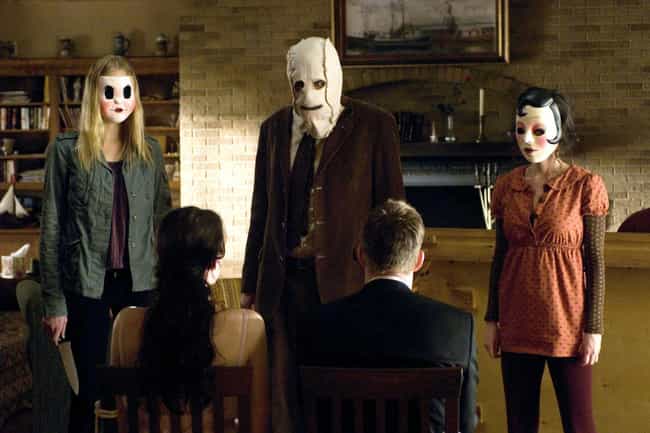 Bryan Bertino, the director of The Strangers, said his movie was "inspired by true events," and the keyword there is inspired. There is absolutely no factual basis for the events in the film, in which a group of weirdos wearing doll masks terrorize a couple at a remote cabin in the woods. In his production notes, Bertino confesses the plot was taken from a childhood memory of people breaking into homes in his neighborhood. A crime? Surely. A true event? Not in the least.
Actors: Liv Tyler, Gemma Ward, Scott Speedman, Glenn Howerton, Laura Margolis, + more
Released: 2008
Directed by: Bryan Bertino
Is this movie still great?