Culture

40 Beauty Hacks That Will Probably Change Your Life

122.3k votes
21.4k voters
2M views
40 items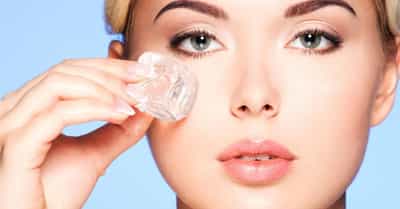 These beauty tips and tricks are perfect for well, anyone trying to get the most out of their makeup. Check out our nail, lip, and hair beauty hacks that have the most ingenious methods to getting the job done. Some of them will save you money, others will help you get the look you want on the go. It's the ultimate list to help you through this whole beauty thing.
Check out the DIY tutorials and how-to videos to help you go from, "I kinda know
how to
do my makeup" to "Yeah I do my makeup like a boss." Try these tips out for yourself and see if they get you glammed up for good. These aren't your grandmother's tricks, that's for sure.
1

Dark Circle Concealer

Apply concealer in a triangular shape not a dot formation. This way you get more lift for your undereyes than bags. somakemeupbeforeyougogo.blogspot.com
2

Shaving Cream Conditioner

 A lot of gals have caught onto this trick already but using conditioner as shaving cream works surprisingly well. The thick coating of the conditioner leaves skin smooth and hydrated. 
3

Reuse Expensive Mascara Brush

  It's all in the brush, ladies! Those expensive mascaras you buy are worth the tool not the formula. Just clean it and use it with drugstore mascara similar effects.thestyleandbeautydoctor.com
4

Where to Apply Perfume

 Make your scent last longer throughout the day. blog.freepeople.com
5

Smoky Eye

 If you want to avoid a muddy looking smoky eye, use two separate brushes. One to apply the shadow and another to blend the lines. lookyourbest.devhub.com
6

Wiggle Your Mascara Brush

  Wiggle the brush at the root of your lashes to use it as a liner for your inner top lid. The thicker the brush the better.
7

Highlight to Look Awake

  Apply highlighter to these specific areas for optimum face brightening. jamieraegibson.tumblr.com
8

Dried Up Mascara Solution

 A mug of boiling water should do the trick. Just let the tube sit for 5 minutes for clump-free and smooth lashes. athriftymrs.com
9

Brighter Eyes

  Shimmer eyeshadow should be in every girl's arsenal. buzzfeed.com
10

Use Deodorant on Inner Thighs

  Chafing be gone. Summer is heavenly for shorts but murder on the thighs.
11

Avoid Lipstick Teeth

  The way to avoid lipstick teeth is just as embarrassing to do as it is to actually have lipstick teeth. Stick your index finger in your mouth and slide it out to rid the inside of your lips from the color. (WARNING: DO ...
12

Check Makeup in Your Car

 The lighting in your car is sometimes unforgivable. But it does give you a chance to see if you've made any flaws to your look. gratismakeupsamples.com
13

Apply Dry Shampoo the Evening Before

 Rolling around in the hay will really work in that dry shampoo. White blotches will be blended and you'll have fuller hair in the morning. joannagoddard.blogspot.com
14

Cover Chipped Nails with Glitter Polish

  Just throw glitter on everything needing repair. That's the solution for quick cover ups.
15

Cupid's Bow

 Apply your lip liner in this formation to get an even Cupid's bow shape that Marilyn Monroe would be envious of. Simply brilliant! pinspire.es 
16

Fix Staticky Hair

Run a dryer sheet through your hair wherever there's static, and that should take care of those pesky strands. Who knew?!
17

Wider Lashes

Sweep your mascara brush towards your nose for wider lashes. They'll make your eyes seem more awake. self.com
18

Set Your Lipstick

  Hold a tissue over your lips after you've applied your lipstick. Brush a translucent powder over the tissue so your pout lasts longer. laurenconrad.com
19

Lip Gloss Cuticle Treatment

 Lip gloss or lip balm is good alternative to cuticle treatment. Just apply where needed and push back your skin for smoother, less painful results.
20

Coconut Oil Makeup Remover

Coconut Oil is great for so many things. It's hydrating for your skin and hair but if you use it as a makeup remover it will dissolve your makeup gently.
21

2 Minute Beachy Waves

 Use salt spray in hair, and roll into two separate side buns. Blast it with a blow-dryer, and leave them in for half an hour. You'll shake out your hair to beachy waves in no time.
22

Two-Toned Eye Liner Eyeliner

 Add a light, bright color to the center of your lid for added dimension. Peepers will be poppin'. web.stagram.com
23

3-D Lip Effect

  Pale frosted eyeshadow over the lips is great for bringing out the plump. thebeautydepartment.com
24

Orange Primer

 The orange tone in the primer will cancel out the blue shades that are commonly found under baggy eyes. Sounds weird but works great. emsmithmakeup.com
25

Intensify Eye Shadow

  Cover your lid with white eye liner before applying your shadow. It makes a huge difference in color pigmentation than without. makeup.com
26

Quick Top Knot

 1. Gather your hair up into a high ponytail at the top of your crown. Secure with an elastic. 2. Divide the ponytail ends into two sections and use both hands to twist each section down to the ends. 3. Wrap each ...
27

DIY Summer Glow

 Mix your highlighter in with your lotion and use it all over your body. Legs and arms will glimmer with perfection.
28

White Base Coat for Pop

 A white base coat gets you more vibrant nails. Bottled color will have better opacity with this simple trick. michellephan.com  
29

Determine How Thin or Wide Your Nose Is

 The way you shape your eyebrows affects how thin or wide people perceive your nose. Use the space between your brows to correspond with how wide you want your nose to appear. youtube.com
30

DIY Falsies

 Between each coat of mascara, apply baby powder with a Q-tip and run it across your lashes. The powder will help to adhere the second coat so you get a fuller look. pinterest.com
31

DIY Gel Liner

 It's that simple! thebeautydepartment.com
32

Contouring

 Everybody's on this new makeup trend most famously used by Kim K. Apply contour and highlighter like warpaint not all over your face for better blending.
33

Rubber Band French Mani

 The picture says it all. French manicures aren't the hardest design after all. paperraindrops.blogspot.com
34

Accentuate Cupid's Bow With White Liner

 This little detail is a sexy tool to have. Just draw a small v shape with white liner and it will do all the work for you. traciethediva.blogspot.com
35

Easy Glitter Polish Removal

  Elmer's Glue as a base coat? Huh? What? Yup. Glitter polish doesn't have to be a construction worker's job anymore thanks to the easy to peel formula. wackylaki.blogspot.com
36

Lipstick As Cream Blush

 Dab it lightly on your cheeks and blend for quick rosy cheeks. Image and tip by Handpicked Beauty.
37

Accentuate Lips

  Use a highlighter for this simple trick! thebeautydepartment.com
38

Essential Oil Deodorant

Editorial Assistant Alexandra Tunell for Allure says, "I often use essential oil instead of deodorant: I rub bergamot, rose, or lemon oil in my armpits. They smell so good and feel really ...
39

Twist and Snip Split Ends

Twist your hair and see which strands pop out because those suckers are the ends that gotta go. Don't get too trigger happy with those scissors though! ringfingertanline.com
40

Makeshift Dry Shampoo

  The only time greasy hair might have been acceptable was in the '90s. Spray laundry starch as you would dry shampoo into your hair to get rid of the gross.