Behind The Scenes
Behind-The-Scenes Stories That Will Make You Want To Rewatch The Goonies

Updated June 17, 2019
50.9k views
16 items
"Hey, you guys!" There's little doubt that The Goonies is one of the most beloved and best '80s movies. The 1985 family drama had the perfect blend of comedy and adventure, and a memorable cast of characters to boot. It's the type of crazy movie that seems like it would be as fun to film as it is to watch. And thanks to the Internet, there are no shortage of The Goonies behind-the-scenes stories that prove how over-the-top production was.
The "Truffle Shuffle" may have been one of the most hilarious moments in the film, but shooting the scene sparked years of guilt for one crew member in particular. Bringing the memorable Sloth to life took hours of careful prosthetic work. And whatever happened to that mysterious octopus scene? These awesome and crazy stories about The Goonies will help you appreciate this '80s classic even more.
While some aspects of the production were great, the making of The Goonies was not an easy task for director Richard Donner or the cast of mostly inexperienced young actors. Luckily, they pushed through to deliver an audience favorite. Ignore the weird stuff and bask in the nostalgia offered by this one-of-a-kind movie.
Richard Donner Was An Unlikely Choice For Director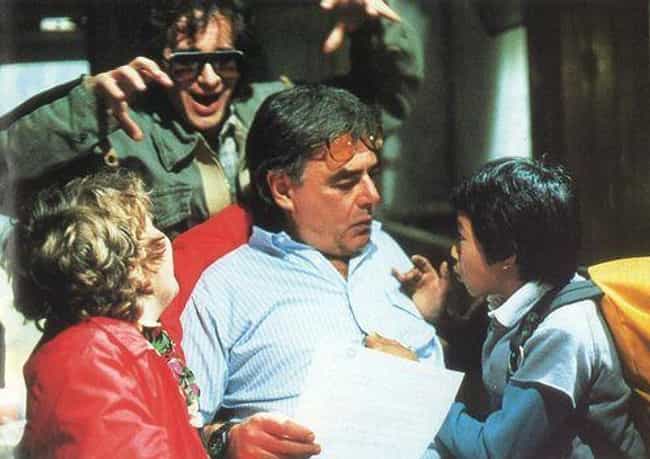 Steven Spielberg thought up the story for The Goonies, and served as an executive producer on the film. He had great success working with kids on E.T., and on paper it looked like he would have been the perfect director for The Goonies. However, Spielberg handed off the gig to Richard Donner, a man who by his own admission never liked children. Donner himself was initially bewildered by the choice:
"My first thoughts were, 'why me?' Because it was Steven Spielberg who made the best movies for kids and for dreaming in the world. So, why are you giving this to me? He said because he was busy doing something else and he thought I was as big a kid as he was and he gave it to me."
Working with inexperienced kids turned out to be a mixed experience for Donner:
"The annoying thing was the lack of discipline, and that was also what was great because it meant that they weren't professionals. What came out of them was instinct and that was beautiful. But because it was instinct they didn't have the discipline of a professional actor, a trained actor who knew that on that line or that move they were going to scratch themselves or drink a Coke or eat a slice of pizza, so every time you would make cuts to match, they were all over the place. Never on the same marks. But the reason they weren't is because they were functioning on their instincts, and their instincts at that moment told them to go there and not there. I just had to figure my way around it, but it drove me nuts."
The Set Attracted Several Big Name Stars
The Goonies set became a Hollywood hot spot. Celebrities such as Dan Akroyd, Harrison Ford, and Pee-wee Herman all visited while the film was in production. Corey Feldman said that Michael Jackson hung out at the set so often that "he was basically part of the cast." Feldman recalled, "It was like we had the coolest set on the lot. Harrison Ford came and walked the caves with us. We felt like we were in Indiana Jones."
The Film Was Shot Mostly In Chronological Order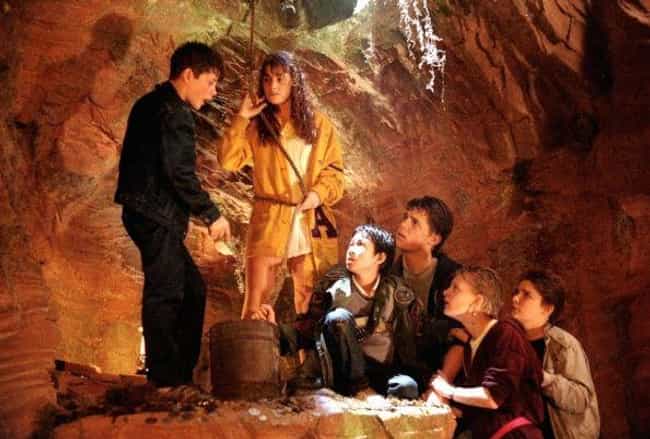 Most movies are not shot in chronological order; instead, a production schedule dictates when scenes will be filmed. However, Donner opted to shot The Goonies almost entirely in order, just like Steven Spielberg did for E.T. Donner's decision was intended to get the most out of his young performers, but it added about five months to the production schedule.
Filming The Truffle Shuffle Was Extremely Painful For Richard Donner
Ask any fan their favorite scene in The Goonies, and they're likely to respond with two words: "Truffle Shuffle." Chunk (Jeff Cohen) has to perform a distinctive dance for his friends in order to be let into Mikey's (Sean Astin) house.
Director Richard Donner felt so bad for asking Cohen to film the scene that he thought about it for years. The director told Uproxx:
"There was no direction. I don't take any credit for that, it was just Jeff. He had to stand on that stump and be ridiculed by his friends so he could come in the house, and he did it as best as that character could do it. So much humor comes from pain. Although, I'm sure he was too young to be analytical about it, but I'm sure that was part of his instincts. It was a painful scene."
Cohen later became the captain of both his high school wrestling team and the football team. After graduation, he became a successful entertainment lawyer. Thankfully, he doesn't look back at his Chunk days with the same guilt:
"My clients get a kick out of the fact their lawyer is Chunk. They dig it. With my job, I'm dealing with legitimately famous people, so it's just silly and fun. I'm usually only the fifth most famous person in the room at any one time."