Entertainment
Behind the Scenes Stories of Famous Props

Updated November 27, 2019
1.4M views
17 items
Film props are not just randomly placed objects on a movie set. Many props hold significant meaning and add to the theme of a story. The most iconic movie props tell a tale on their own, like Dorothy's ruby red slippers. They're not just any ordinary pair of shoes: they represent Dorothy finally being able to return home to Kansas, but they also convey a feeling of nostalgia. Movie props in and of themselves can define a film.
Some of these legendary props sold for millions of dollars. You may be surprised to learn that the most expensive film prop sold at auction doesn't involve a British spy or an underwater vehicle. Think that John Huston's The Maltese Falcon was an intriguing mystery with twists and turns? The Maltese Falcon prop's story is just as mysterious.
From the famed DeLorean to a certain notorious wood chipper to how Michael Myers's mask was constructed for
Halloween
, these
behind the scenes stories
of props are sure to delight any movie fan.
Hermione's Homework From 'Harry Potter and the Sorcerer's Stone'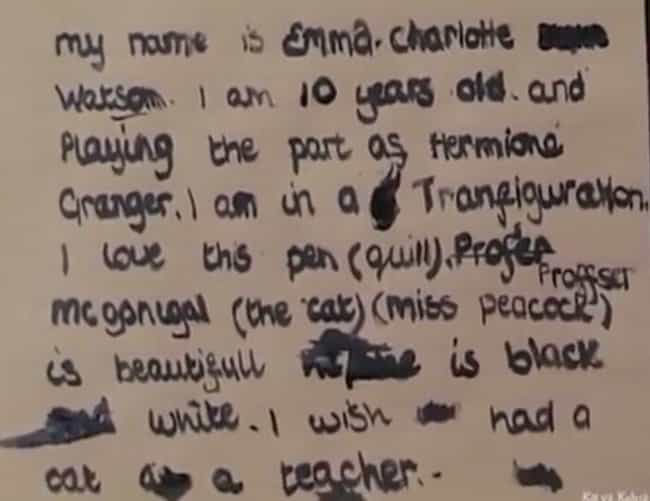 No surprise - it turns out Hermione Granger was actually doing her homework in Professor McGonagall's Transfiguration class. The letter, written by a young Emma Watson during the filming of Harry Potter and the Sorceror's Stone, was shared to the internet in November 2019.
"My name is Emma Charlotte Watson," the actress wrote. "I am ten years old and playing the part of Hermione Granger. I love this pen (quill). Proffser McGonigal [sic] the cat is beautiful. Is black and white. I wish I had a cat as a teacher."
The internet was enthralled, and immediately turned it into a meme.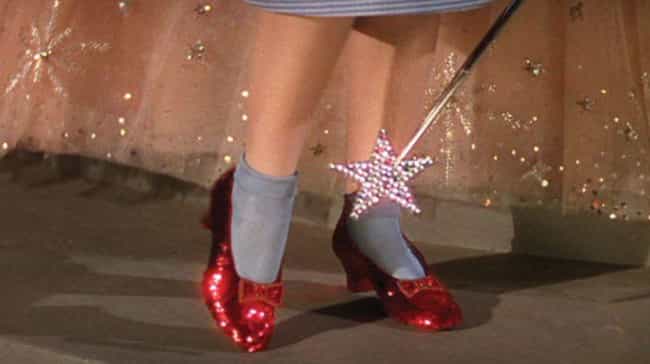 In 1939, Dorothy (Judy Garland) was able to return home in The Wizard of Oz by clicking the heels of her unmistakable ruby red slippers. There were probably about six or seven pairs of red slippers used during filming and there are four known remaining pairs today. However, at least one of them is unaccounted for. One of the pairs from The Judy Garland Museum in Grand Rapids, Minnesota was stolen in 2005.
Theories abounded about the slippers whereabouts. Some speculated the thief threw them into the Tioga Mine Pit Lake. Others believed the criminal sold them on the black market. There were no leads on the slippers for several years, until an Illinois man was allegedly spotted bragging about how he was involved in the heist from the Garland Museum. The cops raided the man's house but didn't find the slippers. In 2015, an anonymous donor put up a $1,000,000 reward for the return of the slippers.
Then, in September 2018 - 13 years after the slippers were stolen - the shoes found their way home. Thanks to a 2017 tip to Detective Brian Mattson, the Grand Rapids Police Department, along with Minneapolis FBI agents, were able to track down the missing shoes. The details surrounding the recovery were not discussed.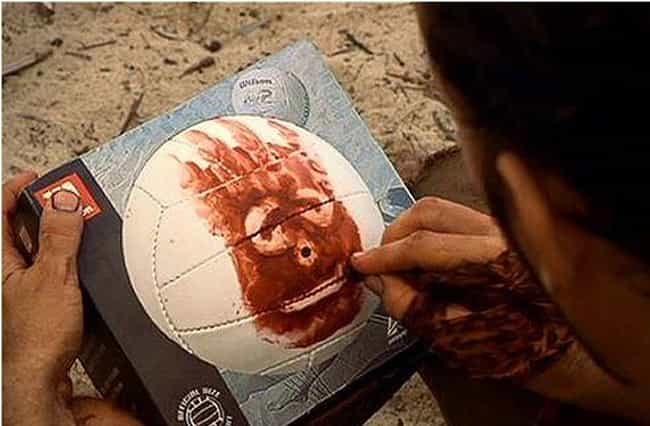 When Wilson floated away from Chuck (Tom Hanks), it felt like the death of a beloved human character. Yes, he may have been just a volleyball, but that volleyball probably saved Chuck from dying a slow death due to loneliness while he was marooned on a deserted island. The iconic prop has become part of popular culture. One of the original Wilsons used in Cast Away (2000) sold for $18,400.
The Wilson company also cashed in; they began selling volleyballs with the famous bloody hand print.
In terms of horror movie props, Michael Myers's mask from John Carpenter's first Halloween (1978) may be the most iconic. But here's an interesting fact: the mask was actually a store-bought William Shatner mask made by Don Post Studios. DPS made several molds of actors' faces for the Satanist film The Devil's Rain (1975). These molds were then used during the movie's melting scenes.
Actors like John Travolta, Ernest Borgnine, and Ida Lupino were all in The Devil's Rain and all had replica mask molds for their faces. However, it was the replica of Shatner's face that became the Mike Myers mask.