Sports
The Craziest Stories Of Behind The Scenes WWE Fights

Updated September 23, 2019
17.2k views
14 items
Professional wrestling has a reputation for fakery. Like other TV shows, WWE programs feature storylines, characters, and of course, drama. However, the ring isn't the only place wrestlers fight. Many times, these athletes settle their beef backstage, where there are no cameras. These are the epic stories of behind the scenes WWE fights, as told by both wrestlers and witnesses.
Thanks to wrestler biographies, podcasts, and interviews, wrestling fans can hear about the many off-camera scuffles between WWE superstars. Usually, it starts as a heated exchange of words before escalating into a physical brawl with no rules and no referee. One instance involving Chris Jericho and Goldberg resulted in a locker room fight that had to be split up by other wrestlers. Other infamous WWE stories include real fights featuring Big Show, The Great Khali, Kurt Angle, and Brock Lesnar.
While some wrestlers bury the hatchet after a few good punches, others keep grudges, which only makes their storylines juicier. After reading these crazy stories of WWE superstars fighting behind the scenes, you might learn a thing or two about your favorite wrestler. Watching these backstage WWE fights would be awesome, but there's something great (and genuine) about listening to wresters recounting their craziest brawls outside the ring.
This fight took place on May 5, 2002, on a flight headed back to the US after a pay-per-view event in the UK. Due to an hour delay, WWE management and wrestlers were already pretty drunk before takeoff. Once the plane was in the air, all hell broke loose.
Curt Hennig, AKA Mr. Perfect, kicked things off by claiming he was a better amateur wrestler than Brock Lesnar. A brawl broke out in the aisle, with Lesnar taking down the smaller Hennig. Triple H, Paul Heyman, and others ended up separating the pair. Mr. Perfect was later fired from the company.
Somewhere else on the plane, Dustin Runnels, AKA Goldust, was serenading his ex-wife Terri Runnels until he was stopped by WWE Vice President of Talent Relations Jim Ross. A year later, Goldust was dropped by WWE.
Things finally climaxed when a very drunk Michael Hayes punched JBL in the forehead, opening a gash from an earlier match. After Hayes fell asleep, Sean Waltman, AKA X-Pac, grabbed a pair of scissors and cut off his ponytail. Hayes would later find out about his missing ponytail while going through customs.
In a statement made by Jim Ross on WWE.com, the WWE commentator described the harrowing event:
"The flight was about seven hours in length and at times was low-lighted by a handful of people who consumed too much alcohol and consequently acted like children whose parents were away and left the liquor cabinet unlocked. The conduct of this inebriated minority was unacceptable and will not be tolerated. Procedures have been put in place to ensure such conduct does not occur in the future."
Dave Bautista And Booker T Have A Fistfight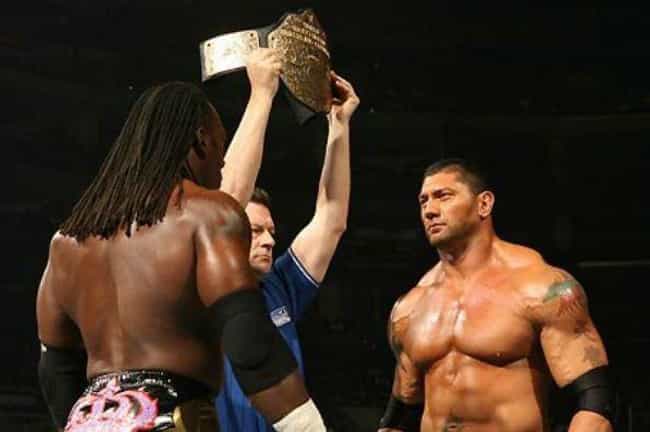 In his own book, Dave Bautista says that he was at fault for not treating Booker T with the respect he deserved, and apparently it led to a lengthy, brutal brawl. The two were at a SummerSlam commercial shoot in 2006, and it's rumored that five minutes of straight-up fighting happened before the brawl was broken up.
According to Dave Finlay, Booker T's girlfriend Sharmell Sullivan even got a few hits in, allegedly kicking Batista "in the nuts." Although there was "a bit of blood here and there," Finlay said the scuffle wasn't that bad, and "Dave [Bautista] came out on top."
At the time, it is said that Bautista may have been rubbing some folks backstage the wrong way, and Booker earned himself even more respect and popularity when he got the best of Bautista in the altercation.
Big Show And The Great Khali Come To Blows
On the Talk Is Jericho podcast with Chris Jericho, Big Show recalled "the worst friggin' fight on the planet" with The Great Khali. You can hear his thoughts in the above video. Backstage in the locker room, Big Show was already fuming mad at The Great Khali for stealing his trademark overhand chop. The two giants hurled insults at each other before getting physical. According to Jericho's book The Best in the World, Big Show threw the first punch. Soon, the "two titans began swinging" in all-out brawl, but nobody could stop the seven-footers. Finally, Big Show missed a wild punch causing him to fall, with The Great Khali tumbling on top.
Although there was no clear winner, Big Show felt he had lost the fight because "[The Great Khali] didn't go to the hospital." Fortunately, the two wrestlers have moved past their backstage fight and are now on good terms.
Kurt Angle And Brock Lesnar Wrestle
When Brock Lesnar was still a WWE newcomer, he claimed he could easily beat Kurt Angle in a wrestling match, even saying Angle was too small. Naturally, the Olympic gold medal winner took offense to this, so the two set up a wrestling match. Though Angle weighed 80 pounds less, and Angle managed to squeak out a win. He even took down the former UFC Heavyweight Champion a few times.
In the end, Angle proved experience beats size. He did, however, admit that Lesnar scared him, mainly because the 300-pound wrestler was not only agile, but very aggressive.