Updated June 14, 2019
333 votes
211 voters
47k views
10 items
Love Bennigan's? This is a great guide to preparing your favorite dishes from the Bennigan's Recipe's menu at home! These copycat recipes exactly the same method wise, but are they are modeled closely on the flavor and texture of Bennigan's food. This makes it easier, and cheaper to bring your favorite foods home!
It's always tempting to go out for a delicious treat at one of the many chain restaurants around town. But eating out at restaurants all the time can be a costly, not to mention the fact that, at restaurants, you have no portion control, and can't alter the recipes, ingredients or style of cooking to suit your own taste.
Making Bennigan's recipes in your home gives you all the chance to have your favorite meals, while saving you money. This list collections the best copycat Bennigan's recipes from around the Web.
What are Bennigan's recipes? These popular dishes can be made in the comfort of your own home.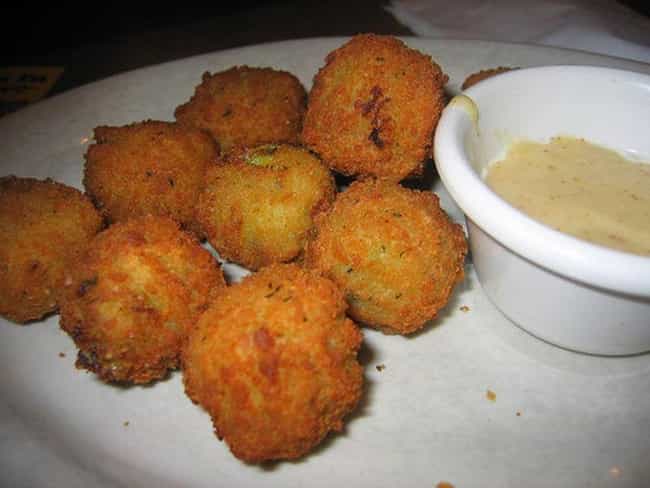 3 tablespoons prepared Dijon-style mustard
4 tablespoons honey
2 cups broccoli florets
1 cup shredded Cheddar cheese
1 egg
1 cup milk
1/2 cup sifted all-purpose flour
1/2 teaspoon baking powder
1/2 teaspoon salt
1/2 teaspoon vegetable oil
1/2 cup vegetable oil for frying
- Sauce: In a small bowl, stir together the mustard and honey. Set aside.
- Chop florets into small pieces or pulse lightly in food processor.
- Toss in a mixing bowl with shredded cheese. Set aside.
- Beat egg and stir in the milk.
- Sift flour, baking powder, and salt together and combine them with the egg and milk mixture, beating well.
- Beat in 1/2 teaspoon oil as well.
- Pour mixture over broccoli and cheese and toss to coat well.
- In a large skillet or saucepan heat oil to 375 degrees F (190 degrees C).
- Drop broccoli mixture by spoonfuls into 375 degrees F (190 degrees C) oil and fry until golden brown.
- Serve with honey mustard sauce.
Bennigan's Baked Monte Cristo Sandwich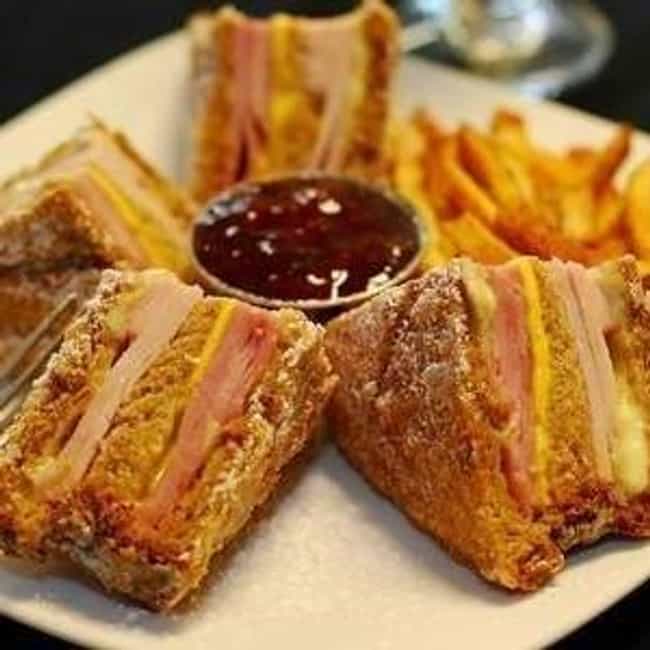 4 x 1 oz slices Swiss cheese
4 x 1 oz slices cooked turkey
8 slices firm white bread
3 eggs
2/3 cup milk
1 envelope dry onion soup mix
3 tbsp butter or margarine
Dijon Mustard dipping sauce:
½ cup sour cream
2 tbsp milk
1 tbsp Dijon mustard
- Preheat oven to 450°F.
- Place 1 slice of cheese and 1 slice of turkey on each of 4 bread slices.
- In pie plate beat eggs, milk, and dry soup mix until well blended.
- Dip each sandwich into egg mixture, spooning onion pieces onto bread.
- Make sure all egg mixture is used.
- Place butter in 15" x 10" jellyroll pan.
- Set in oven a couple of minutes to melt butter.
-Carefully place sandwiches in pan and drizzle any remaining egg mixture over them.
- Bake 5 minutes.
- Carefully turn sandwiches and continue baking until golden brown.
- Serve with Dijon Mustard Dipping Sauce.
- For Dijon Mustard Dipping Sauce: Mix well and then chill until ready to serve.
Cheese and Bacon Potato Skin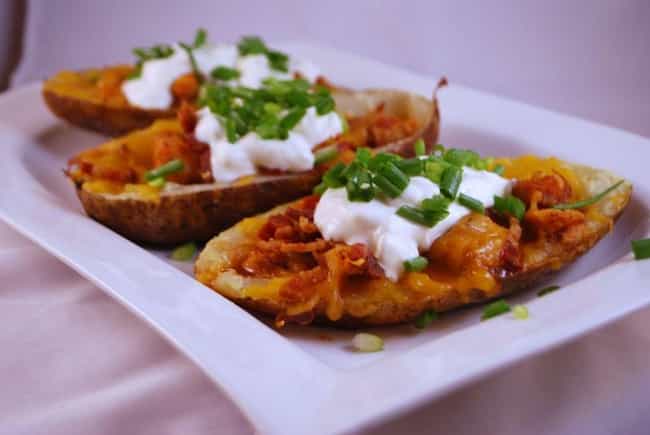 5 large (1kg total) unwashed potatoes, scrubbed
12 bacon shortcuts, chopped
6 green onions, sliced
40g butter, melted
1 cup grated cheddar cheese
sour cream and sweet chilli sauce, to serve
- Preheat oven to 180°C.
- Place potatoes onto middle shelf of oven. Bake for 45 minutes to 1 hour, or until tender. Cool.
- Heat a non-stick frying pan over medium heat.
- Cook bacon for 5 minutes.
- Remove from heat.
- Stir in half the onions.
- Preheat grill on medium-high heat.
- Cut potatoes into quarters, ensuring skin remains intact.
- Scoop out flesh, leaving a 5mm layer of potato.
- Place skins onto a baking tray, flesh-side down.
- Brush with half the butter. Grill for 3 minutes, or until golden. Turn.
- Brush with remaining butter. Grill for a further 3 minutes, or until golden.
- Spoon bacon mixture into skins.
- Top with cheese. Grill for a further 5 minutes, or until cheese is melted.
- Sprinkle with remaining onions. Serve with sour cream and sweet chilli sauce.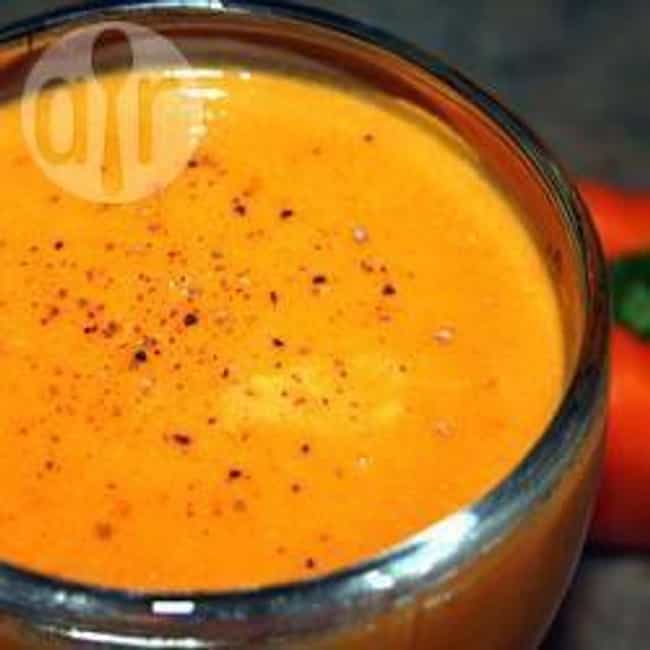 ½ lb firm white onions, sliced
¼ cup butter
2 tbsp corn oil
3 tbsp flour
1 quart chicken broth
1 quart beef broth
8 slices French bread
Swiss cheese, shredded
parmesan, grated
- Saute onions in butter and oil until onions are transparent, but not well browned.
- When tender, turn heat to lowest point and sprinkle with flour, stirring vigorously.
- Pour into Dutch oven and stir in chicken broth and beef broth.
- Heat thoroughly and divide among 8 ovenproof bowls.
- Float a slice of bread atop each serving.
- Mix equal parts of cheese to smooth paste and spread over bread.
- Place all bowls on oven rack 4" from broiler heat and broil until cheese melts.