Updated June 8, 2017
250 votes
185 voters
47.8k views
10 items
Bertucci's recipes, a helpful guide to preparing your favorite dishes from the Bertucci menu at home. These copycat recipes are typically not based on exactly the method used at Bertucci, but are modeled closely on the flavor and texture of Bertucci's food, making it easier than ever to bring these great tastes to your house for cheap.
From the cheesy biscuits at Red Lobster to the amazing sauces at Buffalo Wild Wings, it's always tempting to go out for a delicious treat at one of the numerous chain and franchise restaurants dotting the landscape. But eating out at restaurants all the time can be a costly proposition. Not to mention the fact that, at restaurants, you have no portion control, and can't alter the recipes, ingredients or style of cooking to suit your own taste.
The first Bertucci's opened in 1981 in Somervilla, MA, founded by Joe Crugnale, an immigrant from Sulmona, Italy. He picked the name out of an in-flight magazine and called his first restaurant Bertucci's Brick Oven Pizza. By 1986, the chain had 20 locations around New England. In the 1990s, Bertucci's expanded its menu to include pasta, sandwiches, meat and seafood dishes, and a variety of seasonal specialties.
Making Bertucci's recipes in your home gives you all of these options, while saving you money, and providing the same great diversity and taste that you'd find at your favorite casual dining spot. This list collections the best copycat Bertucci's recipes from around the Web.
What are some of Bertucci's popular recipes? Take a look at this list and see for yourself.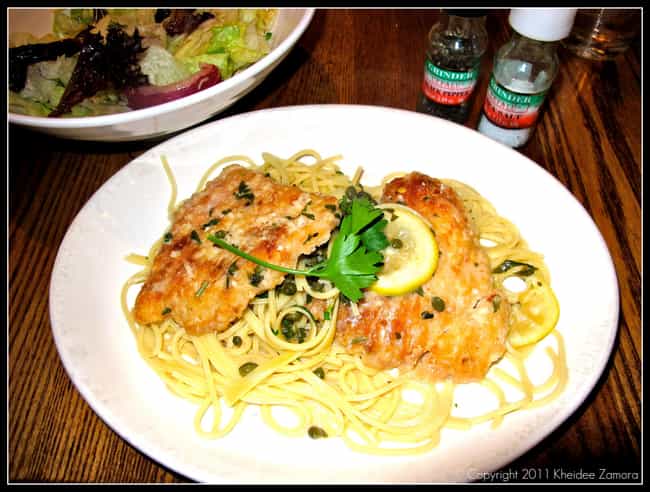 2-4 boneless, skinless chicken breast halves (1 1/2 pound total)
2 Tbsp grated Parmesan cheese
1/3 cup flour
Salt and pepper
4 Tbsp olive oil
4 Tbsp butter
1/2 cup chicken stock or dry white wine
3 Tbsp lemon juice
1/4 cup brined capers
1/4 cup fresh chopped parsley
- Cut the chicken breast halves horizontally, butterflying them open.
- Put them between two pieces of plastic wrap and pound them with a meat hammer to 1/4-inch thickness.
- Mix together the flour, salt, pepper, and grated Parmesan.
- Rinse the chicken pieces in water.
- Dredge them thoroughly in the flour mixture, until well coated.
- Heat olive oil and 2 tablespoons of the butter in a large skillet on medium high heat.
- Add half of the chicken pieces Brown well on each side, about 3 minutes per side.
- Remove the chicken from the pan and reserve to a plate.
- Cook the other breasts in the same manner, remove from pan.
- Cover with aluminum foil and keep warm in the oven while you prepare the sauce.
- Add the chicken stock (or white wine), lemon juice, and capers to the pan.
- Reduce the sauce by half.
- Whisk in the remaining 2 tablespoons of butter.
- Plate the chicken and serve with the sauce poured over the chicken.
- Sprinkle with parsley.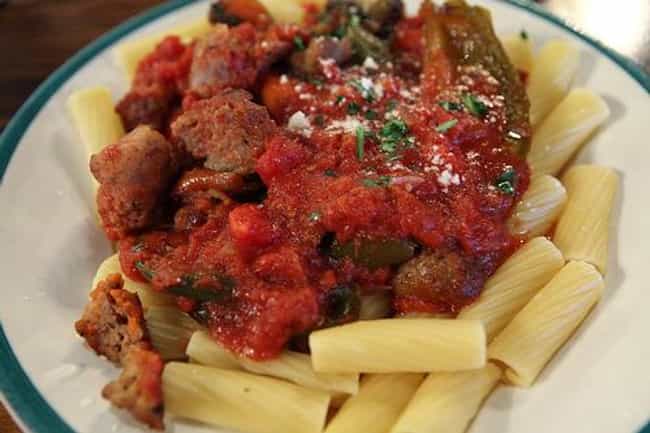 32 oz. of garlic and onion spaghetti sauce (prepare from scratch or use store bought brand)
Half tbsp. crushed red pepper
One tsp. sugar
One onion, diced
Two tbsp. olive oil
Two cloves of garlic, crushed
Half tsp. dried oregano
Half tsp. fresh basil, chopped
Half tsp. parsley, fresh or dried
One jar roasted red peppers, chopped
Four sweet Italian sausages
One box penne pasta (or your favorite pasta)
Parmesan cheese
- Heat a non-stick skillet over low heat.
- Add two tablespoons of olive oil to the pan and add diced onion.
- Cover the pan with a lid. Stir occasionally.
- Once the onions are soft and almost transparent, add to the recipe.
- Add Italian sausage to a frying pan and sauté for approximately six minutes on each side.
- The sausages should be brown in color.
- Add about two tablespoons of water to the pan and cover for an additional six minutes to finish cooking.
- Set sausages aside to cool while you finish sweating the onions.
- Slice the sausage when cooled.
- In a large saucepan combine spaghetti sauce with red pepper flakes, sugar, garlic, oregano, parsley and basil and bring to boil.
- Add sweated onions to the mixture and stir to combine.
- Reduce heat to low.
- Add the red peppers and sausage to the pot and simmer on low for an additional twenty to 30 minutes.
- Cook pasta as directed on the box with an additional dash of salt and olive oil.
- Pour the sauce over the pasta and garnish the Rigatoni Abruzzi with a generous potion of Parmesan cheese.
- Serve with a tomato and mozzarella Caprese salad and fresh baked garlic bread.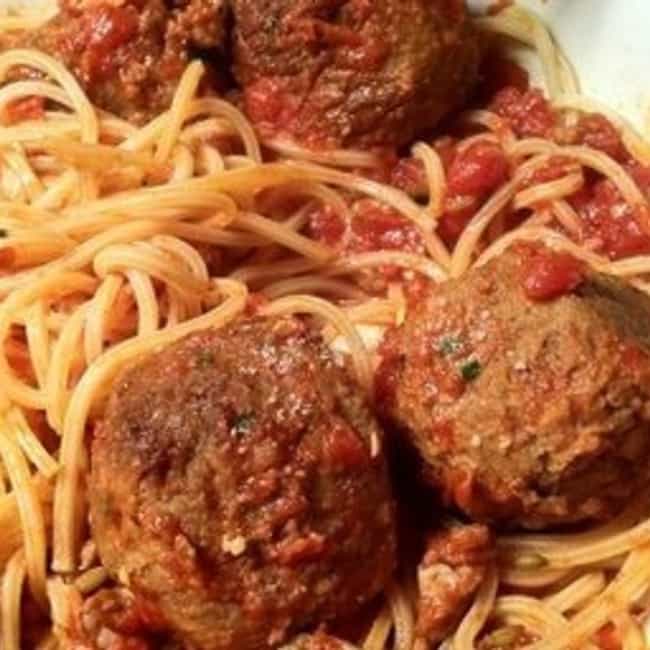 2 slices stale white bread, crusts removed
1 cup milk
1 small bunch flat-leaf parsley, finely chopped
1 clove garlic, finely chopped
9 ounces minced beef and pork, equal amounts
2 fresh eggs
2 ounces pecorino, grated
Salt and freshly ground black pepper
1 buffalo mozzarella, drained and chopped into little pieces
Unseasoned bread crumbs
Extra-virgin olive oil, for frying
Tomato sauce
- Put the bread in a small mixing bowl, cover with milk, and leave to soak.
- Chop the parsley and garlic together.
- Put meat into a large mixing bowl.
- Squeeze the milk out of the bread and add to meat.
- Add parsley and garlic.
- Use your hands to mix the ingredients.
- Break eggs into the mixture to bind it.
- Add the pecorino.
- Season with salt and freshly ground black pepper.
- Shape meatballs by hand, make a hole in the top and insert a small piece of mozzarella.
- Cover it up and pat meatball into shape.
- Roll in bread crumbs.
- Pour olive oil into a frying pan,when it's really hot, fry the meatballs for 5 minutes, or until they have formed a crust.
-Turn over.
- When golden brown and crusty on both sides remove the meatballs from the pan and drain on paper towels.
- Add the meatballs to the tomato sauce.
- Cover and cook very slowly on low heat for 45 minutes, until the sauce is reduced by half.
Tomato sauce:
Extra-virgin olive oil
1 clove garlic
3 (12-ounce) tins peeled cherry tomatoes
- Pour enough oil into a saucepan to cover the surface.
- Add garlic and 3 tins of tomatoes, mashing them slightly.
- Boil the sauce for 5 minutes and simmer for another 3 minutes.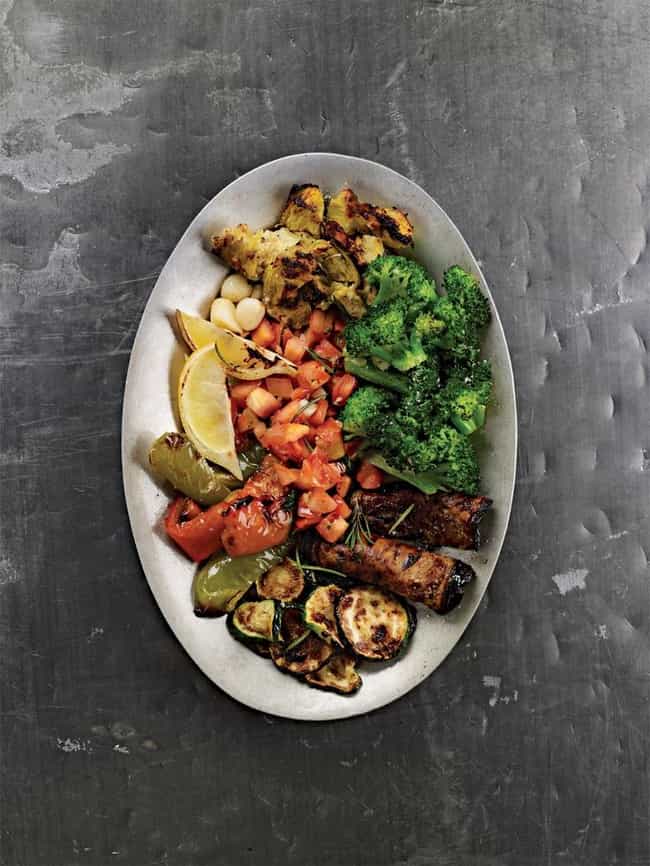 Zucchini 2.5 lbs
Extra-Virgin Olive Oil 4 fluid oz
Garlic, chopped 1 tbsp
Sea Salt 2 tsp
Crushed Red Pepper ½ tsp
Dressing:
Balsamic Reduction ½ cup (See Step 2)
Mint Leaves 6-8 (optional)
- Preheat oven at 425° F.
- In a small sauce pan, bring 1 cup of balsamic vinegar to a boil
- Boil it over high heat until reduced by half.
- Cool and set aside.
- Wash and dry the zucchini.
- Trim the ends then slice into 3/8-inch-thick rounds.
- Place the zucchini in a large bowl, add oil, garlic, salt and crushed red pepper.
- Toss well.
- Arrange the zucchini slices in a single layer on a large baking sheet and roast until the edges start to brown, about 20 minutes.
- Let cool on the baking sheet at room temperature.
- Place the zucchini in a serving platter
- Drizzle with the balsamic reduction and decorate with mint leaves.