Anime Underground
The 14 Best First Kisses In Anime History

38k votes
11.4k voters
163.2k views
14 items
List Rules Vote up the couples that are meant to be.
For all the romantic entanglements that anime brings to the table, there's surprisingly little kissing going on. With some couples, the first kiss may be the only kiss the viewer ever sees. With that in mind, lets take a look at some of the best anime first kisses out there.
Some are romantic and adorable, some are heartbreaking, and one literally saves the world from destruction. Which anime first kiss is your favorite?
Takumi Usui & Misaki Ayuzawa — Kaichou Wa Maid-sama!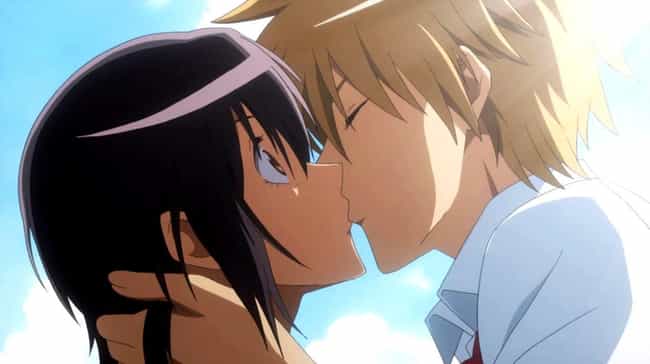 Kaichou wa Maid-sama! features Takumi Usui and Misaki Ayuzawa, two classmates with a contentious relationship. Misaki is desperately trying to keep her part-time job at a maid cafe a secret, and Takumi is, to put it bluntly, blackmailing her.
When the two accidentally drop an incriminating photograph off of the roof, Takumi says he's going to jump off the roof and grab it. When Misaki asks why he'd do something so reckless, he kisses her and tells her he loves her... then jumps off the roof. He grabs the photo, and thus begins their transformation from bickering acquaintances to two people falling deeply in love.

Was this love at first kiss?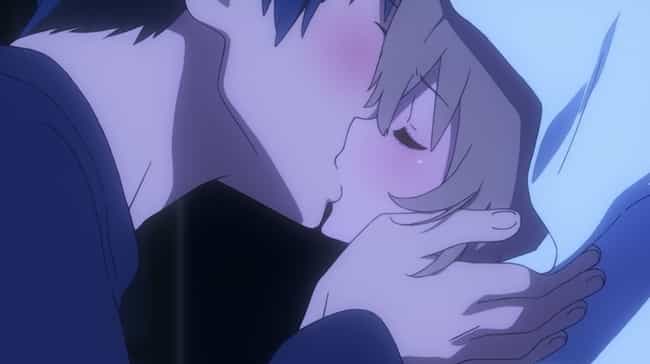 Toradora's Taiga Aisaka and Ryuuji Takasu decide to elope before they graduate high school, but their first kiss doesn't come until after they realize that abandoning their lives and getting married in secret is a terrible idea.
Alone in a bedroom at Ryuuji's grandparents' house, the two agree to wait until they're truly ready, but decide to practice a bit first. Taiga talks about how painful it will be if they kiss, but when they actually kiss, it isn't painful at all. The moment serves to reevaluate the couple's relationship, and underscores their commitment to making it work.

Was this love at first kiss?
see more on Taiga Aisaka
Mei Tachibana & Yamato Kurosawa — Say "I Love You"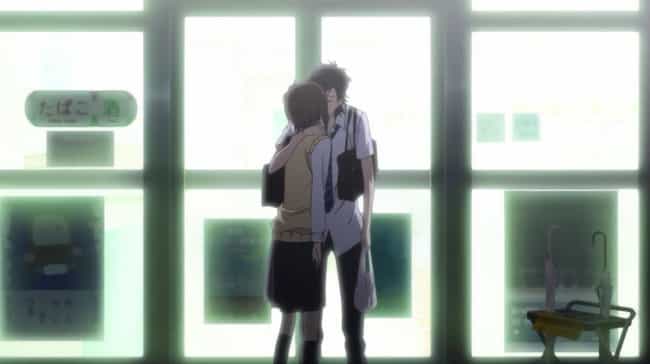 Say "I Love You" is unique in that the first kiss happens before the relationship starts, not after. Mei Tachibana, a girl who has grown suspicious and withdrawn after a lifetime of bullying, isn't about to let anyone get close to her, not even her friendly and attractive classmate, Yamato Kurosawa.
When Mei is followed home from work by a stalker, she puts her pride aside and calls Yamato, who immediately comes to her rescue. He kisses her to discourage the stalker, and from there, the pair begin to develop real feelings for each other. Watching a teenager rescue a young girl from a creep is deeply gratifying.

Was this love at first kiss?
Kurisu Makise & Rintaro Okabe — Steins;Gate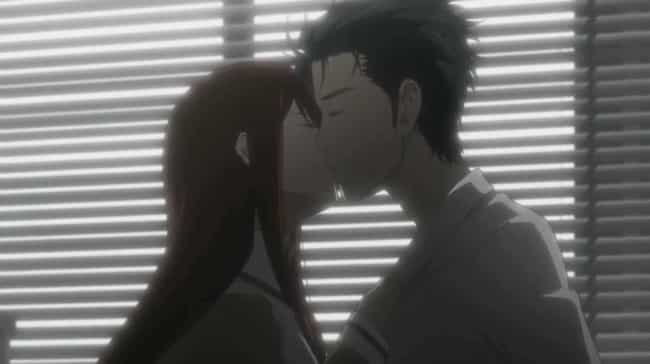 You might think that any kiss where the participants find time to reference Albert Einstein's theory of relativity cannot be particularly passionate. If so, Steins;Gate is here to prove you wrong.
Kurisu and Okabe have just realized that Kurisu might have to die so that they can save someone else... but only in one timeline. Maybe. It's complicated. Kurisu's possibly immanent demise is part of what spurs the kiss. Faced with the prospect of losing her, Okabe realizes how close they've grown, and how she's been the only person he could truly rely on.
This is heartwarming, and so is Kurisu's explanation for why she kisses him in the first place. She didn't do it because she wanted to; she did it because powerful experiences such a first kiss are stored in the hippocampus, and aren't easily forgotten. This isn't Okabe's first kiss, but it's his first one with someone he loves, and they end up kissing for a while afterward. The whole thing is awkward and strange, yet somehow still touching and lovely.

Was this love at first kiss?