Anime Underground
The 14 Best First Kisses In Anime History

Updated September 21, 2018
42.2k votes
12.8k voters
186.9k views
14 items
List Rules Vote up the couples that are meant to be.
For all the romantic entanglements that anime brings to the table, there's surprisingly little kissing going on. With some couples, the first kiss may be the only kiss the viewer ever sees. With that in mind, lets take a look at some of the best anime first kisses out there.
Some are romantic and adorable, some are heartbreaking, and one literally saves the world from destruction. Which anime first kiss is your favorite?
Takumi Usui & Misaki Ayuzawa — Kaichou Wa Maid-sama!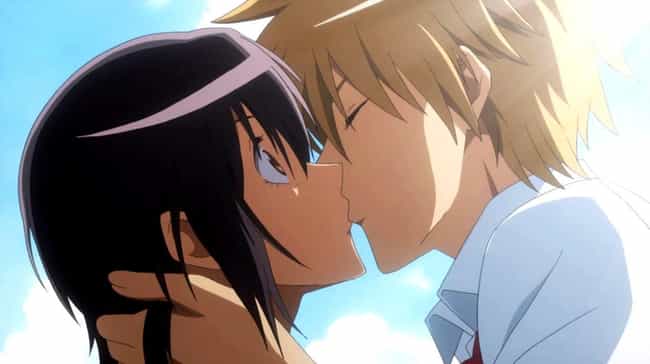 Kaichou wa Maid-sama! features Takumi Usui and Misaki Ayuzawa, two classmates with a contentious relationship. Misaki is desperately trying to keep her part-time job at a maid cafe a secret, and Takumi is, to put it bluntly, blackmailing her.
When the two accidentally drop an incriminating photograph off of the roof, Takumi says he's going to jump off the roof and grab it. When Misaki asks why he'd do something so reckless, he kisses her and tells her he loves her... then jumps off the roof. He grabs the photo, and thus begins their transformation from bickering acquaintances to two people falling deeply in love.
Was this love at first kiss?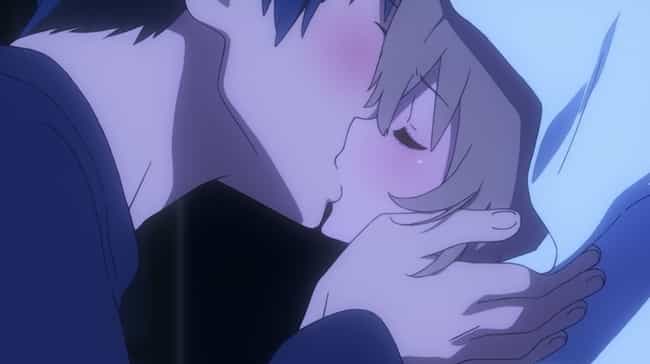 Toradora's Taiga Aisaka and Ryuuji Takasu decide to elope before they graduate high school, but their first kiss doesn't come until after they realize that abandoning their lives and getting married in secret is a terrible idea.
Alone in a bedroom at Ryuuji's grandparents' house, the two agree to wait until they're truly ready, but decide to practice a bit first. Taiga talks about how painful it will be if they kiss, but when they actually kiss, it isn't painful at all. The moment serves to reevaluate the couple's relationship, and underscores their commitment to making it work.
Was this love at first kiss?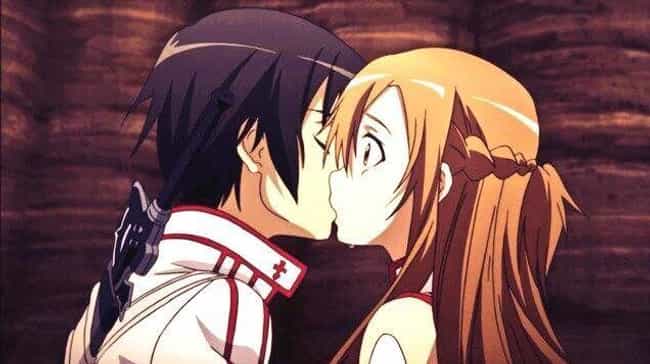 It was pretty obvious to most Sword Art Online fans that Kirigaya Kazuki (also known as Kirito) and Asuna Yuuki were going to end up kissing. While it wasn't exactly a surprise, it was still an emotional scene. The kiss goes down just after Kirito and Asuna finish fighting Kuradeel, a traitorous member of Asuna's guild who nearly murders Kirito. Asuna saves him, but feels guilty that she involved him with the guild in the first place.
When she says that they should probably separate, Kirito vehemently disagrees by kissing her, declaring his love for her, and saying that he'd sacrifice his life for her if need be. If that's not romantic, nothing is.
Was this love at first kiss?
Yuuri Katsuki & Victor Nikiforov — Yuri!!! On Ice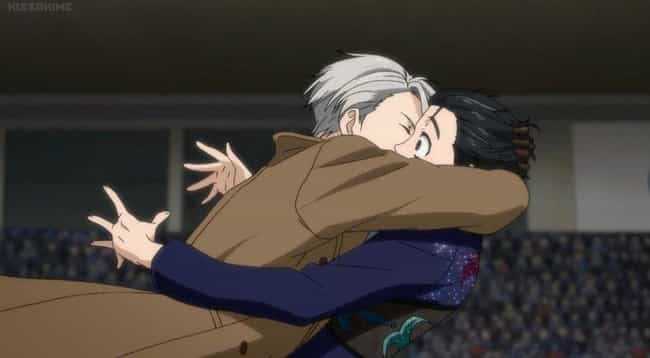 The kiss between Yuuri Katsuki and Victor Nikiforov of Yuri!!! on Ice is one that will go down in anime history. Yuuri is a professional ice skater who is left wallowing in depression after a bad professional year. Victor, another pro skater who Yuuri has always admired, agrees to coach him, and the two quickly develop a romantic relationship that culminates in a kiss.
Not only is said kiss emotionally fulfilling for viewers who have been watching their love grow, it also depicts a healthy representation of an LGBTQ relationship, a rare occurrence in anime.
Yuuri and Victor aren't just a couple sharing their first kiss, they do so in front of thousands of ice skating fans during an internationally televised skating event. Realistically, Victor could have been arrested for violating the gay propaganda laws of his home country, Russia. With this in mind, watching the fearless Victor kiss the person he loves so hard he knocks him over is truly inspiring.
Was this love at first kiss?