Entertainment

The Greatest Army Movies Ever Made

89.7k votes
13.9k voters
1.1M views
100 items
List Rules Movies must have characters in the army as a focus.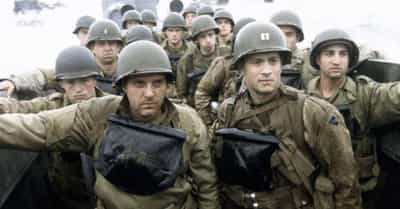 Feeling patriotic? Check out this list of best army movies, with videos, ranked by fans of army films. All of the top army movies are on this list, but if you believe any of your favorite military movies are missing, feel free to add them yourself. Good army movies give civilians a taste of what our soldiers go through in battle and throughout their daily lives. While not all of these films feature war, they all use the army as a central theme and feature some of the best soldier moves ever depicted on film. You might also be interested in Vietnam War movies and World War I films.
Featuring war movies, movies about soldiers, and military films, this list of the greatest army movies includes Saving Private Ryan, Black Hawk Down, and Apocalypse Now.
What are the best military movies? The best soldier movies create an emotional connection with the characters and depict exciting army action. Movies on this army movies list depict all time frames from recent, modern militaries to the armies of the past. If you're interested in the army, then these are the movies for you.
Love movies with these types of themes? Check out some great military TV shows here.
1

Saving Private Ryan

Tom Hanks, Matt Damon, Vin Diesel

Saving Private Ryan is a 1998 American epic drama war film set during the Invasion of Normandy in World War II. Directed by Steven Spielberg and written by Robert Rodat, the film is notable for ...more
2

TxAussie added

Full Metal Jacket

Stanley Kubrick, Vincent D'Onofrio, R. Lee Ermey

Full Metal Jacket is a 1987 film directed and produced by Stanley Kubrick. The screenplay by Kubrick, Michael Herr, and Gustav Hasford was based on Hasford's novel The Short-Timers. The film ...more
3

Black Hawk Down

Ewan McGregor, Tom Hardy, Orlando Bloom

Black Hawk Down is a 2001 American-British war film directed by Ridley Scott. It is an adaptation of the 1999 book of the same name by Mark Bowden based on his series of articles published in ...more
4

Platoon

Johnny Depp, Charlie Sheen, Willem Dafoe

Platoon is a 1986 American war film written and directed by Oliver Stone and starring Tom Berenger, Willem Dafoe and Charlie Sheen. It is the first film of a trilogy of Vietnam War films by ...more
5

TxAussie added

Apocalypse Now

Marlon Brando, Harrison Ford, Robert Duvall

Apocalypse Now is a 1979 American epic adventure war film set during the Vietnam War. Produced and directed by Francis Ford Coppola and starring Marlon Brando, Martin Sheen, and Robert Duvall. ...more
6

abby_stephan added

Lone Survivor

Mark Wahlberg, Eric Bana, Taylor Kitsch

Lone Survivor is a 2013 American film written and directed by Peter Berg, and starring Mark Wahlberg, Taylor Kitsch, Emile Hirsch, Ben Foster and Eric Bana. The film is based on the 2007 ...more
7

PeteBoyle added

The Dirty Dozen

Jim Brown, Donald Sutherland, Charles Bronson

The Dirty Dozen is a 1967 film directed by Robert Aldrich, released by MGM, and starring Lee Marvin. The picture was filmed in England and features an ensemble supporting cast including Ernest ...more
8

Jason Agnew added

American Sniper

Bradley Cooper, Sienna Miller, Jonathan Groff

American Sniper is a 2014 American biographical drama film directed by Clint Eastwood and written by Jason Hall. It is based on the book American Sniper: The Autobiography of the Most Lethal ...more
9

We Were Soldiers

Mel Gibson, Lyndon B. Johnson, Jon Hamm

We Were Soldiers is a 2002 film that dramatizes the Battle of Ia Drang on November 14, 1965. The film was directed by Randall Wallace and stars Mel Gibson. It is based on the book We Were ...more
10

frankpanderson added

The Bridge on the River Kwai

Alec Guinness, William Holden, Jack Hawkins

The Bridge on the River Kwai is a 1957 WWII epic film directed by David Lean, based on the novel Le Pont de la Rivière Kwai by Pierre Boulle. The film is a work of fiction but borrows the ...more
11

Fury

Brad Pitt, Shia LaBeouf, Logan Lerman

Fury is a 2014 American film directed by David Ayer. A grizzled tank commander (Brad Pitt) makes tough decisions as he and his crew fight their way across Germany in April, 1945.
12

BillStockstill added

The Longest Day

Sean Connery, John Wayne, Richard Burton

The Longest Day is a 1962 film based on the 1959 history book The Longest Day by Cornelius Ryan, about D-Day, the Normandy landings on June 6, 1944, during WWII. The film was produced by Darryl ...more
13

Patton

George C. Scott, Karl Malden, Paul Frees

Patton is a 1970 American epic biographical film about U.S. General George S. Patton during WWII. It stars George C. Scott, Karl Malden, Michael Bates and Karl Michael Vogler. It was directed by ...more
14

DaveHanlon added

The Green Berets

John Wayne, George Takei, Vera Miles

The Green Berets is a 1968 American film set in Vietnam, featuring John Wayne, George Takei, David Janssen, Jim Hutton and Aldo Ray, nominally based on the eponymous 1965 book by Robin Moore, ...more
15

frankpanderson added

The Great Escape

Steve McQueen, Richard Attenborough, James Garner

The Great Escape is a 1963 American WWII epic film based on an escape by British and Commonwealth POW from a German POW camp during WWII, starring Steve McQueen, James Garner, and Richard ...more
16

pmmom38 added

The Patriot

Mel Gibson, Heath Ledger, Logan Lerman

The Patriot is a 2000 American epic historical fiction film directed by Roland Emmerich. Peaceful farmer Benjamin Martin (Mel Gibson) is driven to lead the his own group of men during the ...more
17

TxAussie added

Heartbreak Ridge

Clint Eastwood, Mario Van Peebles, Marsha Mason

Heartbreak Ridge is a 1986 American film directed and produced by Clint Eastwood, who also starred in the film. The film also co-stars Mario Van Peebles, Marsha Mason, and Everett McGill. The ...more
18

wiabux added

Enemy at the Gates

Rachel Weisz, Jude Law, Ed Harris

Enemy at the Gates is a 2001 film directed by Jean-Jacques Annaud. The film's title is taken from William Craig's 1973 nonfiction book Enemy at the Gates: The Battle for Stalingrad, which ...more
19

Glory

Morgan Freeman, Denzel Washington, Matthew Broderick

Glory is a 1989 American drama film directed by Edward Zwick and starring Matthew Broderick, Denzel Washington, Cary Elwes and Morgan Freeman. The screenplay was written by Kevin Jarre, based on ...more
20

RawnToler added

Sands of Iwo Jima

John Wayne, Forrest Tucker, Richard Jaeckel

Sands of Iwo Jima is a 1949 film starring John Wayne that follows a group of United States Marines from training to the Battle of Iwo Jima during WWII. The movie also features John Agar, Adele ...more
21

BillStockstill added

Tears of the Sun

Bruce Willis, Monica Bellucci, Eamonn Walker

Tears of the Sun is a 2003 American action drama film depicting a U.S. Navy SEAL team rescue mission amidst the civil war in Nigeria. LT A.K. Waters commands the team sent to rescue U.S. citizen ...more
22

Abigail Moss added

Hacksaw Ridge

Andrew Garfield, Sam Worthington, Luke Bracey

SUCH A GOOD FILM WORTH WATCHING ! INTENSE ,ACTION,THRILLER! JUST AS GOOD AS SAVING PRIVATE RYAN!

Hacksaw Ridge is a 2016 biographical war film about the World War II experiences of Desmond Doss, an American pacificist combat medic who was a Seventh-day Adventist Christian, refusing to carry ...more
23

Kelly's Heroes

Clint Eastwood, Donald Sutherland, Don Rickles

Kelly's Heroes is a 1970 comedy film directed by Brian G. Hutton, about a group of WWII soldiers who go AWOL to rob a bank behind enemy lines. The film stars Clint Eastwood, Telly Savalas, Don ...more
24

John Blues added

Act of Valor

Roselyn Sánchez, Ernie Reyes, Jr.

Act of Valor is a 2011 action adventure thriller film written by Kurt Johnstad and directed by Mike McCoy and Scott Waugh.
25

Vvvvvvv added

Hamburger Hill

Don Cheadle, Dylan McDermott, Courtney B. Vance

Hamburger Hill is a 1987 American film about the actual assault of the U.S. Army's 3rd Battalion, part of the 3rd Brigade, 101st Airborne Division 'Screaming Eagles', on a well-fortified ...more