Entertainment
The Best Asa Butterfield Movies

311 votes
119 voters
3.5k views
7 items
List Rules Vote for your favorite movies, regardless of critic reviews or how big the role was.
List of the best Asa Butterfield movies, ranked best to worst with movie trailers when available. Asa Butterfield's highest grossing movies have received a lot of accolades over the years, earning millions upon millions around the world. The order of these top Asa Butterfield movies is decided by how many votes they receive, so only highly rated Asa Butterfield movies will be at the top of the list. Asa Butterfield has been in a lot of films, so people often debate each other over what the greatest Asa Butterfield movie of all time is. If you and a friend are arguing about this then use this list of the most entertaining Asa Butterfield films to end the squabble once and for all.
If you think the best Asa Butterfield role isn't at the top, then upvote it so it has the chance to become number one. The greatest Asa Butterfield performances didn't necessarily come from the best movies, but in most cases they go hand in hand.
List includes The Boy in the Striped Pyjamas, Ender's Game, more.
"This list answers the questions, "What are the best Asa Butterfield movies?" and "What are the greatest Asa Butterfield roles of all time?"
The Boy in the Striped Pajamas (released as The Boy in the Striped Pajamas) is a 2008 British historical-drama film directed by Mark Heyman, based on the novel by John Boyne. During World War II, the eight-year-old son (Asa Butterfield) of the commandant at a German concentration camp begins a forbidden friendship with a Jewish boy (Jack Scanlon) on the other side of the camp fence, which has startling and unexpected consequences. ...more on Wikipedia
Actors: Asa Butterfield, Jack Scanlon, Vera Farmiga, David Thewlis, Rupert Friend, + more
Released: 2008
Directed by: Mark Herman
Agree or disagree?
Hugo is a 2011 American 3D historical adventure drama film directed and co-produced by Martin Scorsese and adapted for the screen by John Logan. Based on Brian Selznick's novel The Invention of Hugo Cabret, it is about a boy who lives alone in the Gare Montparnasse railway station in Paris in the 1930s. A co-production between Graham King's GK Films and Johnny Depp's Infinitum Nihil, the film stars Ben Kingsley, Sacha Baron Cohen, Asa Butterfield, Chloë Grace Moretz, Ray Winstone, Emily Mortimer, Jude Law, Helen McCrory, and Christopher Lee. Hugo is Scorsese's first film shot in 3D, of which the filmmaker remarked: "I found 3D to be really interesting, because the actors were more upfront ...more on Wikipedia
Actors: Jude Law, Chloë Grace Moretz, Christopher Lee, Ben Kingsley, Sacha Baron Cohen, + more
Released: 2011
Directed by: Martin Scorsese
Agree or disagree?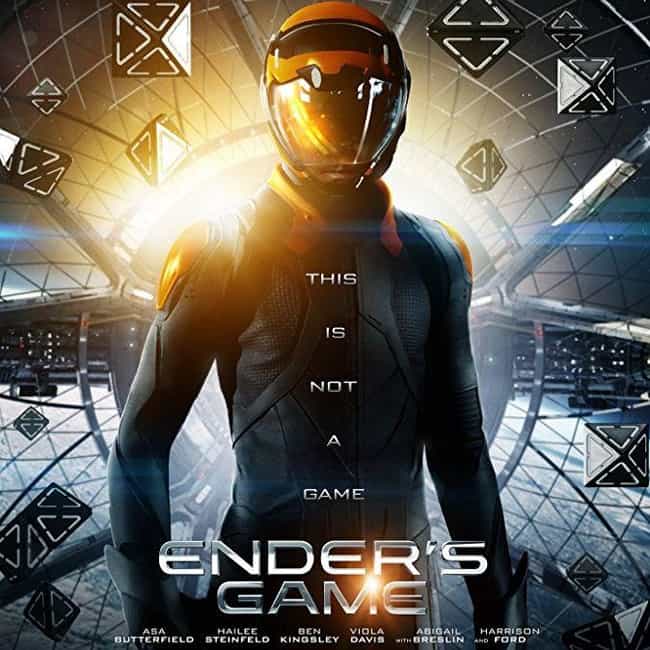 Ender's Game is a 2013 American science fiction action film based on the novel of the same name by Orson Scott Card. Written and directed by Gavin Hood, the film stars Asa Butterfield as Andrew "Ender" Wiggin, an unusually gifted child who is sent to an advanced military academy in outer space to prepare for a future alien invasion. The supporting cast includes Harrison Ford, Hailee Steinfeld, Viola Davis, Abigail Breslin, and Ben Kingsley. The film was released in Germany on October 24, 2013, followed by a release in the United Kingdom and Ireland one day later. It was released in the United States, Canada, and several other countries on November 1, 2013, and was released in other ...more on Wikipedia
Actors: Harrison Ford, Ben Kingsley, Viola Davis, Hailee Steinfeld, Abigail Breslin, + more
Released: 2013
Directed by: Gavin Hood

Agree or disagree?
Nanny McPhee and the Big Bang is a 2010 British family film. It is a sequel to the 2005 film Nanny McPhee. It was adapted by Emma Thompson from Christianna Brand's Nurse Matilda books. Thompson reprises her role as Nanny McPhee, and the film also stars Maggie Gyllenhaal, Ralph Fiennes, Rhys Ifans, Ewan McGregor, Maggie Smith, Asa Butterfield, Bill Bailey and Katy Brand. ...more on Wikipedia
Actors: Ewan McGregor, Ralph Fiennes, Maggie Gyllenhaal, Emma Thompson, Maggie Smith, + more
Released: 2010
Directed by: Susanna White
Agree or disagree?