Entertainment
The Best Ashley Benson Movies

229 votes
79 voters
11.1k views
10 items
List Rules Vote for your favorite movies, regardless of critic reviews or how big the role was.
List of the best Ashley Benson movies, ranked best to worst with movie trailers when available. Ashley Benson's highest grossing movies have received a lot of accolades over the years, earning millions upon millions around the world. The order of these top Ashley Benson movies is decided by how many votes they receive, so only highly rated Ashley Benson movies will be at the top of the list. Ashley Benson has been in a lot of films, so people often debate each other over what the greatest Ashley Benson movie of all time is. If you and a friend are arguing about this then use this list of the most entertaining Ashley Benson films to end the squabble once and for all.
If you think the best Ashley Benson role isn't at the top, then upvote it so it has the chance to become number one. The greatest Ashley Benson performances didn't necessarily come from the best movies, but in most cases they go hand in hand.
List features Christmas Cupid, Mother Goose Parade and more.
"This list answers the questions, "What are the best Ashley Benson movies?" and "What are the greatest Ashley Benson roles of all time?"
If Ashley Benson movies are your thing, then check out the greatest movies by Lucy Hale and Sasha Pieterse too.
Bring It On: In It to Win It is a 2007 teen film directed by Steve Rash and starring Ashley Benson, Michael Copon and Cassie Scerbo. It is the fourth film in the Bring It On franchise, which focuses on competitive cheerleading. It was shot at Universal Orlando Resort in Orlando, United States. It was released direct-to-video on 18 December 2007 in the United States and had a television premiere on 20 January 2008 on ABC Family. Mostly inspired by the famous musical West Side Story, this film illustrates the typical forbidden romance between 2 people from rival teams who have to work out their enmity in order to trust each other. There are no recurring cast members or canonical references to ...more on Wikipedia
Actors: Ashley Tisdale, Ashley Benson, Cassie Scerbo, Michael Copon, Lola Sanchez, + more
Released: 2007
Directed by: Steve Rash
Agree or disagree?
see more on Bring It On: In It to Win It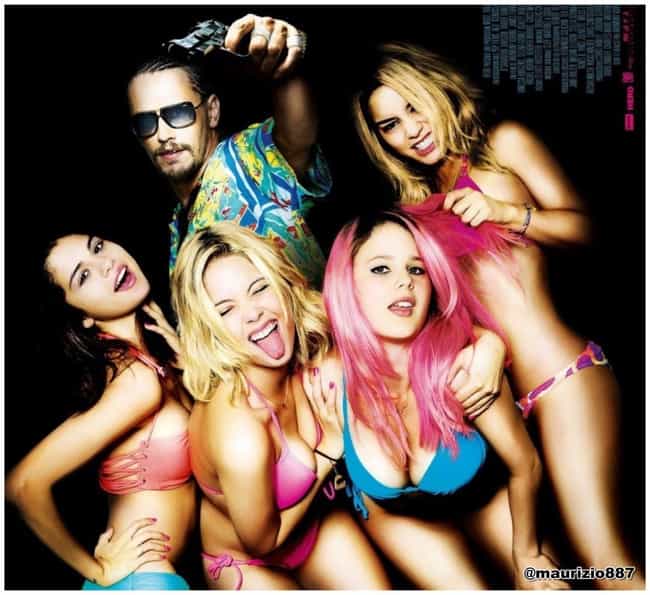 Spring Breakers is a 2012 American film directed by Harmony Korine. While enjoying their spring break in Florida, four college-aged girls meet an eccentric local person who introduces them to a world they didn't want. ...more on Wikipedia
Actors: James Franco, Vanessa Hudgens, Selena Gomez, Ashley Benson, Rachel Korine, + more
Released: 2012
Directed by: Harmony Korine

Agree or disagree?
see more on Spring Breakers
13 Going on 30 is a 2004 American romantic comedy fantasy film written by Josh Goldsmith and Cathy Yuspa, and directed by Gary Winick. Starring Jennifer Garner, Mark Ruffalo, Judy Greer, Andy Serkis and Kathy Baker, the film was produced by Revolution Studios for Columbia Pictures and it was released on April 23, 2004. It follows a 13-year-old girl who dreams of being popular. During her birthday party, she engages in the party game Seven Minutes in Heaven. The game turns out to be a humiliating experience for her, and she refuses to come out of the closet. When she eventually does emerge, she finds herself five days shy of her 30th birthday, uncertain to how she got there. The film received ...more on Wikipedia
Actors: Jennifer Garner, Ashley Benson, Mark Ruffalo, Renee Olstead, Judy Greer, + more
Released: 2004
Directed by: Gary Winick
Agree or disagree?
see more on 13 Going on 30
Fab Five: The Texas Cheerleader Scandal is a film directed by Tom McLoughlin released on Aug 2, 2008. ...more on Wikipedia
Actors: Ashley Benson, Tatum O'Neal, Jenna Dewan, Jessica Heap, Daniel Newman, + more
Released: 2008
Directed by: Tom McLoughlin
Agree or disagree?
see more on Fab Five: The Texas Cheerleader Scandal