Food
The Best Bakers Square Recipes

Updated June 8, 2017
185 votes
132 voters
16.4k views
9 items
List Rules Upvote the best Bakers Square recipes
Baker's Square recipes, a helpful guide to preparing your favorite dishes from the Baker's Square menu at home. These copycat recipes are typically not based on exactly the method used at Baker's Square, but are modeled closely on the flavor and texture of Baker's Square's food, making it easier than ever to bring these great tastes to your house for cheap where you'll be able to bake and sample some of the tastiest dishes like delicious pies and sumptuous cakes.
From the cheesy biscuits at Red Lobster to the amazing sauces at Buffalo Wild Wings, it's always tempting to go out for a delicious treat at one of the numerous chain and franchise restaurants dotting the landscape. But eating out at restaurants all the time can be a costly proposition. Not to mention the fact that, at restaurants, you have no portion control, and can't alter the recipes, ingredients or style of cooking to suit your own taste.
Making Baker's Square recipes in your home gives you all of these options, while saving you money, and providing the same great diversity and taste that you'd find at your favorite casual dining spot. This list collections the best copycat Baker's Square recipes from around the Web.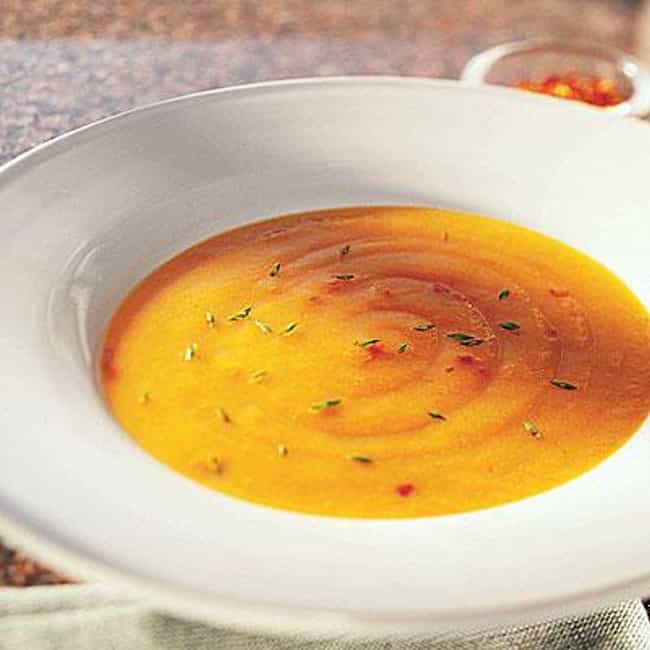 1 tablespoon canola oil
1 tablespoon unsalted butter
1/2 cup diced onion
3/4 cup diced carrots
4 cups peeled and cubed butternut squash
3 cups vegetable stock
salt and ground black pepper to taste
ground nutmeg to taste
1/2 cup heavy cream (optional)
- Stir onion in a melted butter in an oil
- Mix carrots and squash
- Pour vegetable stock
- Season with salt, pepper and nutmeg
- Simmer until vegetables are tender
- Puree the mixture soup in a blender
- Stir in the heavy cream and heat but do not boil
- Dash with nutmeg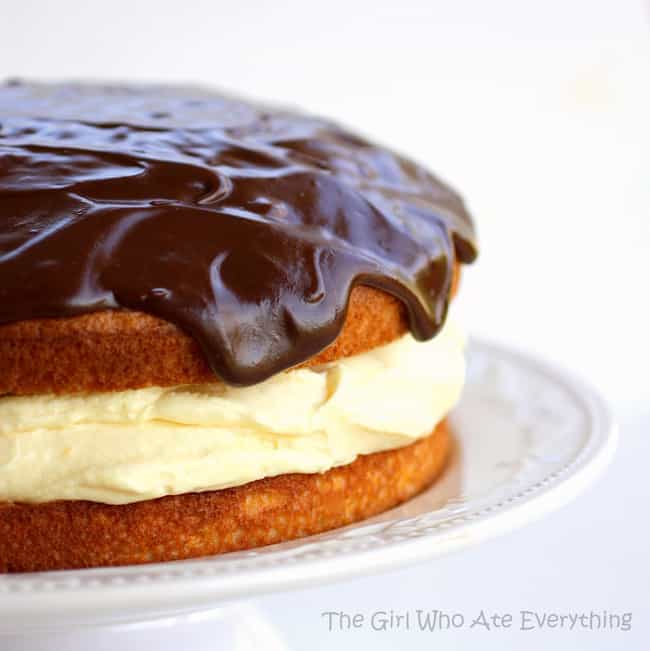 1 (9 inch) round yellow cake layer
1 cup cold milk
1 pkg. (4 serving size) JELL-O Vanilla Flavor Instant Pudding & Pie Filling
1 1/2 cups thawed COOL WHIP Whipped Topping
1 (1 ounce) square BAKER'S Unsweetened Baking Chocolate
1 tablespoon butter
3/4 cup powdered sugar
2 tablespoons cold milk
- Cut cake into two even layers with serrated knife.
- Pour 1 cup milk into large bowl.
- Add dry pudding mix.
- Beat until well blended.
- Gently stir in whipped topping. Let stand 5 min. to thicken.
- Place bottom cake layer on serving plate.
- Spread with pudding mixture.
- Top with the remaining cake layer.
- Microwave chocolate and butter.
- Stir until chocolate is completely melted.
- Stir sugar and milk until blended
- Spread over top of cake and refrigerate until ready to serve.
German Chocolate Cake Squares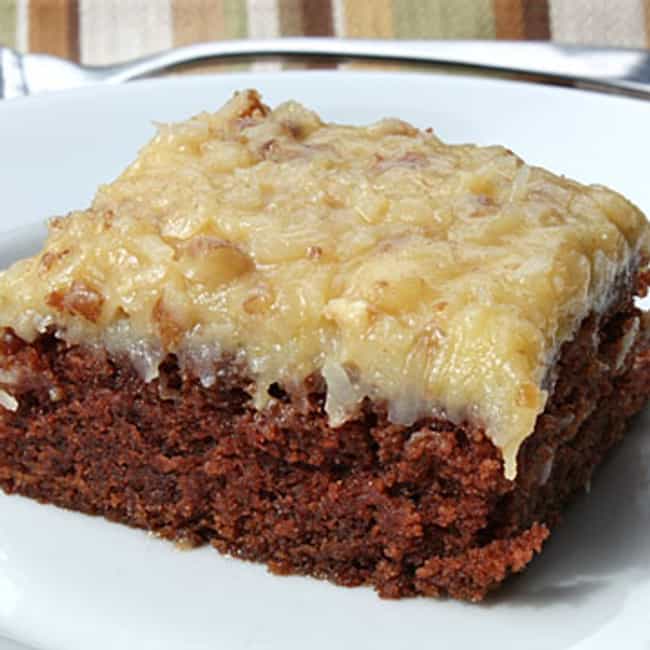 FOR CAKE
1/2 cup water
6 ounces Baker's German's Sweet Chocolate, chopped
2 1/4 cups all purpose flour
1 1/2 teaspoons baking soda
1/4 teaspoon salt
2 cups sugar
1 cup (2 sticks) unsalted butter, room temperature
4 large eggs, separated
2 teaspoons vanilla extract
1 cup buttermilk
1 cup semisweet chocolate chips
FOR FROSTING
1 12-ounce can evaporated milk
1 1/2 cups sugar
3/4 cup (1 1/2 sticks) unsalted butter
5 large egg yolks
1/4 teaspoon almond extract
1 7-ounce package sweetened shredded coconut
1 1/2 cups coarsely chopped pecans
1/4 cup semisweet chocolate chips
- Butter a glass baking dish while preheating the oven at 350 F
- Simmer water in a small saucepan on a reduce heat
- Add chopped chocolate,whisk until smooth, cool
- Sift flour,baking soda and salt in a medium bowl
- Beat sugar and butter, until blended
- Beat in yolks 1 at a time in chocolate mixture and vanilla
- Beat dry ingredients alternately with buttermilk
- Beat whites separately until stiff but not dry
- Fold into batter in 2 additions
- Pour batter into dish and sprinkle with chocolate chips
- Bake for 1 hour, cool
Frosting
- Combine first 5 ingredients in a large saucepan
- Whisk on a medium heat, simmer, thickens for about 18 minutes
- Mix in coconut and pecan
- Spread warm frosting over cake
- Sprinkle chocolate chips immediately over
- Let stand until frosting sets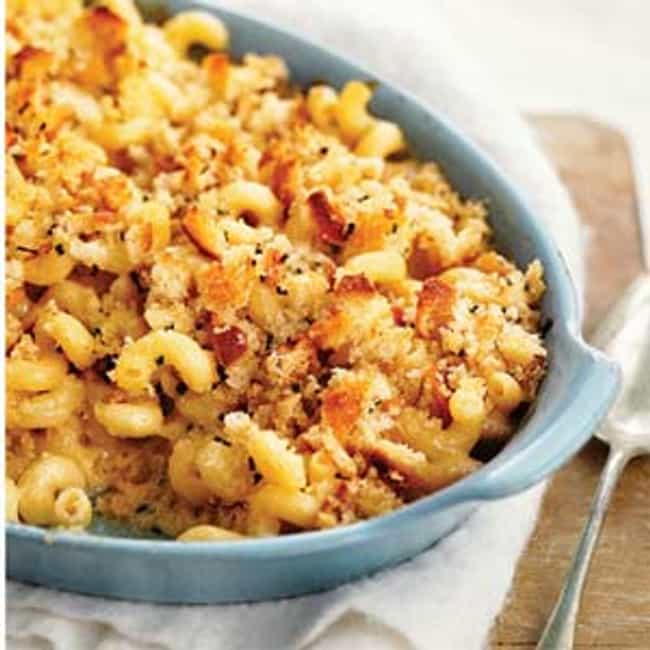 8 ounces cavatappi, macaroni, or other tube-shaped pasta
1/2 teaspoon coarse salt, plus more for cooking pasta
3 1/2 tablespoons butter $
1/2 cup finely chopped shallots
2 tablespoons all-purpose flour $
1 1/4 cups dry white wine $
2/3 cup heavy whipping cream
7 ounces gruyère, grated
3 ounces aged gouda, grated (see Notes)
2 tablespoons plus 1 tsp. minced fresh chives
1 tablespoon Dijon mustard $
1/8 teaspoon cayenne
1/8 teaspoon freshly ground nutmeg $
4 ounces crusty sourdough bread (about 1/4 loaf), torn into large pieces
- Preheat oven to 400°.
- Cook pasta according to package directions in a large pot of boiling, well-salted water until tender to the bite
- Drain, but do not rinse.
- Melt 2 tbsp. butter in a large pan.
- Add shallots and cook until light golden
- Sprinkle shallot-butter mixture with flour; cook, stirring often, 1 minute.
- Add wine and stir, picking up any browned bits from the bottom of the pan.
- Add cream and stir well.
- Sprinkle in cheeses, stirring until each handful is mostly melted before adding the next.
- Stir in 2 tbsp. chives, mustard, 1/4 tsp. salt, cayenne, and nutmeg.
- Stir cooked pasta into cheese mixture.
- Pour all into a 2-qt. baking dish.
- In a food processor, pulse bread with remaining 1 1/2 tbsp. butter, 1 tsp. chives, and 1/4 tsp.
- Salt until coarse bread crumbs form.
- Sprinkle bread crumbs over pasta and cheese.
- Bake until top is browned and cheese is bubbling.