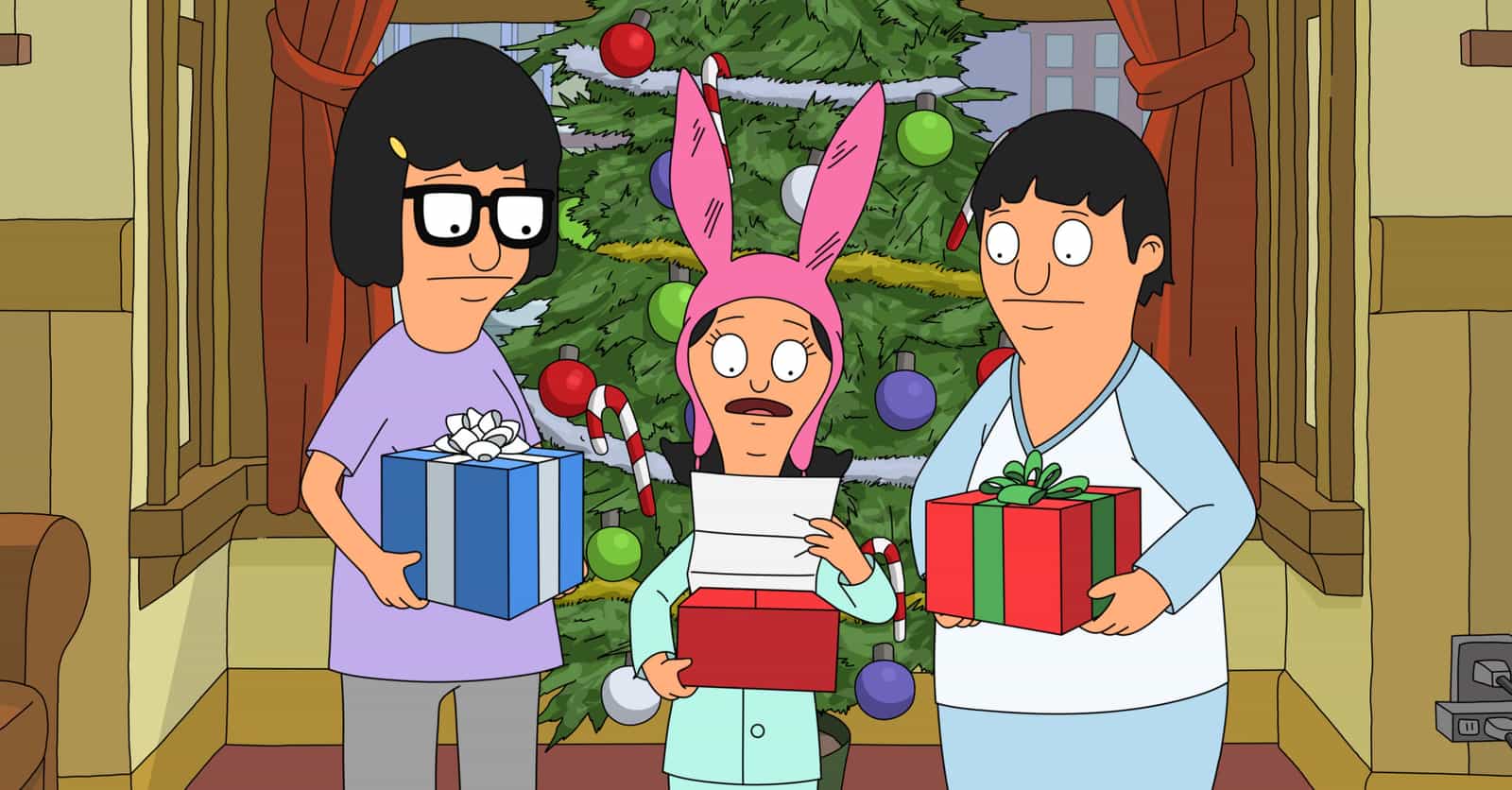 The Best Christmas Episodes On 'Bob's Burgers'
Voting Rules
Only episodes featuring Christmas or set during the holidays.
Celebrate the holidays on Ocean Avenue, and enjoy the best Bob's Burgers Christmas episodes, including new episodes from the latest season. Whether you're looking for the one where a grumpy mall Santa threatens the kids with the naughty list in "Nice-Capades" or when the family finds a squatter in their storage unit in "God Rest Ye Merry Gentle-Mannequins," this list of Bob's Burgers Christmas episodes also includes popular fan favorites, like "The Bleakening," "The Last Gingerbread House on the Left," and "Father of the Bob." What is your favorite Christmas episode from Bob's Burgers? 
Vote up the best Bob's Burgers Christmas specials, and see where they rank among the funniest Bob's Burgers episodes of all time.
---
Photo: Fox

The Last Gingerbread House on the Left

Bob gets involved in a gingerbread house competition with Mr. Fischoeder and his friends while Linda, Teddy and the kids spread Christmas cheer through caroling.

Original Airing: Nov 27 2016
Season: 7
Episode Number: 7

Photo: Fox

After spending Christmas Eve outrunning a candy cane truck with their last-minute tree, the Belchers find that Bob's friend gets caught in the kids' Santa trap.

Original Airing: Dec 15 2013
Season: 4
Episode Number: 8

Photo: Fox

Linda wants to add some extra cheer to the holidays by throwing a holiday party.

Original Airing: Dec 10 2017
Season: 8
Episode Number: 6

When Bob inherits a storage unit around Christmas, the family hope that they will contain riches, but instead they find a squatter named Chet who claims he was previously a display mannequin.

Original Airing: December 16, 2012
Season: 3
Episode Number: 9
Series: Bob's Burgers

Photo: Fox

At Bob's father's Christmas party, Bob and "Big Bob" rehash an old argument and try to outdo each other in the kitchen. Meanwhile, the kids compete to find the best gift for their dad.

Original Airing: Dec 7 2014
Season: 5
Episode Number: 6

Photo: Fox

Have Yourself a Maily Linda Christmas

Linda works a temp job at the post office to make extra money for the holidays. But when an important package goes undelivered, Linda breaks protocol and takes it upon herself to save the day. Meanwhile, Bob and Tina are trapped at home with Linda's fussy family and Gene and Louise scramble last-minute to find the perfect gift for Tina.

Original Airing: December 15, 2019
Season: 10
Episode Number: 10