VOTE

The Best Celebrity Tombstones

41.1k votes
8.6k voters
770.3k views
17 items
Providing reasons to laugh, cry and think for years to come after their deaths, the best celebrity tombstones contain witty and clever lines, famous quotes and funny phrases. Just as they did during life, each of these celebrities used their own unique way to make fans smile with their tombstone epitaphs.
For many comedians, a tombstone is one place to tell one last joke while others used the space to remind fans of a classic catch phrase or saying. For others, the tombstone is wildly extravagant, such as that of Jimi Hendrix, or very popular to visitors, such as that of Jim Morrison. Others are even so famous that they need no tombstone announcing the crypt, such as Michael Jackson.
What are the most famous tombstones in the world? Regardless of what the tombstone or grave brings, each serve as a memorial for the actors, musicians and other celebrities we love.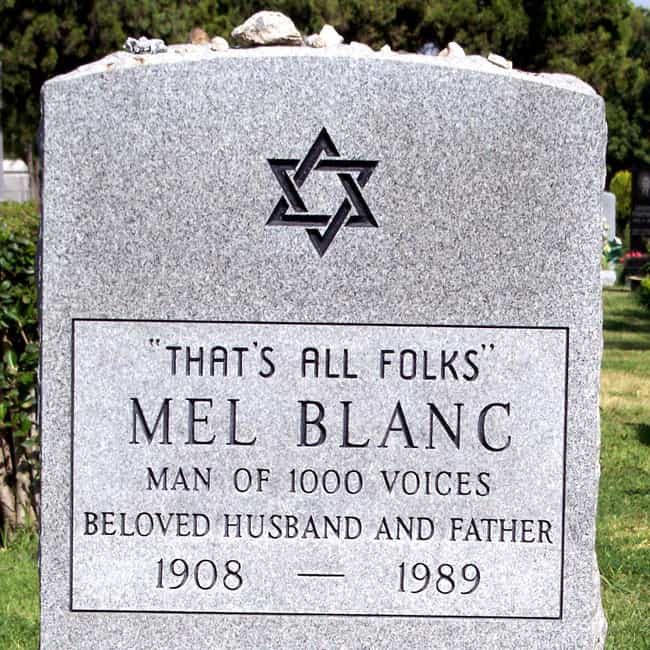 While his name may not be a household one, his voice certainly is, leading to the nickname of "man of 1,000 voices" for voice actor Mel Blanc. Heard in homes to this day, Blanc was the man behind the character voices of the likes of Bugs Bunny, Porky Pig, Daffy Duck, Tweety Bird, Yosemite Sam, Foghorn Leghorn and many others.
His nickname, along with his most famous line of "That's All Folks," are inscribed on his tombstone after his 1989 death.
Age: Dec. at 81 (1908-1989)
Birthplace: California, United States of America
Also Ranked
#16 on The Best Animated Voiceover Performances
#1 on The All-Time Best Voice Actors
#5 on Famous People Named Mel
#39 on The Best Things from Oregon

Is this great?
see more on Mel Blanc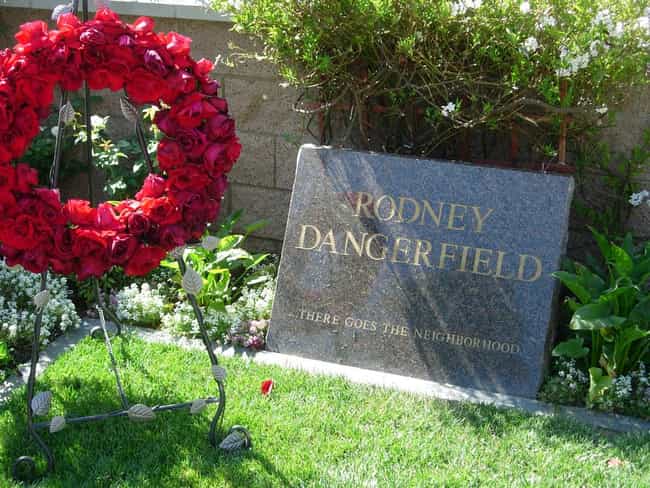 Making his fans laugh as he did for decades, actor and comedian Rodney Dangerfield got his last laugh on his tombstone, which reads "Rodney Dangerfield... There goes the neighborhood." The crack was similar to Dangerfield's type of comedy which made him famous, coined the phrase "I don't get no respect" and put him in 1980s films such as
Caddyshack
and
Back to School
.
Age: Died at 83 (1921-2004)
Birthplace: Deer Park, New York, United States of America
Also Ranked
#26 on The Funniest People of All Time
#38 on Which Actor Would You Bring Back for One Final Movie?
#11 on The Funniest Stand Up Comedians of All Time
#4 on The Funniest Comedians on the Howard Stern Show

Is this great?
see more on Rodney Dangerfield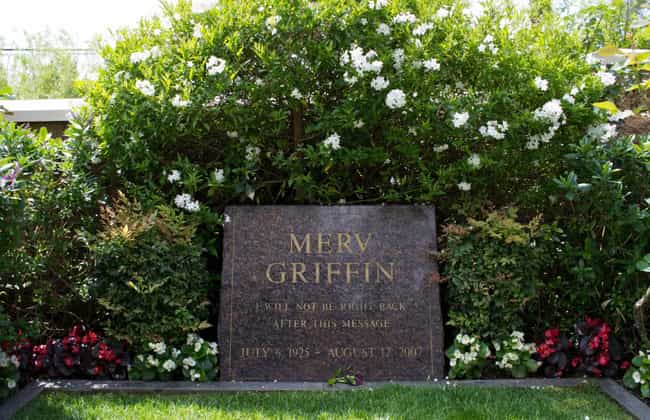 In addition to acting, hosting and appearing on his own talk show, Merv Griffin brought us numerous game shows, including the highly popular "Jeopardy!" and "Wheel of Fortune". Shows that are still on television today.
After losing a battle to prostate cancer in 2007, he used his tombstone to provide his final sign-off line, reading "I will not be right back after this message."
Age: Dec. at 82 (1925-2007)
Birthplace: San Mateo, California, United States of America
Also Ranked
#24 on The Best Emmy Hosts Ever

Is this great?
see more on Merv Griffin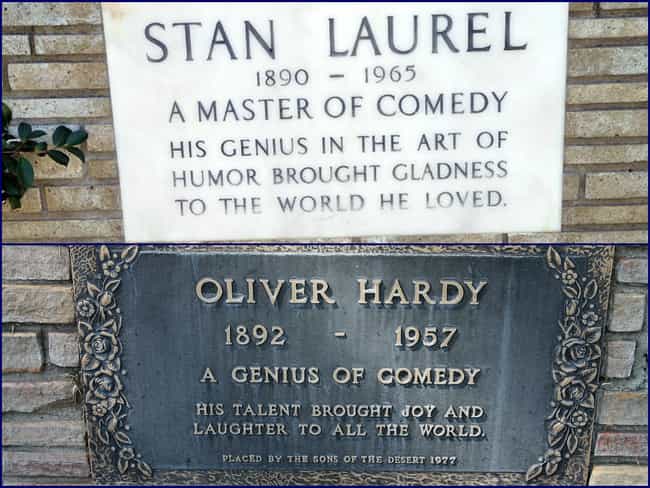 Partners in comedy during their lives, the actor/comedian pair of Stan Laurel and Oliver Hardy, known as simply Laurel and Hardy, continued that bond in death. The first of the two to pass, Oliver Hardy's tombstone notes "A genius of comedy, his talent brought joy and laughter to the world."
Laurel's tombstone echoed the statements in other words, stating, "A master of comedy, his genius in the art of humor brought gladness to the world he loved."
Also Ranked
#70 on The Funniest People of All Time
#23 on The Best Duos of All Time

Is this great?
see more on Laurel and Hardy