Graveyard Shift
The Best CGI Horror Movies

Updated January 8, 2020
247 votes
39 voters
1k views
31 items
List Rules Vote up your favorite movies that were made all the more terrifying because of CGI.
Most horror film enthusiasts are not big fans of CGI invading their genre; they would rather see filmmakers use good old fashioned practical effects instead. However, some of the best CGI effects in horror films are successful because they are able to blend computer-generated imagery with practical effects.
Fake blood, animatronics, and prosthetics are just a few of the old fashioned tried and true practical effects used to scare horror audiences. CGI monsters can often look comical instead of scary, and fake instead of real. Yet, there are excellent recent films like Get Out and It that were able to achieve some of the best CGI moments in horror movies because of their light-handed approach to using computer graphics.
The best CGI scenes in horror movies only work if an audience is terrified of the boogeyman. Which of these scary movies do you think used CGI the best? Vote up your favorites.
It (also known as It: Chapter One) is a 2017 American supernatural horror film directed by Andy Muschietti, based on the 1986 novel by Stephen King. In the summer of 1989, a group of bullied kids band together to destroy a shapeshifting monster (Bill Skarsgård), which disguises itself as a clown and preys on the children of Derry, their small Maine town. ...more on Wikipedia
Actors: Jaeden Lieberher, Bill Skarsgård, Jeremy Ray Taylor, Sophia Lillis, Finn Wolfhard, + more
Released: 2017
Directed by: Andy Muschietti
Does this horror movie have great CGI?
The Ring is a 2002 American psychological horror film directed by Gore Verbinski and starring Naomi Watts. It is a remake of the 1998 Japanese horror film Ring, which was based on the novel Ring by Kôji Suzuki. The Ring was released in theaters on October 18, 2002 and received critical acclaim with critics praising the reliance on dread and visuals over gore and the direction along with the screenplay writing but criticizing the character development. The film also grossed over $249 million on a $48 million production budget making it one of the highest grossing horror films of all time. The Ring was soon followed by a sequel titled The Ring Two. The Ring is notable for being the first ...more on Wikipedia
Actors: Naomi Watts, Pauley Perrette, Brian Cox, Amber Tamblyn, Sara Rue, + more
Released: 2002
Directed by: Gore Verbinski
Does this horror movie have great CGI?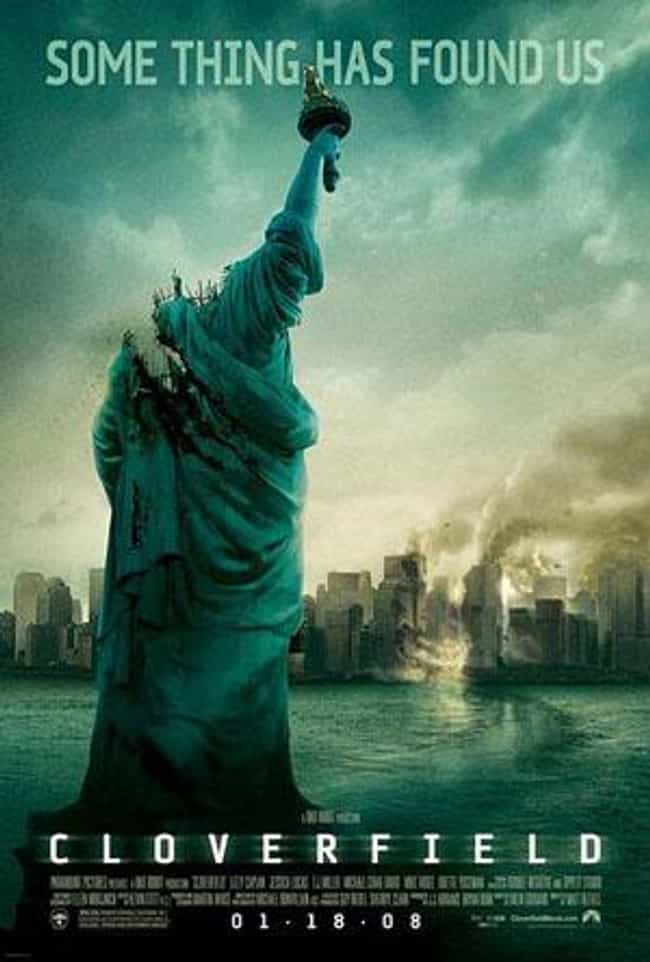 Cloverfield is a 2008 American science fiction found footage monster film directed by Matt Reeves, produced by J. J. Abrams & Bryan Burk, and written by Drew Goddard. Before settling on an official title, the film was marketed as 1-18-08. The film follows six young New Yorkers attending a going-away party on the night that a gigantic monster attacks the city. First publicized in a teaser trailer in screenings of Transformers, the film was released on January 17 in New Zealand, Russia and Australia; January 18 in North America; January 24 in South Korea; January 25 in Taiwan; January 31 in Germany; and February 1 in the United Kingdom, Ireland and Italy. In Japan, the film was released on ...more on Wikipedia
Actors: Odette Annable, Lizzy Caplan, Jessica Lucas, Mike Vogel, T. J. Miller, + more
Released: 2008
Directed by: Matt Reeves
Does this horror movie have great CGI?
The Conjuring is a 2013 American supernatural horror film directed by James Wan and the first installment in the Conjuring series. Ed (Patrick Wilson) and Lorraine Warren (Vera Farmiga) are paranormal investigators called to assist the Perron family (Ron Livingston and Lili Taylor), who experience increasingly disturbing events in their farmhouse in Rhode Island in 1971. ...more on Wikipedia
Actors: Vera Farmiga, Patrick Wilson, Joey King, Lili Taylor, Ron Livingston, + more
Released: 2013
Directed by: James Wan
Does this horror movie have great CGI?