watchworthy
presents
The Best Cinematic Chefs Of All Time

Updated January 29, 2020
123 votes
31 voters
16 items
List Rules Vote up the chefs you would give a five-star review.
Ambitious cinematic chefs add some flavor to every movie they star in, literally and figuratively. Watching Remy from Ratatouille whip up his signature dish inspires us subpar chefs to head to the kitchen and try our hand at our own culinary creations. Witnessing Carl Casper from Chef fight for his right to create innovative dishes makes our stomach ache for new cuisine. Even Gene from Wet Hot American Summer has a certain passion for his ingredients, particularly the can of vegetables that inspires him to face his demons.
Fictional chefs portray a part of life that we all face every day but fail to truly understand. Whipping up a simple dish of spaghetti and meatballs is nothing compared to the plight of the Michelin-star chef. Whether silly or obsessive, cinematic chefs display a passion for food that goes far beyond the simple joy of eating. They relish the opportunity to bring people together through their creations, and maybe even find their own purpose in the process. Plus, it doesn't hurt that their dishes look absolutely incredible. Does anyone know where we can we get a piece of Vianne Rocher's chocolate?
If you're ready to take a culinary journey through the best fictional cooks of all time, read on to see our breakdown of the best cinematic chefs, and vote up your favorites.
Data-driven recommendations based on voting from over 40 million monthly visits to Ranker.
Try the free app
Cooking Philosophy: Anyone can cook.
Signature Dish: Ratatouille
Work-Life Balance: Remy is committed to his dream of becoming a chef. Nothing is more important to this ambitious rat. He'll gladly spend all day and all night in the kitchen, perfecting his partnership with Linguine and whipping up delicious dishes. While Remy's entire world revolves around cooking, he's perfectly happy with that arrangement. He brings his family and friends into his world, rather than leave the kitchen to fit in with the people he loves.
Restaurant Review: While the health rating should be of concern in this establishment, the actual food is unbeatable. Interesting, unique flavors combine to make dishes that feel like a brand-new experience and a slice of home at the same time. Anyone visiting Paris will find something they love in this five-star dining experience.
Played By: Patton Oswalt

Five-star skills?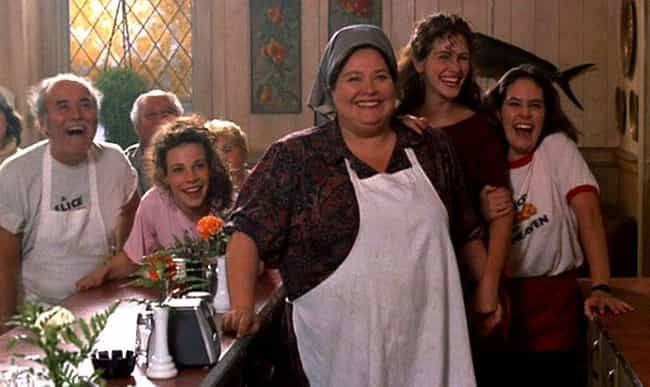 Cooking Philosophy: Don't monkey with tradition.
Signature Dish: The Mystic Pizza
Work-Life Balance: Leona creates her primary bonds through her restaurant. She's built a family atmosphere and hired people she truly cares about that will lead her establishment to success. While most of her life revolves around her restaurant, Leona wouldn't have it any other way. After all, it's a family business - she has to keep the tradition alive.
Restaurant Review: The famous Mystic Pizza is all about tradition. A recipe passed down generation through generation and kept secret save for one lucky person, the pizza wows in flavor and appearance. In the words of famous TV food critic Hector Freshette, this pizzeria is truly superb.
Played By: Conchata Ferrell
Five-star skills?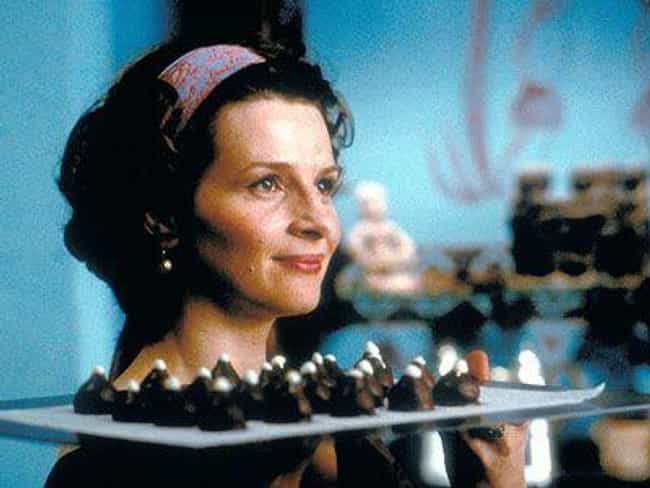 Cooking Philosophy: Denying yourself life's simple pleasures doesn't do anyone any good. Life is meant to be enjoyed and savored, and sweet treats can bring a sense of happiness you might not otherwise find.
Signature Dish: Chocolate
Work-Life Balance: Vianne works hard to bring her dreams to life, but her first priority is her customers. She wants to create genuine bonds with the people around her, and she uses chocolate to understand who a person really is. Her work enhances her life. It's not the only thing she cares about, but she wouldn't know how to live without it.
Restaurant Review: As the owner of a chocolate shop rather than a full-service restaurant, Vianne Rocher's skills as a chocolatier are nonetheless truly incredible. Each decadent morsel looks looks truly stunning. As a maker of mouth-watering and delicious treats, Vianne knows that part of enjoying life is embracing the sweet things, rather than denying yourself pleasure. Each person can find their perfect taste in Vianne's shop with the help of her expert guidance. If you love chocolate, you need to visit Vianne.
Played By: Juliette Binoche

Five-star skills?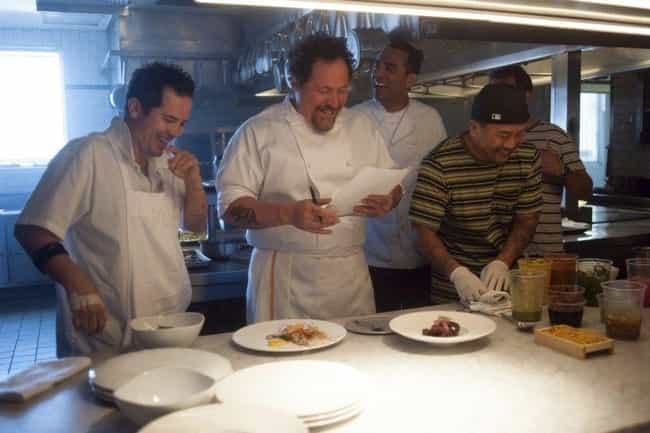 Cooking Philosophy: Innovation is the key to becoming a great cook.
Signature Dish: Cuban sandwiches
Work-Life Balance: Like many chefs, Carl's entire life revolves around cooking. He travels the country to find the success he's been dreaming of and has no trouble putting everything else on hold while he pursues his career. While he initially ignores everything else in his life in favor of his professional aspirations, such as his family, he ultimately learns that cooking can bring people together, rather than tear them apart.
Restaurant Review: When Carl has full creative control, his food is unbeatable. When he has to conform to the well-established system of doing things, however, his dishes fall flat. He needs to experiment and innovate in order to create amazing dishes. If you want a traditional meal, don't go to Carl. If you want something that screams originality, you'll love this chef.
Played By: Jon Favreau

Five-star skills?