Halloween
The Greatest College Halloween Celebrations in America

957 votes
392 voters
22.5k views
15 items
List Rules Please only vote for college Halloween parties that you have attended
Which colleges celebrate Halloween the hardest? When you're in college, you've got to take advantage of any excuse to party. And there's no better time for partying than the candy and booze-filled holiday of Halloween. The best Halloween parties usually have some kind of loose theme tying the revelry together, but as you'll see on this list of party schools with the biggest Halloween celebrations, sometimes the only theme is "party."
Some of the colleges on this list go all out and have a decadent evening (or weekend) dedicated to letting their freak flags fly, but a few of the universities at least try to do something festive with the community before smashing pumpkins filled with beer over their heads (or whatever it is that they do). Put on your most Halloween-y soundtrack and see how your alma mater stacks up to the greatest college Halloween celebrations in America.
The best college Halloween parties is a subjective topic, but everyone can agree that they should at least have a few things going for them. Specifically, costumes and at least one instance of everyone doing the Monster Mash. In college, Halloween party schools are a completely different animal than your regular party school. The colleges on this list take the Halloween spirit very seriously. Thank goodness Halloween and spring break aren't around the same time, or the students at the schools on this list would never get anything done.
Vote up which college party is the greatest in America. And if your college does Halloween better than any of the universities on this list, tells us all about it in the comments.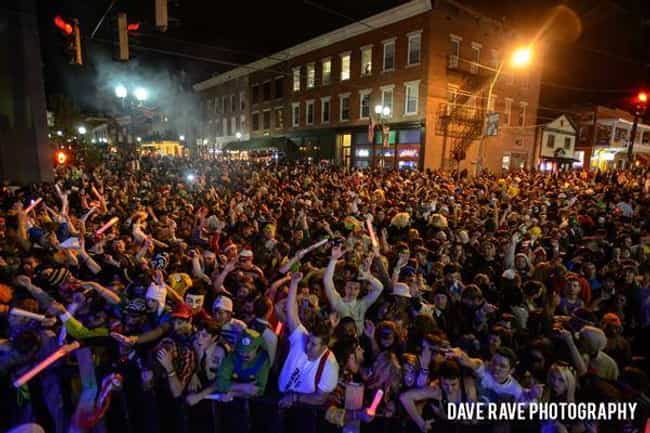 What began in the '70s as a few drunk students getting together and stopping traffic downtown,

Ohio University's Halloween Block Party

has since grown into an evening-long event featuring music, a giant cake, and all manner of costumed debauchery. If that doesn't sound like your idea of a good time, Ohio University does offer

alternative activities like free movie screenings, and an open swim in the school's aquatic center for students who don't want to deal with the crowds.

Is this a great party?
see more on Ohio University
UW Madison basically has its PhD in partying. What began as a Vietnam War protest has since turned into a 20,000 person party. Madison's Halloween party clogs up State Street for an entire night, somehow taking a city that's already at party level 11, and turning it up even more. This Halloween party is only for professionals.

Is this a great party?
see more on University of Wisconsin-Madison
ASU is the quintessential party school, so they obviously have a million-billion Halloween parties raging throughout the holiday weekend, but the most interesting tradition is something a little sillier. Every year, the ASU Sun Devils host a baseball scrimmage where the team dresses up in ridiculous costumes and play a four inning game for the locals. After that, all hell breaks loose.

Is this a great party?
see more on Arizona State University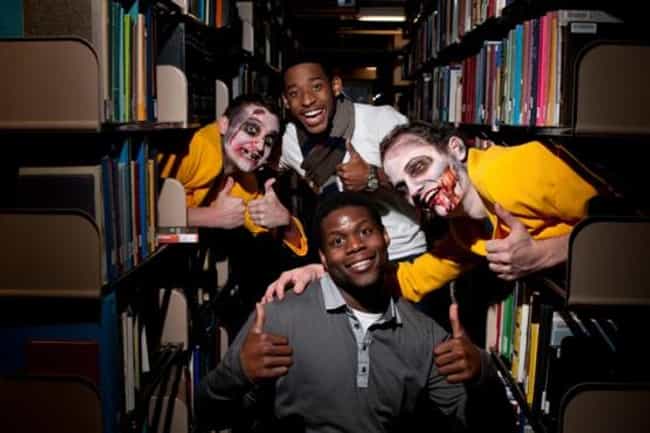 The University of Rochester isn't your typical party school, but they still know how to have fun on Halloween.
For almost 100 years, the school's main library has been transformed into a haunted house that features a scavenger hunt, animals from the local zoo, and local bands. If you're in the area you should definitely check this place out because if you win the scavenger hunt you get to take a trip into Rush Rees tower - a dome that overlooks the campus and most of Rochester.

Is this a great party?
see more on University of Rochester