Christmas Movies

The Best Countdown to Christmas Hallmark Original Movies
6.8k votes
323 voters
1.4k views
108 items
List Rules Vote up the best Countdown to Christmas Hallmark Channel movies
Beginning in 2011, the Hallmark Channel began a yearly holiday celebration with their Countdown to Christmas event in November through December. Combining Christmas classics with new Christmas movies and fresh additions to their franchise series, Hallmark Channel fills the weeks before the holiday with as much Christmas programming as possible. With Hallmark's 2018 Countdown to Christmas premieres starting in late October, they're making sure you get the best Christmas movies possible, as often as possible, during their long Countdown to Christmas movie lineup.
Offering dozens of seasonal variations on two folks working together while falling in love, such as My Christmas Dream, A December Bride, and Christmas in Love, Hallmark brings romance to the holiday. Their romantic Christmas movies also include films like The Sweetest Christmas and Enchanted Christmas, where the holiday helps two people remember how much they love each other.
It's not all romance during Hallmark's Christmas lineup. From Santa struggling to save the season in The Case For Christmas to a guardian angel helping someone understand her own worth in Debbie Macomber's Mr. Miracle, there's a Christmas movie for just about everybody. Two Hallmark Hall of Fame movies have even premiered during the Countdown to Christmas. A Heavenly Christmas stars Kristin Davis a Christmas Angel in training and Just In Time For Christmas returns Christopher Lloyd to the role of quirky time traveler as he assists a woman in making a decision that will change her life.
Each of these films is a cozy gift to keep your heart warm this holiday season, but which of these Hallmark Countdown to Christmas movies do you think are the best?
Aspiring interior designer Layla (Jessica Lowndes) is dreading the Christmastime wedding of her cousin who's marrying Layla's ex-fiancé. Although Seth is the one responsible for introducing the bride and groom, she begrudgingly accepts his offer to be her date as she's out of options. Seth gets carried away at the reception and announces they're engaged, forcing a mortified Layla to keep up the pretense.
Actors: Jessica Lowndes, Daniel Lissing
Premiered: November 20, 2016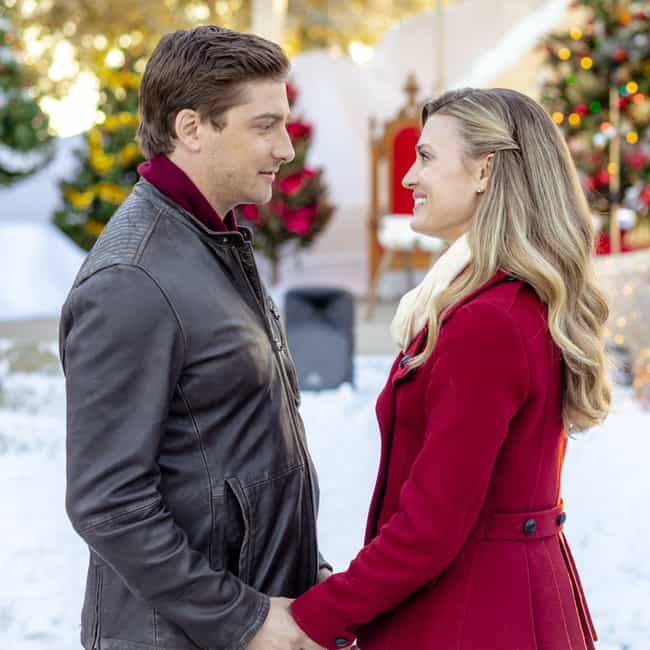 An aspiring crafter working in her small town's bakery making famous Christmas Kringles, Ellie Hartman (Brooke D'Orsay) teaches new, big-city CEO Nick Carlingson (Daniel Lissing) how to make a Kringle, determined to show him it's the people who make the business a success, not machines. When Nick finally tells the employees his future ideas for the company, Ellie must decide if she should trust him, but more importantly, whether to take a leap of faith in making her own dreams come true.
Actors: Brooke D'Orsay, Daniel Lissing
Premiered: November 11, 2018
Riley (Shenae Grimes-Beech) is scraping bottom when she miraculously lands a job with a wealthy New York City entrepreneur. He's a bad-boy socialite type who is poised to play Scrooge by closing one of his factories just before Christmas, which would devastate and entire town. It's left to Riley to talk him out of it and turn him into a man of virtue rather than shame. But will a case of mistaken identity ruin the whole plan?
Actors: Shenae Grimes-Beech, Steve Lund
Premiered: November 15, 2015
The queen (Jane Seymour) of Cordinia schemes to break up her royal son's (Stephen Hagan) romance with a seamstress (Lacey Chabert) from Philadelphia.
Actors: Lacey Chabert, Stephen Hagan, Jane Seymour
Premiered: November 21, 2014