Entertainment
The Best Daddy Yankee Movies

57 votes
21 voters
2.5k views
10 items
List Rules Vote for your favorite movies, regardless of critic reviews or how big the role was.
List of the best Daddy Yankee movies, ranked best to worst with movie trailers when available. Daddy Yankee's highest grossing movies have received a lot of accolades over the years, earning millions upon millions around the world. The order of these top Daddy Yankee movies is decided by how many votes they receive, so only highly rated Daddy Yankee movies will be at the top of the list. Daddy Yankee has been in a lot of films, so people often debate each other over what the greatest Daddy Yankee movie of all time is. If you and a friend are arguing about this then use this list of the most entertaining Daddy Yankee films to end the squabble once and for all.
If you think the best Daddy Yankee role isn't at the top, then upvote it so it has the chance to become number one. The greatest Daddy Yankee performances didn't necessarily come from the best movies, but in most cases they go hand in hand.
List films range from Las Guanábanas to Spiff TV: Vol. 1: Reggaeton Invasion.
"This list answers the questions, "What are the best Daddy Yankee movies?" and "What are the greatest Daddy Yankee roles of all time?"
Daddy Yankee has been in some really popular films, and is right up there with stars like Tego Calder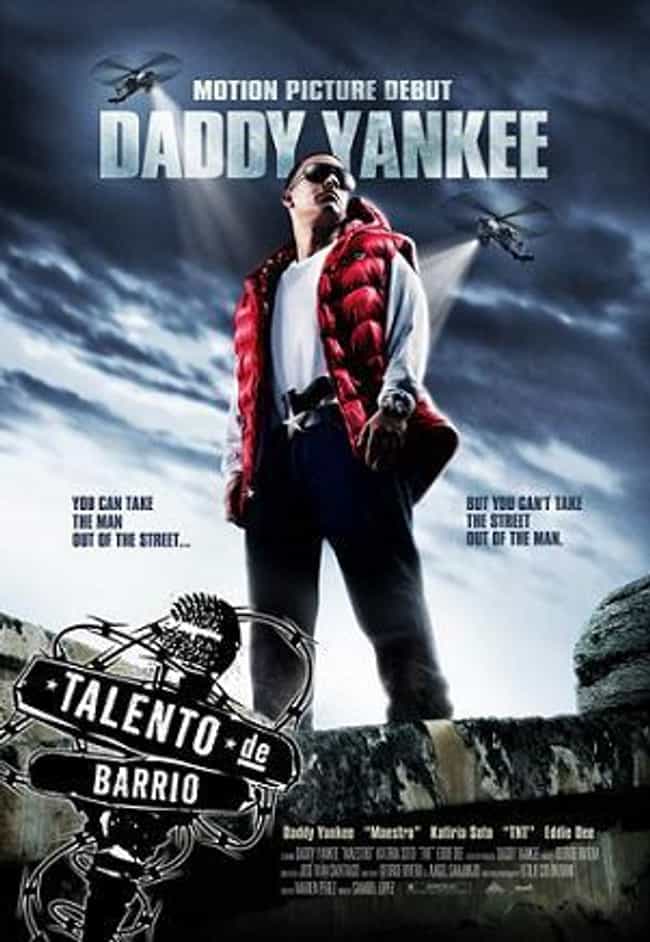 Talento de Barrio is a film released on October 10, 2008 by Maya Entertainment, starring Daddy Yankee. The film was directed by José Iván Santiago, and written by George Rivera and Ángel M. Sanjurjo, with additional material by Edgar Soberón Torchia. It was also the first movie Daddy Yankee co-produced. In the United States it was a major success, although it was not launched in all the country. It was shown in the major cities like New York City, Los Angeles, and some parts of New Jersey. In Latin America, it was shown in Puerto Rico and Dominican Republic. The DVD of the movie was released in all the countries of Latin America. Big sales went on in Central America, mostly in El Salvador. ...more on Wikipedia
Actors: Daddy Yankee, Katiria Soto, César Farrait, Norman Santiago, Rey Pirín, + more
Released: 2008
Directed by: José Iván Santiago

Agree or disagree?
Gold Star Music: La Familia: Reggaeton Hits
Actors: Daddy Yankee, Don Omar, Héctor Delgado, La Calle, Algarete
Released: 2005
Agree or disagree?
Daddy Yankee: Barrio Fino en Directo
Actors: Daddy Yankee
Released: 2005
Agree or disagree?
Straight Outta Puerto Rico
Actors: Daddy Yankee, Tego Calderón
Released: 2008
Agree or disagree?