Entertainment
The Best Diganth Movies

97 votes
38 voters
3.3k views
10 items
List Rules Vote for your favorite movies, regardless of critic reviews or how big the role was.
List of the best Diganth movies, ranked best to worst with movie trailers when available. Diganth's highest grossing movies have received a lot of accolades over the years, earning millions upon millions around the world. The order of these top Diganth movies is decided by how many votes they receive, so only highly rated Diganth movies will be at the top of the list. Diganth has been in a lot of films, so people often debate each other over what the greatest Diganth movie of all time is. If you and a friend are arguing about this then use this list of the most entertaining Diganth films to end the squabble once and for all.
If you think the best Diganth role isn't at the top, then upvote it so it has the chance to become number one. The greatest Diganth performances didn't necessarily come from the best movies, but in most cases they go hand in hand.
Jolly Boy and Lifeu Ishtene are included on this list.
"This list answers the questions, "What are the best Diganth movies?" and "What are the greatest Diganth roles of all time?"
Is Diganth your favorite person to watch on the big screen? You might also want to vote on our best Murali and Girish Karnad films lists too.
Pancharangi is a 2010 Indian Kannada language romantic comedy film with philosophical overtones directed and produced by Yograj Bhat starring Diganth and Nidhi Subbaiah in the lead roles. The music has been composed by Mano Murthy, story and screenplay is written by Pawan Kumar. The film was predominantly shot in the coastal locales of Karnataka state. It is a story that unfolds in a span of two days and tackles issues like education, love, profession, marriage, family, life and relationships in a "fun and non-preachy way." As a film with minimal budget under Bhat's maiden home production, it fared well at the box-office. The popular song Lifeu Ishtene was a runaway success and it was used ...more on Wikipedia
Actors: Diganth, Nidhi Subbaiah, Ramya Barna
Directed by: Yogaraj Bhat
Agree or disagree?
Gaalipata is a 2008 Kannada-language film directed by Yogaraj Bhat of Mungaru Male fame. The film features an ensemble cast of Ganesh, Diganth, Rajesh Krishnan, Daisy Bopanna, Neethu and Bhavana Rao. The music for the film was composed by V. Harikrishna. ...more on Wikipedia
Actors: Anant Nag, Ganesh, Rangayana Raghu, Diganth, Daisy Bopanna, + more
Released: 2008
Directed by: Yogaraj Bhat
Agree or disagree?
see more on Gaalipata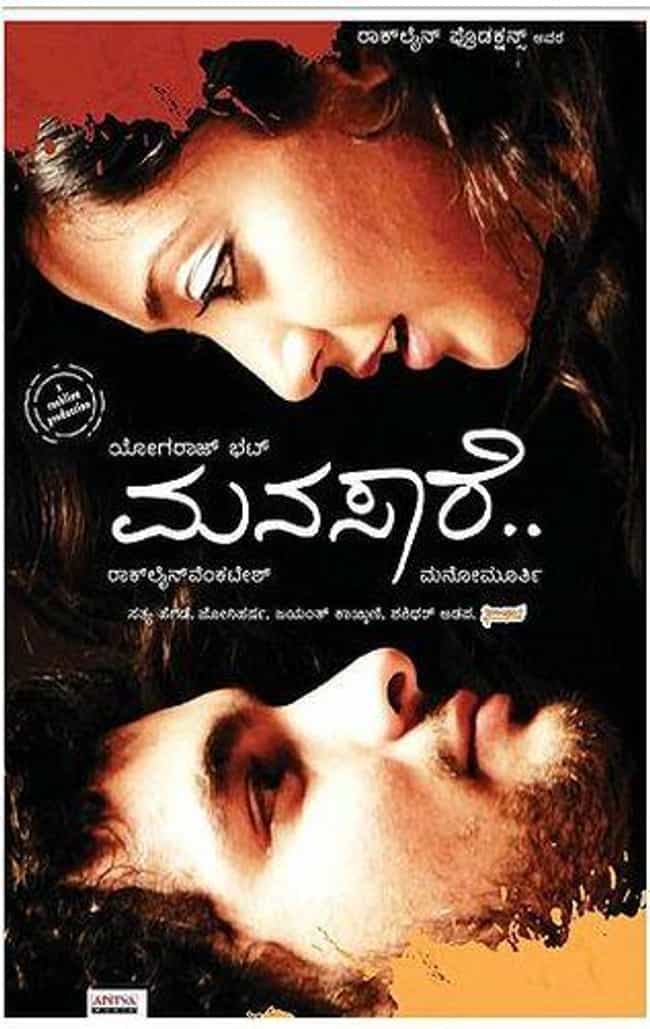 Manasaare was released in 2009. The movie was a romantic psychological musical hit of the year. Directed by the veteran director Yogaraj Bhat of Mungaru Male fame, the movie follows the life of Manohar Diganth. Produced by Rockline Venkatesh, the film stars Diganth and Aindrita Ray in the lead roles. The film soundtrack and score was composed by Mano Murthy. with lyrics by Yogaraj Bhat and veteran lyricist Jayant Kaikini. ...more on Wikipedia
Actors: Aindrita Ray, Diganth, Pawan Kumar, Neethu, Raju Talikote, + more
Released: 2009
Directed by: Yogaraj Bhat

Agree or disagree?
Lifeu Ishtene is a dark comedy-drama Kannada film written and directed by Pawan Kumar. It features Diganth, Sindhu Lokanath and Samyukta Horanadu in the lead roles. The music is directed by Mano Murthy and the music album was released in July 2011 with lyrics being penned by Jayanth Kaikini along with Yograj Bhat who has also co-produced the film. The film was released in over 40 theaters across Karnataka on 9 September 2011 to a collection of over 6 crores in three weeks and received good critical reviews. ...more on Wikipedia
Actors: Diganth, Ramya Barna, Achyuth Rao, Sindhu Lokanath, Samyuktha Belawadi, + more
Released: 2011
Directed by: Pawan Kumar
Agree or disagree?