Entertainment
The Best Ellie Kemper Movies

51 votes
31 voters
8.5k views
7 items
List Rules Vote for your favorite movies, regardless of critic reviews or how big the role was.
List of the best Ellie Kemper movies, ranked best to worst with movie trailers when available. Ellie Kemper's highest grossing movies have received a lot of accolades over the years, earning millions upon millions around the world. The order of these top Ellie Kemper movies is decided by how many votes they receive, so only highly rated Ellie Kemper movies will be at the top of the list. Ellie Kemper has been in a lot of films, so people often debate each other over what the greatest Ellie Kemper movie of all time is. If you and a friend are arguing about this then use this list of the most entertaining Ellie Kemper films to end the squabble once and for all.
If you think the best Ellie Kemper role isn't at the top, then upvote it so it has the chance to become number one. The greatest Ellie Kemper performances didn't necessarily come from the best movies, but in most cases they go hand in hand.
List ranges from Cayman Went to 21 Jump Street and more.
"This list answers the questions, "What are the best Ellie Kemper movies?" and "What are the greatest Ellie Kemper roles of all time?"
21 Jump Street is a 2012 American action comedy film directed by Phil Lord and Christopher Miller, executive produced by and starring Jonah Hill and Channing Tatum, and scripted by Michael Bacall from a story by him and Hill. An adaptation of the 1987 television series of the same name by Stephen J. Cannell and Patrick Hasburgh, the film follows two police officers who are forced to relive high school when they are assigned to go undercover as high school students to prevent the outbreak of a new synthetic drug and arrest its supplier. It was released theatrically on March 16, 2012, by Columbia Pictures and Metro-Goldwyn-Mayer and was both a critical and commercial success. A sequel, titled ...more on Wikipedia
Actors: Johnny Depp, Channing Tatum, Ice Cube, Jonah Hill, Dakota Johnson, + more
Released: 2012
Directed by: Phil Lord, Chris Miller
Agree or disagree?
see more on 21 Jump Street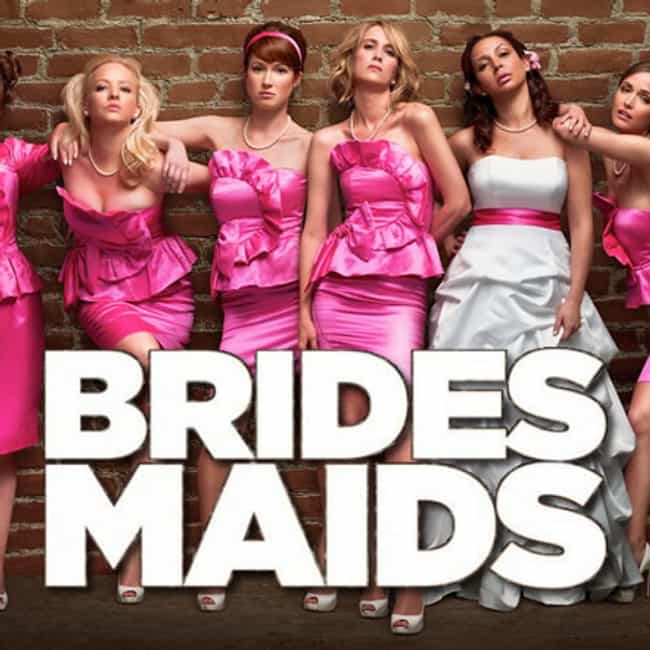 Bridesmaids is a 2011 American romantic comedy film directed by Paul Feig, written by Annie Mumolo and Kristen Wiig, and produced by Judd Apatow, Barry Mendel, and Clayton Townsend. The plot centers on Annie, who suffers a series of misfortunes after being asked to serve as maid of honor for her best friend, Lillian, played by Maya Rudolph. Rose Byrne, Melissa McCarthy, Ellie Kemper, and Wendi McLendon-Covey co-star as Lillian's bridesmaids, with Chris O'Dowd, Rebel Wilson, Matt Lucas, Michael Hitchcock, and Jill Clayburgh, in her final film appearance, playing key supporting roles. Actresses Mumolo and Wiig crafted the screenplay after the latter's casting in producer Apatow's comedy film ...more on Wikipedia
Actors: Rose Byrne, Jon Hamm, Kristen Wiig, Melissa McCarthy, Maya Rudolph, + more
Released: 2011
Directed by: Paul Feig

Agree or disagree?
see more on Bridesmaids
Get Him to the Greek is a 2010 American rock comedy film written, produced and directed by Nicholas Stoller and starring Jonah Hill and Russell Brand. The film was released on June 4, 2010. Get Him to the Greek is a spin-off sequel of Stoller's 2008 film Forgetting Sarah Marshall, reuniting director Stoller with stars Hill and Brand. Brand reprises his role as character Aldous Snow from Forgetting Sarah Marshall, while Hill plays an entirely new character. The film also stars Elisabeth Moss, Rose Byrne, Colm Meaney and Sean Combs. ...more on Wikipedia
Actors: Katy Perry, Christina Aguilera, Kristen Bell, P!nk, Sean Combs, + more
Released: 2010
Directed by: Nicholas Stoller
Agree or disagree?
see more on Get Him to the Greek
Mr. Peabody & Sherman is a 2014 3D computer-animated comic science fiction film featuring the characters Mr. Peabody and Sherman of the 1960s animated television series The Rocky and Bullwinkle Show. It is produced by DreamWorks Animation and distributed by 20th Century Fox. Rob Minkoff, who is most famous for co-directing The Lion King, is the director, and Alex Schwartz and Denise Nolan Cascino are the producers. Tiffany Ward, daughter of Jay Ward, one of the creators of the original series, is the executive producer. Mr. Peabody & Sherman features the voices of Ty Burrell, Max Charles and Ariel Winter. It is the first DreamWorks animated feature to feature characters from the Classic ...more on Wikipedia
Actors: Stephen Colbert, Lake Bell, Ariel Winter, Leslie Mann, Allison Janney, + more
Released: 2014
Directed by: Rob Minkoff
Agree or disagree?
see more on Mr. Peabody & Sherman