Living
The Best Exercises To Do With Resistance Bands

25 votes
10 voters
8 items
Using a resistance band during your exercise routine can is a great way to get more out of each workout. The cost of a band is just around ten dollars, making it a great solution to getting those proven results you're craving without having to pay for a personal trainer or a gym membership. With the increase in popularity of using resistance bands during normal workout routines there are a variety of exercises to do with a resistance band. What are the best exercises with resistance bands?

Whether you're just a beginner in the world of staying fit and living a healthy lifestyle or you've been training and keeping in shape for years, there's a perfect resistance band exercise for you to add to your daily routine. Many of these resistance band workouts can be performed in just a few minutes and will give you the results you're looking for in just a matter of time.

This list features the best resistance band exercises. Vote up the workouts with resistance bands you think are the best.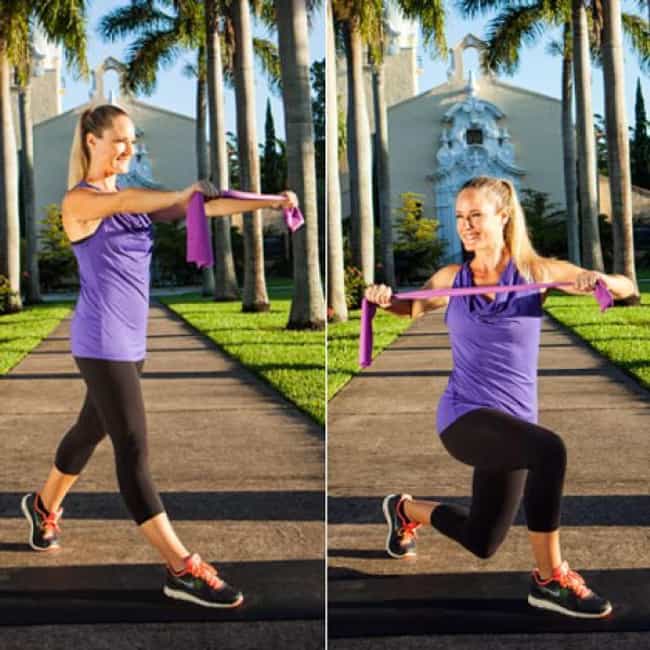 Standing in a split stance with your right leg positioned forward and your left heel elevated, fold the resistance band in half while holding it parallel to the ground just in front of your chest. Stretch the band wider while bending the elbows and keeping your shoulders down. Rotate your torso as you row and gradually lower into a lunge position.
Reps: 10 on each side
Targets: Legs, butt, abs, upper back

Agree or disagree?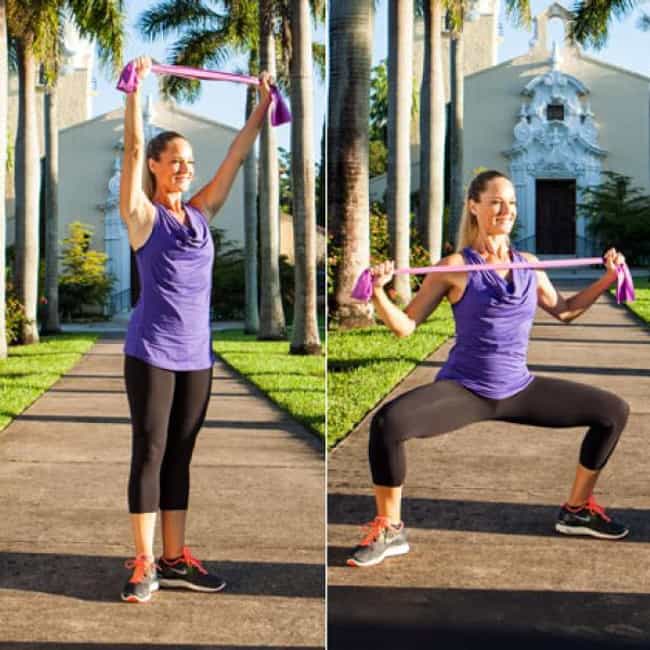 Standing straight with your knees bent and toes turned out, hold the band over your head. Step out with the right foot to the side and bend both knees into a squat position. Stretch the band as you pull down in front of your chest, then slide your right foot back together with your left while reaching overhead with the band.
Reps: 10 on each side
Targets: Inner thighs, hips, butt, back, arms

Agree or disagree?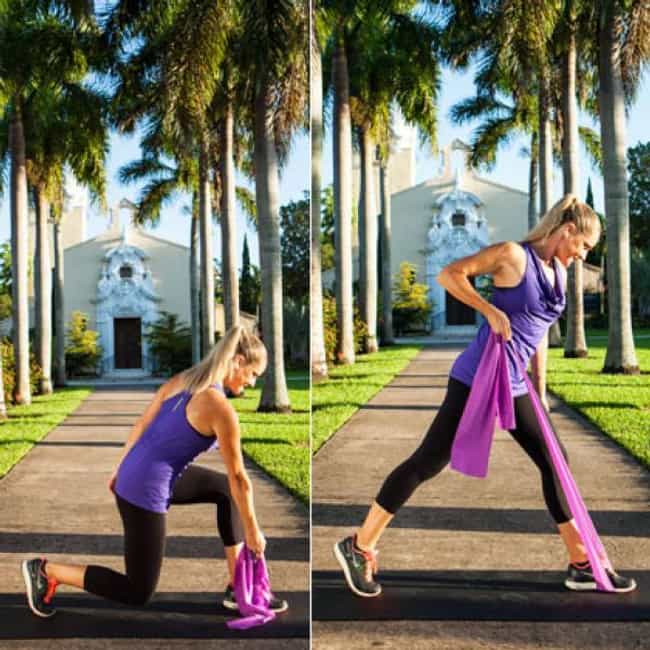 Starting in a split stance with your left foot positioned forward, place your left foot directly on the center of the band and hold the ends with your right hand. Begin to lower into a lunge position and reach with the right hand inward towards the inside of your left foot. Raise back up to the starting position, pulling the band back up to the right.
Reps: 15 with each leg
Targets: Legs, back, biceps

Agree or disagree?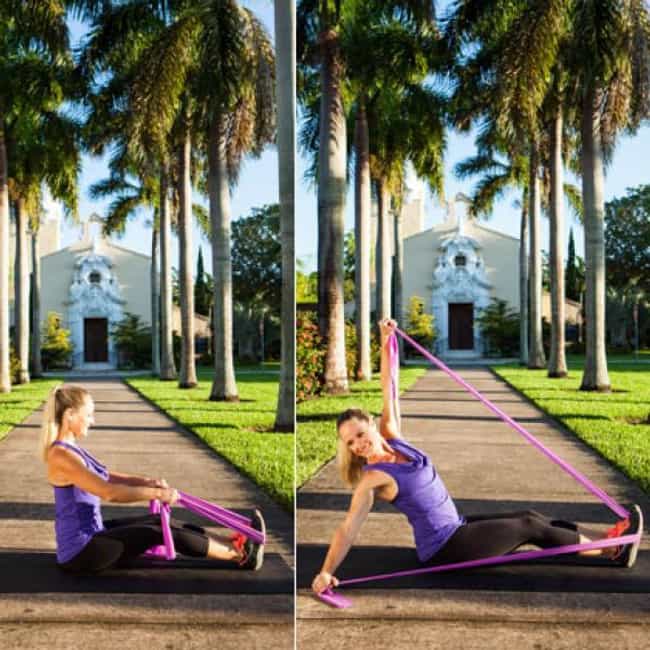 Sit on the floor and place the band around your feet while keeping your knees slightly bent. Hold the ends of band with your palms facing down. Hinge your back and gradually twist your upper body to the right while opening up your arms.
Reps: 20, alternating sides
Targets: Abs, arms, shoulders

Agree or disagree?