Entertainment
Actors Whose Whole Thing Is Being Your Father

1k votes
206 voters
4.1k views
14 items
List Rules Vote up the actors you never want to disappoint and whose approval you desperately need.
Unless you're going for that whole "rebellious teen thing," you never really want to let your dad down. There is a certain ineffable feeling that comes with disappointing your father. They don't even need to let you know that you've disappointed them... because you're disappointed with yourself.
There are certain actors who just have an innate ability to embody all things dad. Some actors don't have to be playing a dad - or even a father figure - to inhabit that paternal energy; it just seeps out in their performance and has an effect on the audience. We're talking about the guys who could be having a meltdown while playing a four-star general in the middle of a crisis and you just sit there and say, "Hey, I think I'd like to go out in the front yard and throw a baseball with that man. Maybe talk about life? Pick his brain a little bit?"
On this list, we're going to break down some of the best Dudes Who Dad (copyright pending) in Hollywood. Get ready to beg for some life lessons and some hard-earned approval.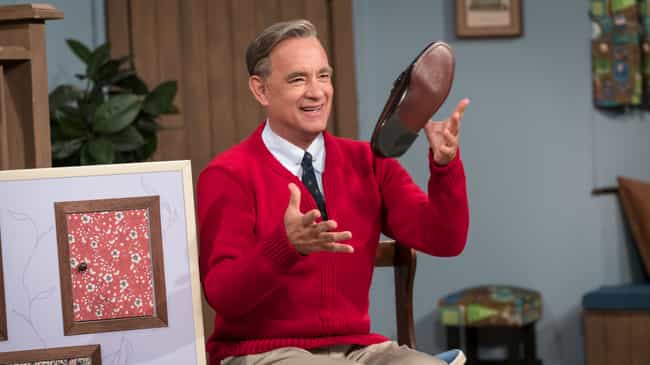 Tom Hanks, America's Sweetheart and purveyor of typewriters, has essentially made a career out of playing father figures. In playing Woody throughout all four Toy Story films, Hanks has been a father figure to a cadre of toys (and subsequently children everywhere) for more than two decades.
There's a certain warmth, an everyman quality about the actor that comes across in every role he plays. Whether he's managing a baseball team in A League of Their Own, leading troops in Saving Private Ryan, or trying to help a young Leo DiCaprio get on the straight and narrow in Catch Me If You Can, Hanks can be counted on to elicit some serious dad vibes.
Age: 62
Birthplace: Concord, California, United States of America

...Dad?
see more on Tom Hanks
For over two decades, Dennis Quaid has continued to land Hollywood roles as a genuine father figure. Beginning with 1998's The Parent Trap, Quaid has parlayed his good looks and natural charm into a nearly endless stream of dad roles. From The Rookie to Yours, Mine & Ours to Soul Surfer, the man is just a dreamy, blue-eyed dad.
He was the disappointed dad reluctant to watch his dreamy, blue-eyed son Zac Efron chase a foolish racing dream in At Any Price, and he was the heroic dad who traversed a snow-covered Earth to find his dreamy, blue eyed-son son Jake Gyllenhaal in The Day After Tomorrow. In fact, Quaid is such a quintessential dad, his son in Frequency travels through time - via radio - to try to save his life and give himself the dad he never really had.
Age: 61
Birthplace: Texas, USA, Houston

...Dad?
see more on Dennis Quaid
Kevin Costner just has the look of a dad. Even when he was trying (and failing) to convincingly play Robin Hood in 1991's Robin Hood: Prince of Theives, you'd be forgiven for seeing him and thinking, "Why is that weird dad dressed up in a costume and pretending to be English?" Costner is so dad-like, he was cast to play one of popular culture's premier father figures: Jonathan Kent.
Outside of teaching Superman everything he knows, Costner has brought his fatherly persona to numerous roles in films like Field of Dreams, McFarland, USA, Hidden Figures, and Molly's Game. Something about the man's voice just makes you want to sit back, relax, and listen to some parable that doesn't even need to make sense to sound good.
Age: 64
Birthplace: Lynwood, California, United States of America

...Dad?
see more on Kevin Costner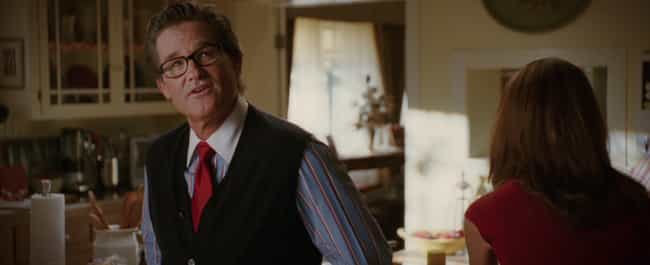 There are different types of cinematic dads: We have the authoritative dad, the absent dad, the everyman dad... the list goes on and on. Kurt Russell definitely falls into the category of a straight-up cool dad, even when he's playing a villainous father like his character in Guardians of the Galaxy Vol. 2.
Perhaps this undeniable suaveness lingers from his years as an action hero in the 1980s. Whatever it is, there aren't too many actors who can get away with playing a cool Santa Claus. Kurt Russell is definitely one of those guys.
Age: 67
Birthplace: Springfield, Massachusetts, United States of America

...Dad?
see more on Kurt Russell