Feminism
20 Most Essential Female-Led Horror Films

5.2k votes
721 voters
16.1k views
20 items
List Rules Vote up the female-led movies you think everyone should watch.
When people think of strong female leads, they may recall films such as Lara Croft: Tomb Raider or perhaps The Hunger Games. While those are both great examples of female action heroes, horror films with female leads are also a common thing.
Since the early days of the genre, horror films and women screaming in terror have gone hand in hand. What started with "scream queens" - conventionally beautiful, terrified women who are usually rescued by men before the end of horror films - eventually turned to "final girls" or females who survive horror movie villains and live to tell the story of what happened.
Like scream queens, final girls start out as damsels in distress, but modern final girls are strong enough to survive using their intelligence and brawn instead of by depending on a male to rescue them. More and more of these strong female horror films are making their way to the mainstream and to the horror streaming app Shudder, which you can check out for a free seven-day trial and costs a fraction of a movie ticket ($4.99/month) afterwards.
The best female-led horror films tend to feature this new breed of final girls, as it's always exciting to see seemingly hopeless victims rescue themselves.
back to page 1
Carrie White (Sissy Spacek) grows up in the care of an ultra-conservative religious mother who teaches her to fear sex and boys. In school, White stands out due to her modest clothing and humble attitude. Her shy demeanor makes her an easy target for bullying and ridicule, as other students know she won't do anything to stand up for herself.
White finally has enough after her peers pour pigs' blood on her during prom. Using her telekinetic powers, White explodes into a powerful fury, causing the school gym to catch fire. She proceeds to lock the doors and walk home. On the way, two surviving students attempt to run White over, but she uses her powers to make the car flip and explode, killing the passengers.
Despite surviving the prom ordeal, White dies in the end with her mother after she loses control of her telekinetic powers and sets her house on fire - or does she? The sole prom survivor, Sue, is seen at the end of the film leaving flowers at White's burned down home, and a bloody arm reaches out for her from under the rubble. The next scene shows Sue waking up from a nightmare, screaming.
Is this amazing, female-led horror?
see more on Carrie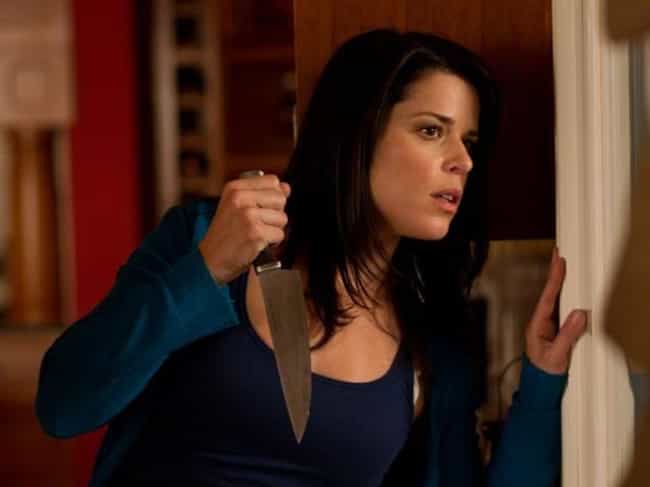 Scream is a witty horror franchise that began in 1996 as a parody of the horror genre. Sidney Prescott (Neve Campbell) is the final girl in the film. Prescott's mother was murdered when the hero was young, and years later terrible things begin happening to Prescott including a killer in a Ghostface Halloween mask attempting to end her life.
Prescott always presses on, and she's able to survive and become the final girl in several Scream films. Not only does Prescott endure the attacks, she also has no problem fighting back. At one point, she bashes the killer with a door; another time she uses a cordless phone as a weapon.

Is this amazing, female-led horror?
see more on Scream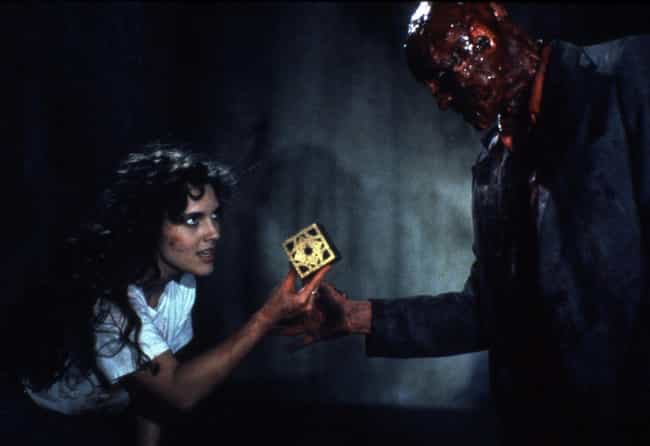 Audiences first saw Kirsty Cotton (Ashley Lawrence) in the original 1987 Hellraiser. In the film, Cotton is going through a lot of drama with her family, but she must also deal with the Cenobites - extraterrestrial beings who were once human and want to torture people for all eternity.
Cotton uses her wits to defeat Pinhead then goes on to outsmart Dr. Channard in Hellbound: Hellraiser II; she even outfoxes her philandering husband in Hellraiser: Hellseeker, making her an ultimate final girl in the Hellraiser series and the horror genre alike.
Throughout the Hellraiser films, Cotton is viewed as brilliant, but unlike most final girls she isn't an innocent and virginal female. Instead, she has a bit of an edge that makes her stand out - just like the horror streaming service Shudder.

Is this amazing, female-led horror?
see more on Hellraiser
The Craft tells the story of troubled teen Sarah Bailey (Robin Tunney) who moves to Los Angeles with her father and step-mother. At school she meets three other women, Bonnie, Nancy, and Rochelle, who are rumored to be witches.
Once the trio realizes Bailey has inherited powers from her mother (who was also a witch), the group forms a coven and begins experimenting with spells. Eventually their spells start to backfire or show negative consequences, at which point the original three turn on Bailey, tormenting her and trying to get her to kill herself.
Bailey uses her powers to defend herself and puts up the fight of her life. In the end, Bonnie is placed in a mental institution, Nancy and Rochelle lose their powers, yet Bailey gets to keep her magic skills.
Is this amazing, female-led horror?
see more on The Craft