Recipes
Delicious Foil Packet Dinner Recipes For Everyday Campers

73 votes
17 voters
13 items
One of the best aspects of camping is the food you eat with your friends and family while gathered around a campfire. For years, people have relied on easy foods like burgers, brats, and hot dogs since they're easy to pack and take to a campsite, but campers aren't limited to such simple meals. In fact, there are plenty of innovative campers who have created amazing foil packet recipes, which they can prepare before heading out, throw on the campfire, and enjoy.
You could be camping out in the middle of nowhere and enjoy a salmon dinner filled with veggies and all the seasoning you can expect at home - all you need is a roll of aluminum foil, some simple ingredients, and a campfire. Throw all of those things together, and you're going to spend most of your trip waiting in anticipation of the next meal.
This list compiles some of the best foil packet dinners around, so take a look at them below and find a favorite or two. And if you've tried any of these foil dinners, be sure to vote them up so other campers can see which meals to prep for their next outing.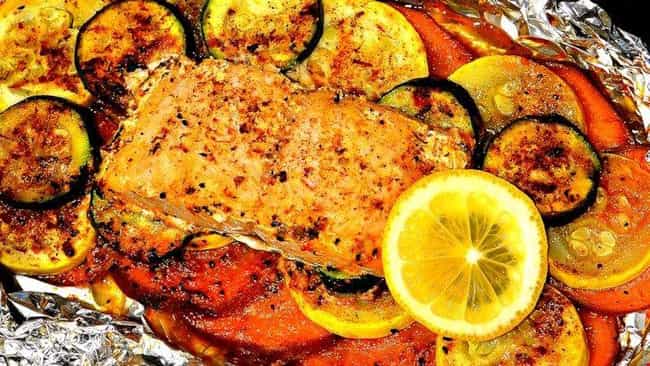 Recipe: AllRecipes by bd.weld
Ingredients: Sweet Potato, Zucchini, Yellow Squash, Smoky Mesquite Seasoning, Salmon Fillet, and Lemon

This a delicious dinner?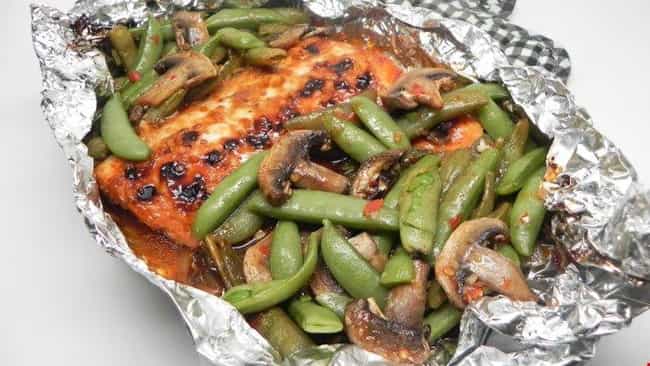 Asian Salmon Foil-Pack Dinner
Recipe: AllRecipes by Soup Loving Nicole
Ingredients: Salmon Fillet, Honey, Garlic, Soy Sauce, Rice Vinegar, Sriracha, Sesame Oil, Ginger Paste, Sugar Snap Peas, Mushrooms, and Chili Sauce

This a delicious dinner?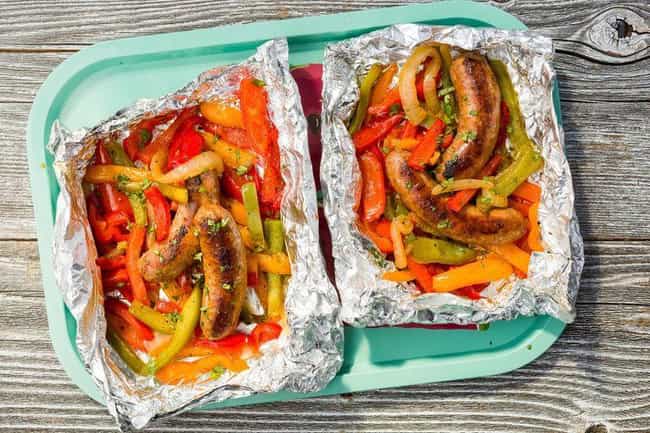 Sausage and Peppers Foil Pack
Recipe: Delish by Ethan Calabrese
Ingredients: Italian Sausage, Bell Peppers, Onions, Olive Oil, Kosher Salt, Black Pepper, and

This a delicious dinner?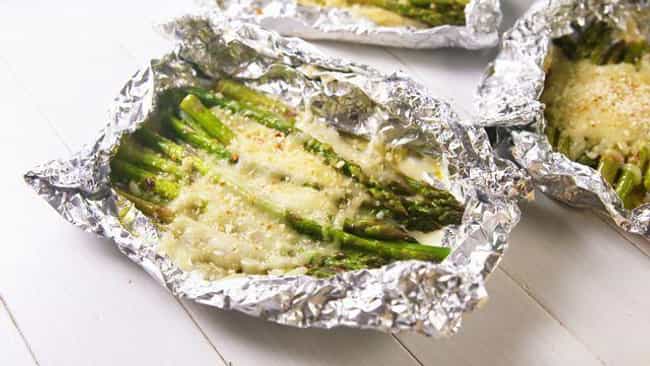 Cheesy Asparagus Foil Packs
Recipe: Delish by Lauren Miyashiro
Ingredients: Asparagus, Olive Oil, Garlic, Lemon, Oregano, Red Pepper Flakes, Kosher Salt, Mozzarella Cheese, and Parmesan Cheese

This a delicious dinner?