Entertainment
The Best Freida Pinto Movies

140 votes
90 voters
8.4k views
7 items
List Rules Vote for your favorite movies, regardless of critic reviews or how big the role was.
List of the best Freida Pinto movies, ranked best to worst with movie trailers when available. Freida Pinto's highest grossing movies have received a lot of accolades over the years, earning millions upon millions around the world. The order of these top Freida Pinto movies is decided by how many votes they receive, so only highly rated Freida Pinto movies will be at the top of the list. Freida Pinto has been in a lot of films, so people often debate each other over what the greatest Freida Pinto movie of all time is. If you and a friend are arguing about this then use this list of the most entertaining Freida Pinto films to end the squabble once and for all.
If you think the best Freida Pinto role isn't at the top, then upvote it so it has the chance to become number one. The greatest Freida Pinto performances didn't necessarily come from the best movies, but in most cases they go hand in hand.
List is made up of films like Black Gold and Slumdog Millionaire.
"This list answers the questions, "What are the best Freida Pinto movies?" and "What are the greatest Freida Pinto roles of all time?"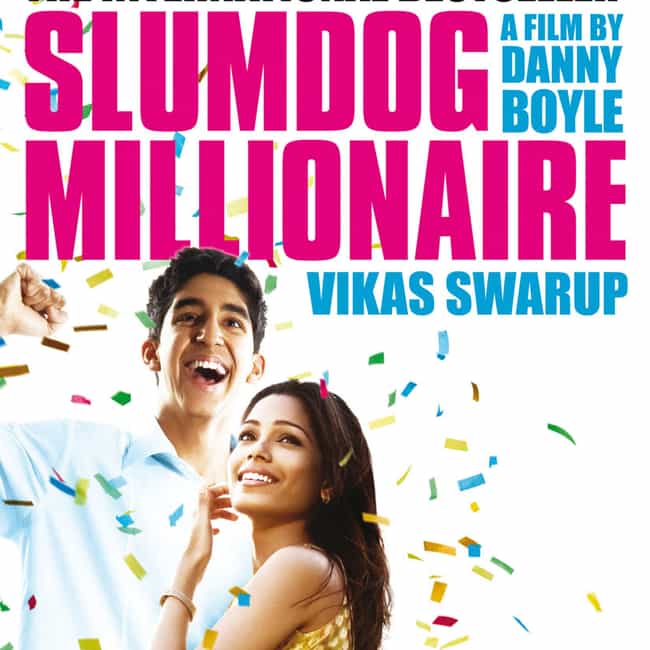 Slumdog Millionaire is a 2009 British drama film directed by Danny Boyle, written by Simon Beaufoy, and produced by Christian Colson. It was co-directed in India by Loveleen Tandan. It is an adaptation of the novel Q & A by Indian author and diplomat Vikas Swarup. Set and filmed in India, the film tells the story of Jamal Malik, a young man from the Juhu slums of Mumbai who appears on the Indian version of Who Wants to Be a Millionaire? and exceeds people's expectations, thereby arousing the suspicions of cheating; Jamal recounts in flashback how he knows the answer to each question, each one linked to a key event in his life. After its world premiere at Telluride Film Festival and later ...more on Wikipedia
Actors: Freida Pinto, Anil Kapoor, Irrfan Khan, Saurabh Shukla, Shruti Seth, + more
Released: 2008
Directed by: Loveleen Tandan, Danny Boyle

Agree or disagree?
see more on Slumdog Millionaire
Rise of the Apes is in pre-production as of May 2010. This origin story for a new franchise takes place in modern day San Francisco and will star James Franco. It is currently scheduled for a June 24, 2011 release date. Weta Digital will provide CGI and other special effects. ...more on Wikipedia
Actors: James Franco, Freida Pinto, John Lithgow, Brian Cox, Tracy Spiridakos, + more
Released: 2011
Directed by: Rupert Wyatt
Agree or disagree?
see more on Rise of the Planet of the Apes
Immortals is a 2011 3D mythology fantasy film directed by Tarsem Singh and starring Henry Cavill, Freida Pinto, and Mickey Rourke. The film also stars Luke Evans, Steve Byers, Kellan Lutz, Joseph Morgan, Stephen Dorff, Daniel Sharman, Alan van Sprang, Isabel Lucas, Corey Sevier, and John Hurt. ...more on Wikipedia
Actors: Mickey Rourke, Freida Pinto, John Hurt, Henry Cavill, Kellan Lutz, + more
Released: 2011
Directed by: Tarsem Singh
Agree or disagree?
see more on Immortals
You Will Meet a Tall Dark Stranger is a 2010 English-language Spanish–American co-production comedy-drama film written and directed by Woody Allen. It features Antonio Banderas, Josh Brolin, Anthony Hopkins, Gemma Jones, Freida Pinto, Lucy Punch, Naomi Watts, Roger Ashton-Griffiths and Pauline Collins. It premiered on 15 May 2010 at the Cannes Film Festival in an out-of-competition slot. ...more on Wikipedia
Actors: Naomi Watts, Anthony Hopkins, Freida Pinto, Antonio Banderas, Josh Brolin, + more
Released: 2010
Directed by: Woody Allen
Agree or disagree?
see more on You Will Meet a Tall Dark Stranger