watchworthy
presents
The Best Shows & Movies Set in the Future

Updated November 22, 2019
238 votes
34 voters
1.5k views
44 items
List Rules Vote up the most entertaining films & shows set in the future, including streaming series.
If there's one commonality throughout most of science fiction, it's the setting taking place in the future. While that's not true of all sci-fi, it's certainly a common trope, which is why some of the best movies and TV shows set in the future also line up with the very best of science fiction. While some of the best examples in this genre can be found on the big screen, there are also dozens of excellent TV shows set in the future fans of the genre regularly enjoy.
Movies like Alien and Blade Runner are obvious examples of futuristic movies that are incredibly popular, but there are far more that you may not be aware of and this list compiles the very best. While many examples are considered classics, this list sticks closer to the more recent additions to the genre with examples like Netflix's Altered Carbon and Black Mirror. Both offer glimpses into a futuristic world that suggests we might just ruin ourselves with technology. Whatever your preference in the genre, there are plenty of movies and TV shows about the future that involve comedy, drama, action/adventure, and more for everyone to enjoy.
Which shows and movies set in the future deserve the top spots on this list? Help decide by giving your favorites a thumbs up and adding any good movies or shows missing from the list.
Data-driven recommendations based on voting from over 40 million monthly visits to Ranker.
Try the free app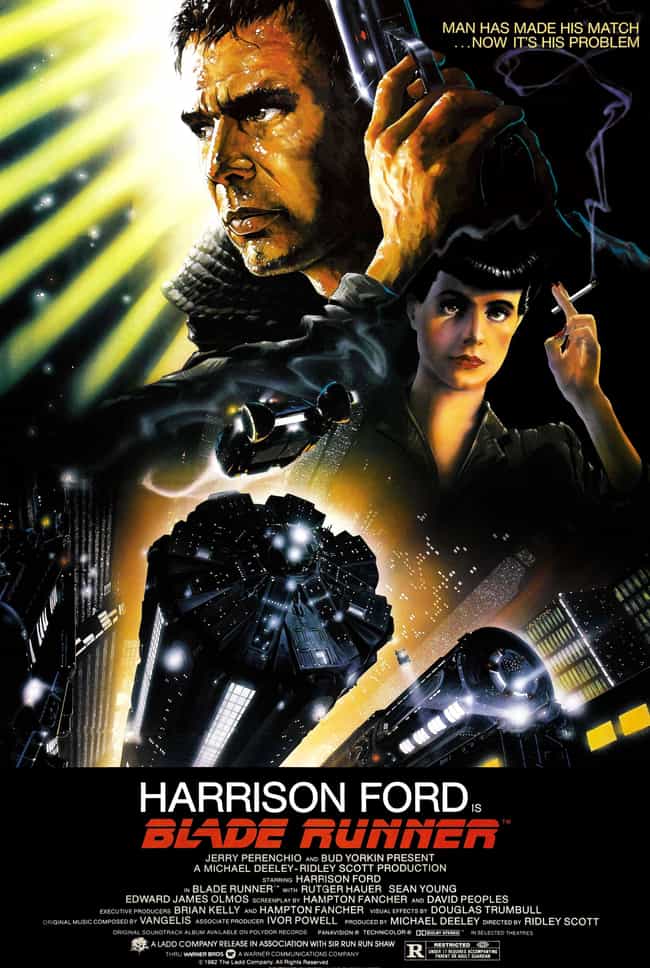 Blade Runner is a 1982 American neo-noir dystopian science fiction film directed by Ridley Scott and starring Harrison Ford, Rutger Hauer, Sean Young, and Edward James Olmos. The screenplay, written by Hampton Fancher and David Peoples, is a modified film adaptation of the 1968 novel Do Androids Dream of Electric Sheep? by Philip K. Dick. The film depicts a dystopian Los Angeles in November 2019, in which genetically engineered replicants, which are visually indistinguishable from adult humans, are manufactured by the powerful Tyrell Corporation as well as by other "mega-corporations" around the world. The use of replicants on Earth is banned and they are exclusively utilized for dangerous ...more on Wikipedia

Is this the best of the genre?
Minority Report is a 2002 American neo-noir science fiction mystery-thriller film directed by Steven Spielberg and loosely based on the short story of the same name by Philip K. Dick. It is set primarily in Washington, D.C., and Northern Virginia in the year 2054, where "PreCrime", a specialized police department, apprehends suspects based on foreknowledge provided by three psychics called "precogs". ...more on Wikipedia

Is this the best of the genre?
Brazil is a 1985 British film directed by Terry Gilliam and written by Gilliam, Charles McKeown, and Tom Stoppard. British National Cinema by Sarah Street describes the film as a "fantasy/satire on bureaucratic society" while John Scalzi's Rough Guide to Sci-Fi Movies describes it as a "dystopian satire". The film stars Jonathan Pryce and features Robert De Niro, Kim Greist, Michael Palin, Katherine Helmond, Bob Hoskins, and Ian Holm. The film centres on Sam Lowry, a man trying to find a woman who appears in his dreams while he is working in a mind-numbing job and living a life in a small apartment, set in a consumer-driven dystopian world in which there is an over-reliance on poorly ...more on Wikipedia
Is this the best of the genre?
2001: A Space Odyssey is a 1968 epic science fiction film produced and directed by Stanley Kubrick. The screenplay was written by Kubrick and Arthur C. Clarke, and was partially inspired by Clarke's short story "The Sentinel". Clarke concurrently wrote the novel 2001: A Space Odyssey, which was published soon after the film was released. The film follows a voyage to Jupiter with the sentient computer Hal after the discovery of mysterious black monoliths affecting human evolution. The film deals with the themes of existentialism, human evolution, technology, artificial intelligence, and extraterrestrial life. It has been noted for its scientifically accurate depiction of space flight, ...more on Wikipedia

Is this the best of the genre?