Entertainment

The Best Jennifer Hudson Movies

124 votes
54 voters
3.8k views
8 items
List Rules Vote for your favorite movies, regardless of critic reviews or how big the role was.
List of the best Jennifer Hudson movies, ranked best to worst with movie trailers when available. Jennifer Hudson's highest grossing movies have received a lot of accolades over the years, earning millions upon millions around the world. The order of these top Jennifer Hudson movies is decided by how many votes they receive, so only highly rated Jennifer Hudson movies will be at the top of the list. Jennifer Hudson has been in a lot of films, so people often debate each other over what the greatest Jennifer Hudson movie of all time is. If you and a friend are arguing about this then use this list of the most entertaining Jennifer Hudson films to end the squabble once and for all.
If you think the best Jennifer Hudson role isn't at the top, then upvote it so it has the chance to become number one. The greatest Jennifer Hudson performances didn't necessarily come from the best movies, but in most cases they go hand in hand.
List below includes Sex and the City, Winnie and more films.
"This list answers the questions, "What are the best Jennifer Hudson movies?" and "What are the greatest Jennifer Hudson roles of all time?"
Movie fans who love Jennifer Hudson have also been known to enjoy films starring Ashanti and Queen Latifah.
Dreamgirls is a 2006 American musical drama film, directed by Bill Condon and jointly produced and released by DreamWorks Pictures and Paramount Pictures. The film debuted in three special road show engagements starting in December 15, 2006 before its nationwide release on December 25, 2006. Adapted from the 1981 Broadway musical of the same name by composer Henry Krieger and lyricist/librettist Tom Eyen, Dreamgirls is a film à clef of the histories of the Motown record label and one of its acts, The Supremes. The story follows the history and evolution of American R&B music during the 1960s and 1970s through the eyes of a Detroit, Michigan girl group known as the Dreams and their ...more on Wikipedia
Actors: Beyoncé Knowles, Eddie Murphy, Jamie Foxx, Jennifer Hudson, John Lithgow, + more
Initial Release: 2006
Directed by: Bill Condon
Also Ranked
#48 on List of Black Movies, Ranked Best to Worst
#79 on The Best Movies About Music
#74 on Musical Movies With the Best Songs
#29 on The Most Rewatchable Movie Musicals
Agree or disagree?
see more on Dreamgirls
The Secret Life of Bees is a 2008 American drama film, adapted from the novel of the same name by Sue Monk Kidd. The film was directed by Gina Prince-Bythewood and produced by Will Smith, with his wife, Jada Pinkett Smith, as executive producer. The film is noted for Queen Latifah's critically acclaimed performance as August Boatwright. The film was released in North America on October 17, 2008 and in the United Kingdom on December 5, 2008. Set in South Carolina in 1964, this is the tale of Lily Owens, a 14-year-old girl who is haunted by the memory of her late mother Deborah Owens. Lily flees with Rosaleen, her caregiver and only friend, to a town in South Carolina where she uncovers the ...more on Wikipedia
Actors: Alicia Keys, Dakota Fanning, Queen Latifah, Jennifer Hudson, Paul Bettany, + more
Initial Release: 2008
Directed by: Gina Prince-Bythewood
Also Ranked
#13 on The 25+ Best Movies for Black Women
Agree or disagree?
see more on The Secret Life of Bees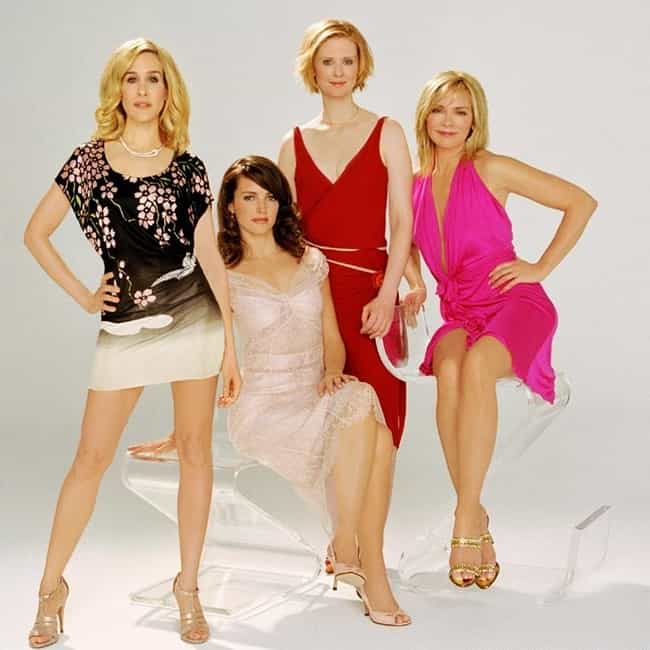 This film is a 2008 American blue romantic comedy film written and directed by Michael Patrick King, and a film adaptation of the HBO comedy series of the same name about four female friends: Carrie Bradshaw, Samantha Jones, Charlotte York Goldenblatt, and Miranda Hobbes, dealing with their lives as single women in New York City. The series often portrayed frank discussions about romance. The world premiere took place at Leicester Square, London, on May 15, 2008, and premiered on May 28, 2008, in the United Kingdom and May 30, 2008, in the United States. ...more on Wikipedia
Actors: Sarah Jessica Parker, Jennifer Hudson, Kim Cattrall, Candice Bergen, Kristin Davis, + more
Initial Release: 2008
Directed by: Michael Patrick King
Also Ranked
#19 on The Best Movies for Women
#77 on The Best Movies Based on TV Shows
#47 on Romantic Movies Your Girlfriend Forces You To Watch
#25 on If Your Partner Suggests Any Of These Movies, They Want An Engagement Ring

Agree or disagree?
see more on Sex and the City
Mickey, Donald, Goofy: The Three Musketeers is a direct-to-video animated film adaptation of the novel The Three Musketeers by Alexandre Dumas, père. As the title suggests, it features Mickey Mouse, Donald Duck, and Goofy as the three musketeers. This film was directed by Donovan Cook, produced by DisneyToon Studios, and released directly to VHS and DVD on August 17, 2004, by Walt Disney Studios Home Entertainment, and was later re-released on Blu-ray Disc on August 12, 2014, coinciding with the film's 10th anniversary. ...more on Wikipedia
Actors: Frank Welker, Jim Cummings, Tress MacNeille, Rob Paulsen, Jeff Bennett, + more
Initial Release: 2004
Directed by: Donovan Cook
Agree or disagree?
see more on Mickey, Donald, Goofy: The Three Musketeers