Entertainment
The Best Jessica Lowndes Movies

41 votes
16 voters
1.9k views
6 items
List Rules Vote for your favorite movies, regardless of critic reviews or how big the role was.
List of the best Jessica Lowndes movies, ranked best to worst with movie trailers when available. Jessica Lowndes's highest grossing movies have received a lot of accolades over the years, earning millions upon millions around the world. The order of these top Jessica Lowndes movies is decided by how many votes they receive, so only highly rated Jessica Lowndes movies will be at the top of the list. Jessica Lowndes has been in a lot of films, so people often debate each other over what the greatest Jessica Lowndes movie of all time is. If you and a friend are arguing about this then use this list of the most entertaining Jessica Lowndes films to end the squabble once and for all.
If you think the best Jessica Lowndes role isn't at the top, then upvote it so it has the chance to become number one. The greatest Jessica Lowndes performances didn't necessarily come from the best movies, but in most cases they go hand in hand.
List is made up of films like Altitude and 10 Years.
"This list answers the questions, "What are the best Jessica Lowndes movies?" and "What are the greatest Jessica Lowndes roles of all time?"
Autopsy is a 2008 American horror film directed by Adam Gierasch. It premiered on August 24, 2008 in the United Kingdom at the London FrightFest Film Festival and was selected as one of After Dark Horrorfest's "Eight Films to Die For". The films stars Michael Bowen, Jessica Lowndes, Ashley Schneider, Robert Patrick and Jenette Goldstein. Filming took place in Louisiana. ...more on Wikipedia
Actors: Jessica Lowndes, Robert Patrick, Ross McCall, Michael Bowen, Jenette Goldstein, + more
Released: 2006
Directed by: Adam Gierasch
Agree or disagree?
see more on Autopsy
"Dance of the Dead" is the third episode of the first season of Masters of Horror. It originally aired in North America on 11 November 2005. Richard Christian Matheson adapted the episode from a short story of the same name by his father, Richard Matheson. Smashing Pumpkins frontman Billy Corgan scored this episode. ...more on Wikipedia
Actors: Jessica Lowndes, Robert Englund, Jonathan Tucker, Ryan McDonald, Lucie Guest
Released: 2005
Directed by: Tobe Hooper
Agree or disagree?
see more on Dance of the Dead
The Devil's Carnival is a 2012 musical horror film directed by Darren Lynn Bousman starring Sean Patrick Flannery, Briana Evigan, Jessica Lowndes, Paul Sorvino, Emilie Autumn and Terrance Zdunich. The film marks the second collaboration of Bousman and writer/actor Terrance Zdunich, their previous work being on the unrelated musical film Repo! The Genetic Opera. The film also brings back several of the cast members of Repo!, such as Sorvino, Alexa Vega, Bill Moseley and Nivek Ogre. The Devil's Carnival has Aesop's Fables at the core of its story, with the main characters each representing a fable. Flanery's character John represents The Devil and His Due, Evigan's character Merrywood ...more on Wikipedia
Actors: Jessica Lowndes, Alexa Vega, Emilie Autumn, Briana Evigan, Paul Sorvino, + more
Released: 2012
Directed by: Darren Lynn Bousman
Agree or disagree?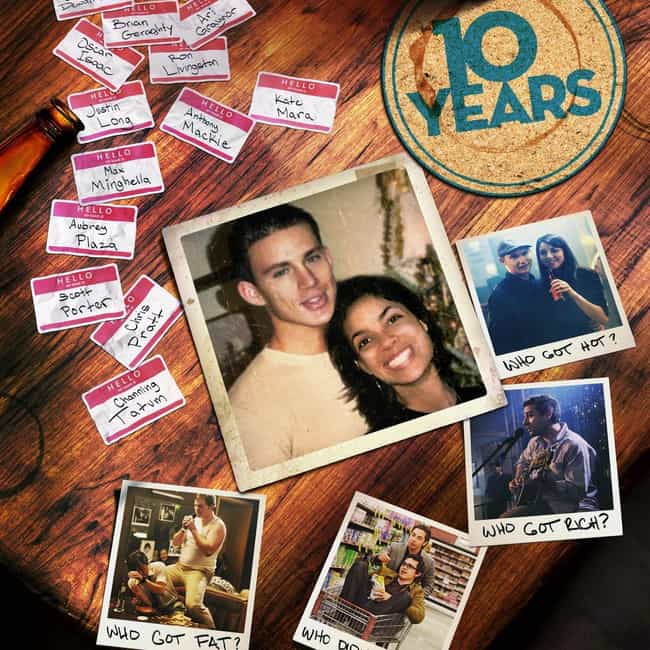 10 Years is a 2011 American romantic comedy drama film directed by Jamie Linden in his directorial debut. The film stars with an ensemble cast including Channing Tatum, Justin Long, Kate Mara, Chris Pratt, Scott Porter, Brian Geraghty, Anthony Mackie, Rosario Dawson, Oscar Isaac, Lynn Collins, Max Minghella, Kelly Noonan, Juliet Lopez and Jenna Dewan. The film was released on September 14, 2012, in select theaters. ...more on Wikipedia
Actors: Kate Mara, Channing Tatum, Rosario Dawson, Aubrey Plaza, Chris Pratt, + more
Released: 2011
Directed by: Jamie Linden

Agree or disagree?
see more on 10 Years