Entertainment

The Best Koyuki Movies

81 votes
42 voters
1.6k views
9 items
List Rules Vote for your favorite movies, regardless of critic reviews or how big the role was.
List of the best Koyuki movies, ranked best to worst with movie trailers when available. Koyuki's highest grossing movies have received a lot of accolades over the years, earning millions upon millions around the world. The order of these top Koyuki movies is decided by how many votes they receive, so only highly rated Koyuki movies will be at the top of the list. Koyuki has been in a lot of films, so people often debate each other over what the greatest Koyuki movie of all time is. If you and a friend are arguing about this then use this list of the most entertaining Koyuki films to end the squabble once and for all.
If you think the best Koyuki role isn't at the top, then upvote it so it has the chance to become number one. The greatest Koyuki performances didn't necessarily come from the best movies, but in most cases they go hand in hand.
Always: Sunset on Third Street 2 and The Last Samurai are only the beginning of the films on this list.
"This list answers the questions, "What are the best Koyuki movies?" and "What are the greatest Koyuki roles of all time?"
The Last Samurai is a 2003 American epic film directed and co-produced by Edward Zwick, who also co-wrote the screenplay with John Logan. The film stars Tom Cruise, who also co-produced, as well as Ken Watanabe, Shin Koyamada, Tony Goldwyn, Hiroyuki Sanada, Timothy Spall, and Billy Connolly. Inspired by a project by Vincent Ward, it interested Zwick, with Ward later serving as executive producer. The film production went ahead with Zwick and was shot in Ward's native New Zealand. Tom Cruise portrays a formerly retired officer of the United States 7th Cavalry Regiment. ...more on Wikipedia
Actors: Tom Cruise, Billy Connolly, Timothy Spall, Tony Goldwyn, Ken Watanabe, + more
Released: 2003
Directed by: Edward Zwick
Also Ranked
#56 on The Best War Movies Ever
#45 on The Greatest Epic Movies Ever Made
#10 on The All-Time Best Tom Cruise Movies
#11 on 25+ Fantastic Pre-Modern War Movies That Take Place a Long Time Ago
Agree or disagree?
see more on The Last Samurai
Pulse, known in Japan as Kairo, is a 2001 Japanese horror film directed by Kiyoshi Kurosawa. The film is based on his novel of the same name. The film was screened in the Un Certain Regard section at the 2001 Cannes Film Festival. The movie was well-received critically and has a cult following. An American remake, also titled Pulse, debuted in 2006 and spawned two sequels. ...more on Wikipedia
Actors: Koyuki, Kōji Yakusho, Kumiko Aso, Haruhiko Katô
Released: 2001
Directed by: Hiromi Kurosawa
Also Ranked
#5 on The Most Terrifying Japanese Horror Movies of All Time
#17 on The Best Google Nexus 7 Apps
#5 on The Best Horror Movies About The Internet
Agree or disagree?
see more on Pulse
Blood: The Last Vampire, released in Japan as Last Blood, is a 2009 horror-action film, a Hong Kong-French-British co-production; it is the remake of the 2000 anime film of the same name. Directed by Chris Nahon and co-produced by French company Pathé and Hong Kong company Edko with the blessing of Production I.G, the English-language film was released in Japan and other Asian markets on 29 May 2009. It was released in the United Kingdom on 26 June 2009 and saw a limited release to theatres in the United States starting on 10 July 2009. The film focuses on a half-human, half-vampire girl named Saya who hunts full-blooded vampires in partnership with humans and seeks to destroy Onigen, the ...more on Wikipedia
Actors: Jun Ji-hyun, Liam Cunningham, Masiela Lusha, Colin Salmon, Allison Miller, + more
Released: 2009
Directed by: Chris Nahon
Agree or disagree?
see more on Blood: The Last Vampire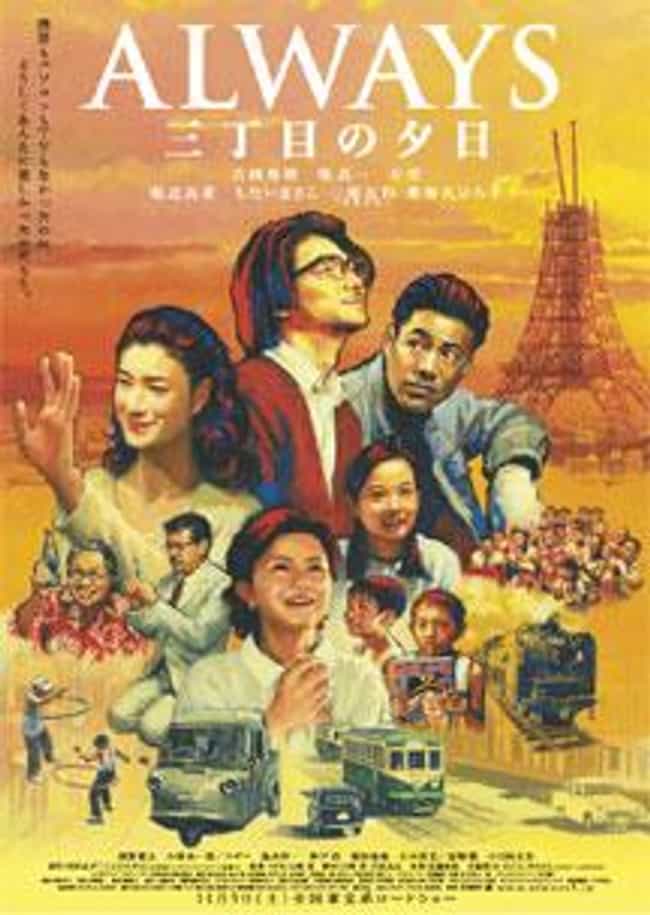 Always: Sunset on Third Street
Always: Sunset on Third Street is a 2005 film co-written and directed by the Japanese filmmaker Takashi Yamazaki, based on Ryōhei Saigan's long-running manga Sanchōme no Yūhi. It was chosen as Best Film at the Japan Academy Prize ceremony. ...more on Wikipedia
Actors: Maki Horikita, Koyuki, Hiroko Yakushimaru, Youichi Nukumizu, Shinichi Tsutsumi, + more
Released: 2005
Directed by: Takashi Yamazaki

Agree or disagree?