Entertainment
The Best Kyoko Fukada Movies

16 votes
8 voters
1.4k views
9 items
List Rules Vote for your favorite movies, regardless of critic reviews or how big the role was.
List of the best Kyoko Fukada movies, ranked best to worst with movie trailers when available. Kyoko Fukada's highest grossing movies have received a lot of accolades over the years, earning millions upon millions around the world. The order of these top Kyoko Fukada movies is decided by how many votes they receive, so only highly rated Kyoko Fukada movies will be at the top of the list. Kyoko Fukada has been in a lot of films, so people often debate each other over what the greatest Kyoko Fukada movie of all time is. If you and a friend are arguing about this then use this list of the most entertaining Kyoko Fukada films to end the squabble once and for all.
If you think the best Kyoko Fukada role isn't at the top, then upvote it so it has the chance to become number one. The greatest Kyoko Fukada performances didn't necessarily come from the best movies, but in most cases they go hand in hand.
These films, like Wild 7 and Dolls include images when available.
"This list answers the questions, "What are the best Kyoko Fukada movies?" and "What are the greatest Kyoko Fukada roles of all time?"
Ring 2, directed by Hideo Nakata, is the sequel to the Japanese horror film, Ring. Ring was originally a novel written by Koji Suzuki; its sequel, Rasen, was also adapted into a movie as the Ring movie's sequel. However, due to the poor response to Rasen, Ring 2 was made as a new sequel to Ring, not based on Suzuki's works, and thus ultimately ignores the story of Rasen. Ring 2 takes place a couple of weeks after the first film, directly continuing the story and features most of the cast from Ring reprising their roles. ...more on Wikipedia
Actors: Hiroyuki Sanada, Kyoko Fukada, Miki Nakatani, Masahiro Motoki, Yasutaka Tsutsui, + more
Released: 1999
Directed by: Hideo Nakata
Agree or disagree?
see more on Ring 2
Kamikaze Girls is a 2004 comedy film, written by Nobara Takemoto and Tetsuya Nakashima and directed by Tetsuya Nakashima. ...more on Wikipedia
Actors: Anna Tsuchiya, Kyoko Fukada, Eiko Koike, Kirin Kiki, Hirotaro Honda, + more
Released: 2004
Directed by: Tetsuya Nakashima
Agree or disagree?
Dolls is a 2002 Japanese film written, edited and directed by Japanese director Takeshi Kitano. A highly stylized art film, Dolls is part of Kitano's non-crime film oeuvre, like 1991's A Scene at the Sea, and unlike most of his other films, he does not act in it. The film has been praised for its cinematography and features costumes by Yohji Yamamoto. ...more on Wikipedia
Actors: Kyoko Fukada, Ren Osugi, Miho Kanno, Kanji Tsuda, Tatsuya Mihashi, + more
Released: 2002
Directed by: Beat Kitano
Agree or disagree?
see more on Dolls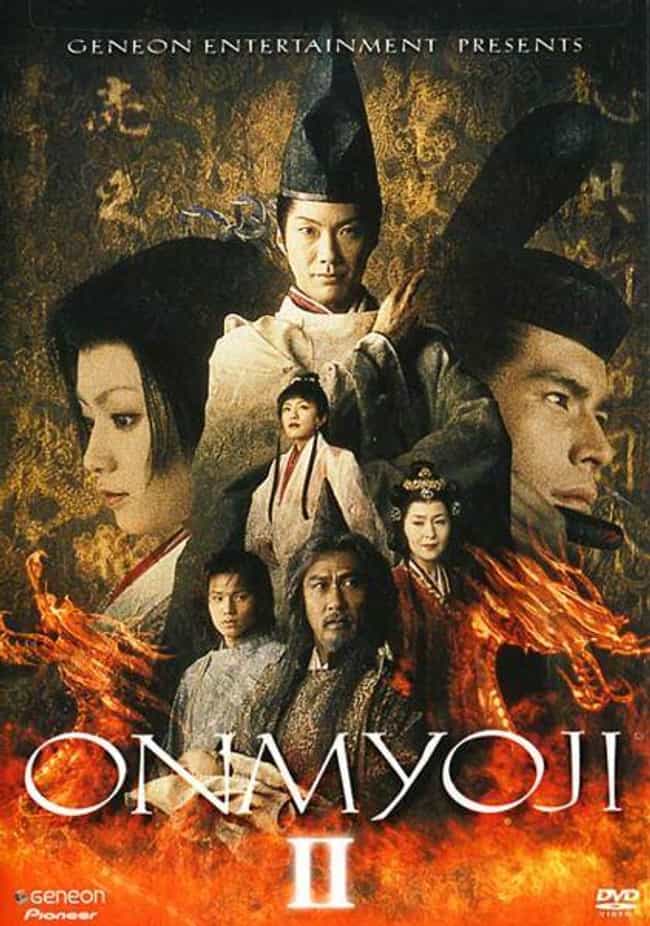 Onmyouji 2 is a 2003 Japanese jidaigeki film directed by Yojiro Takita. ...more on Wikipedia
Actors: Kyoko Fukada, Hideaki Ito, Eriko Imai, Hiromitsu Suzuki, Hayato Ichihara, + more
Released: 2003
Directed by: Yōjirō Takita

Agree or disagree?