Total Nerd
The Best Star Wars LEGO Sets

Updated December 10, 2018
6.5k votes
766 voters
17.5k views
59 items
List Rules May the Force be with you and vote up your favorite Star Wars LEGO Sets.
Here are the best of the Star Wars sets that LEGO has to offer. These sets allow you to build the most loved vehicles from the Star Wars saga with sets that have under a hundred pieces to over a thousand. Build and fly the Millennium Falcon as part of the Ultimate Collectors Series or relive the thrill of escaping the Death Star with the secret plans. You can also combine all LEGO Star Wars sets for creative building or play out the entire original trilogy, the prequels, and the new movies.
Most of the sets come with several Star Wars LEGO minifigures such Luke Skywalker, Han Solo, Princess Leia Organa, Rey, Finn, and Darth Vader. Use them to recreate scenes from the films or make up your own adventures and vehicles. Each set is compatible with all LEGO construction sets for infinite building possibilities.
Vote up the Star Wars LEGO sets you enjoyed building the most and look for the sets you want to build next!
Pieces: 7,541
Ages: 16+
Size: 8" (21cm) high, 33" (84cm) long and 22" (56cm) wide.
Features:
7 minifigures: Han Solo, Chewbacca, Princess Leia, C-3PO, Older Hand Solo, Rey, and Finn
Includes BB-8 droid, 2 Porgs, and a Mynock
Ext. features: removable hull panels, lowering boarding ramp, concealed blaster cannon, cockpit with detachable canopy, interchangeable sensor dishes, and quad laser cannons.
Int. features: Dejarik holographic game, remote training helmet, engineering station, and a doorway build with passageway decoration.
Gunnery station features: gunner's seat, detachable hull panel, and fully rotatable quad laser cannon.
Part of the Ultimate Collector Series.
Price: $799.99
Pieces: 1,996
Ages: 14+
Size: 7" high, 17" long and 14" wide in landing mode.
Features:
4 minifigures:

Boba Fett™, Bespin Guard™, Stormtrooper™ and Han Solo™.
Includes Han Solo in carbonite.
Rotating cockpit.
Rotating wings.
Cargo hold compartment for carbonite-frozen Han Solo.
Hidden blasters.
Price: $199.99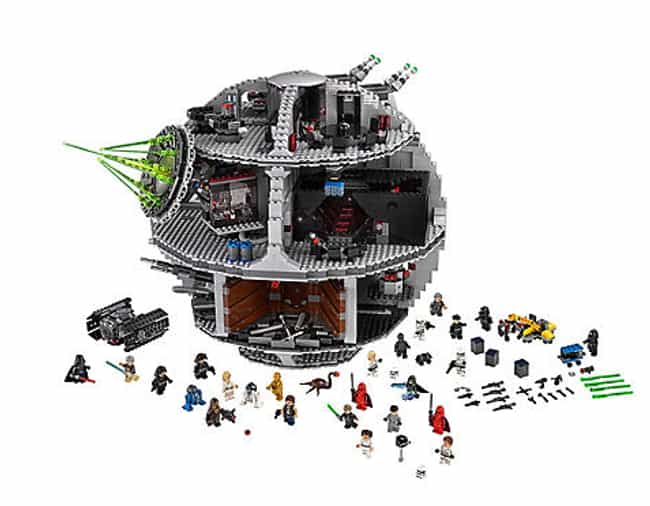 Pieces: 4,016
Ages: 14+
Size: 16" high and 16" wide.
Features:
23 minifigures:

Grand Moff Tarkin, Darth Vader, Emperor Palpatine, Imperial Navy Officer, Imperial Officer, 2 Stormtroopers, 2 Death Star Troopers, 2 Emperor's Royal Guards, 2 Death Star Gunners, Death Star Droid, Obi-Wan Kenobi, Chewbacca, Princess Leia, C-3PO, Han Solo (disguised), Luke Skywalker (Tatooine), Luke Skywalker (disguised) and Luke Skywalker (Final Duel), plus R2-D2, an Imperial Astromech and a buildable Dianoga trash compactor monster
A very detailed representation of the Death Star.
Includes key rooms and locations from Star Wars: A New Hope and Return of the Jedi.
Translucent green laser pieces.
Price: $499.99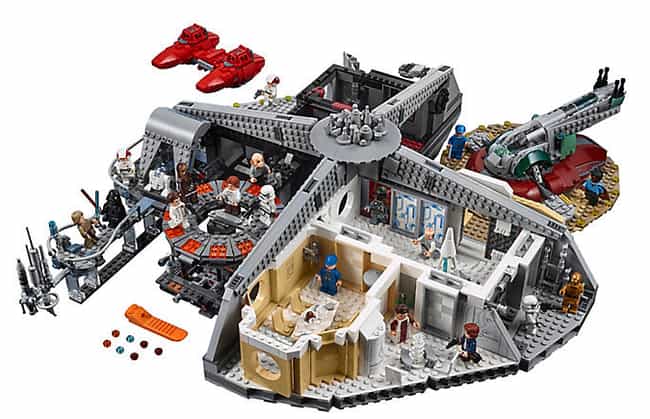 Pieces: 2,812
Ages: 14+
Size: 6" (16cm) high, 22" (58cm) wide and 22" (56cm) deep.
Features:
18 minifigures: Han Solo, Princess Leia and Luke Skywalker in Bespin outfits, Chewbacca, C-3PO, Lando Calrissian, Lobot, 2 Cloud City Guards, 2 Cloud Car Pilots, Leia and Han in Hoth outfits, Darth Vader, Boba Fett, 2 Stormtroopers and an Ugnaught, plus R2-D2 and an IG-88 droid.

Section 1 features:

a landing platform, sliding entrance door, and Slave I.

Section 2 features:

a dining room, lounge, garbage processing room, and a promenade.

Section 3 features:

a sensor balcony, maintenance cabin, and a carbon freezing chamber.

Section 4 features:

an interrogation chamber, a prison cell, and hangar.
A wrench, handcuffs, and Lobot's cybernetic band are included accessories.
Price: $349.99