Mythical Creatures
The Best Loch Ness Monster Movies

Updated October 8, 2019
72 votes
23 voters
1.3k views
15 items
List Rules Vote up your favorite movies that feature Nessie, the Loch Ness Monster.
Deep in the waters of the Scottish Highlands, a legendary creature is rumored to live. The rumors of the Loch Ness Monster have gone beyond Scotland and captured the attention of mystery-seekers and filmmakers all over the world. The best Loch Ness Monster movies are no secret and come in many forms. Some Loch Ness films are horror movies while other good Nessie pictures are family films.
What films will you find on this list of all Loch Ness Monster movies? The Water Horse: Legend of the Deep has to be near the top. This 2007 film – starring Alex Etel, Emily Watson, Ben Chaplin and more – is a family-friendly story about a boy who finds a mysterious egg. Loch Ness is another good fantasy film for the whole family.
The 2004 mokumentary Incident at Loch Ness finds famed documentarian Werner Herzog grappling with his notions about the existence of the famed monster. Other good Loch Ness monster movies include Beneath Loch Ness, Loch Ness Terror, The Private Life of Sherlock Holmes, Magic in the Water, and What a Whopper. Scooby-Doo and the gang even tangle with the fabled Loch Ness monster, complete with songs. You'll also find movies on this list with famous actors such as Mark Harmon and Ted Danson.
Which Loch Ness Monster movie do you think is the best? Give your favorites a vote up and feel free to add any good films we may have missed. And check back to see new movies that come out featuring Nessie the Monster of Loch Ness. Then check out our ist of scary sea creature movies.
Scooby-Doo! and the Loch Ness Monster is the seventh direct-to-video animated film based upon the Scooby-Doo Saturday morning cartoons. It was released on June 22, 2004, and it was produced by Warner Bros. Animation. In it, the Mystery Inc. gang encounter the Loch Ness Monster. ...more on Wikipedia
Actors: Sheena Easton, Casey Kasem, Frank Welker, Grey DeLisle, Phil LaMarr, + more
Released: 2004
Directed by: Scott Jeralds, Joe Sichta
is this a great Loch Ness monster movie?
The Water Horse: Legend of the Deep is a 2007 American-British family fantasy drama film directed by Jay Russell. The screenplay, written by Robert Nelson Jacobs, is an adaptation of Dick King-Smith's children's novel The Water Horse. It stars Alex Etel as a young boy who discovers a mysterious egg and cares for what hatches out of it: a "Water Horse" which later becomes the fabled Loch Ness Monster. The film also stars Emily Watson, Ben Chaplin, and David Morrissey. The film was produced by Revolution Studios and Walden Media, in collaboration with Beacon Pictures, and was distributed by Columbia Pictures. Visual effects, which included the computer-generated imagery of the water horse were ...more on Wikipedia
Actors: Brian Cox, David Morrissey, Emily Watson, Joel Tobeck, Ben Chaplin, + more
Released: 2007
Directed by: Jay Russell
is this a great Loch Ness monster movie?
Loch Ness is a 1996 family drama film starring Ted Danson and Joely Richardson. It was written by John Fusco and directed by Jon Henderson. ...more on Wikipedia
Actors: Ted Danson, Ian Holm, Joely Richardson, James Frain, Keith Allen, + more
Released: 1996
Directed by: John Henderson
is this a great Loch Ness monster movie?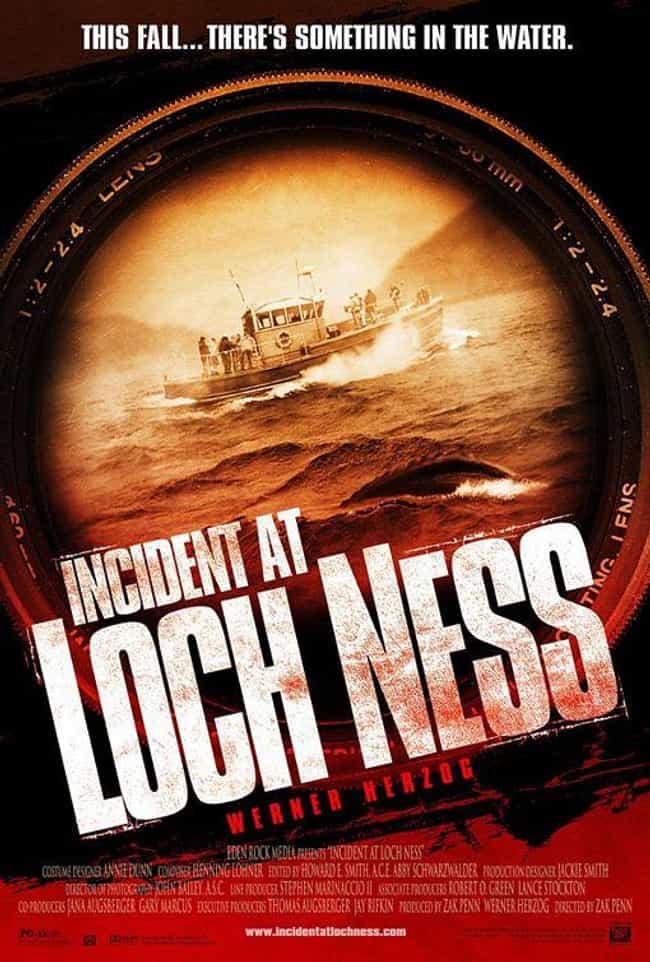 Incident at Loch Ness is a 2004 mockumentary starring, produced by and written by Werner Herzog and Zak Penn. The small cast film follows Herzog and his crew while working on the production of a movie project on the Loch Ness Monster entitled Enigma of Loch Ness. It won the New American Cinema Award at the 2004 Seattle International Film Festival. ...more on Wikipedia
Actors: Jeff Goldblum, Crispin Glover, Werner Herzog, Ricky Jay, Zak Penn, + more
Released: 2004
Directed by: Zak Penn
is this a great Loch Ness monster movie?