watchworthy
presents
The Best Movies for Tauruses

Updated January 30, 2018
2.6k votes
432 voters
10.9k views
17 items
List Rules Vote up the movies that really speak to every Taurus.
Finding great movies for a Taurus can be a fine line. You need to consider both their love of comfort and their incredible drive when they've really set their minds to achieving any given goal.
Lovers of both the sensual and the notion of an ideal life, the average Tauruses will love movies that reflect the comforts of home and the celebration of true love. You can try something like Moulin Rouge! or The Notebook to appeal to this side of a Taurus. On the other hand, films about overcoming the odds are also often great movies for Tauruses, due to their amazing willpower and willingness to fight against the odds. Why not try The Lord of the Rings trilogy or My Left Foot?
Taureans are also huge fans of beauty and can appreciate gorgeous, well-done cinematography like no other. Whichever type of movie you're picking, make sure it's pretty! With all this in mind, feast your eyes on this collection of movies Tauruses will like, based on the natural inclinations of their zodiac sign.
Data-driven recommendations based on voting from over 40 million monthly visits to Ranker.
Try the free app
The Shawshank Redemption is a 1994 American drama film written and directed by Frank Darabont and starring Tim Robbins and Morgan Freeman. Adapted from the Stephen King novella Rita Hayworth and Shawshank Redemption, the film tells the story of Andy Dufresne, a banker who is sentenced to life in Shawshank State Prison despite his claims of being wrongly accused. During his time at the prison, he befriends a fellow inmate, Ellis Boyd "Red" Redding, and finds himself protected by the guards after the warden begins using him in his money endeavor. ...more on Wikipedia
Actors: Morgan Freeman, Rita Hayworth, Tim Robbins, Clancy Brown, James Whitmore, + more
Released: 1994
Directed by: Frank Darabont
Would a Taurus love this?
The Lord of the Rings is a film series consisting of three epic fantasy adventure films directed by Peter Jackson. They are based on the novel The Lord of the Rings by J. R. R. Tolkien. The films are subtitled The Fellowship of the Ring, The Two Towers and The Return of the King. They were distributed by New Line Cinema. Considered to be one of the biggest and most ambitious film projects ever undertaken, with an overall budget of $281 million, the entire project took eight years, with the filming for all three films done simultaneously and entirely in New Zealand, Jackson's native country. Each film in the series also had special extended editions released on DVD a year after their ...more on Wikipedia
Would a Taurus love this?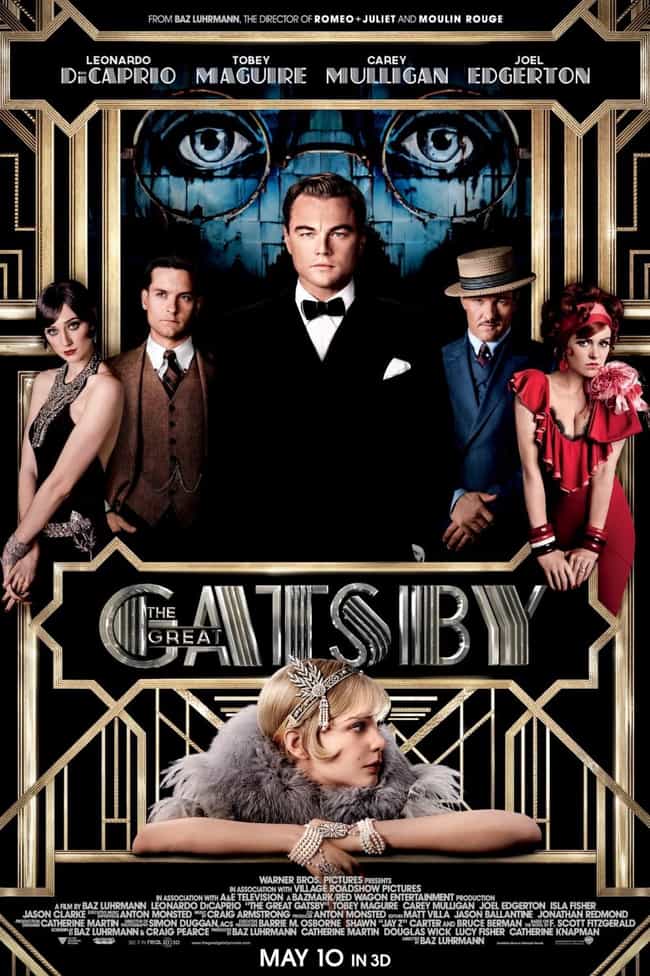 The Great Gatsby is a 2013 Australian-American 3D drama film based on F. Scott Fitzgerald's 1925 novel of the same name. The film was co-written and directed by Baz Luhrmann, and stars Leonardo DiCaprio, Tobey Maguire, Carey Mulligan, Joel Edgerton, and Elizabeth Debicki. It follows the life and times of millionaire Jay Gatsby and his neighbour Nick, who recounts his encounter with Gatsby at the height of the Roaring Twenties. The film was originally going to be released on December 25, 2012, but moved to May 10, 2013 in 3D. While the film received mixed reviews from critics, audiences responded much more positively, and F. Scott Fitzgerald's granddaughter praised the film, stating "Scott ...more on Wikipedia
Actors: Leonardo DiCaprio, Isla Fisher, Carey Mulligan, Tobey Maguire, Amitabh Bachchan, + more
Released: 2013
Directed by: Baz Luhrmann
Would a Taurus love this?
The Notebook is a 2004 American romantic drama film directed by Nick Cassavetes and based on the novel of the same name by Nicholas Sparks. The film stars Ryan Gosling and Rachel McAdams as a young couple who fall in love during 1940. Their story is narrated from the present day by an elderly man telling the tale to a fellow nursing home resident. The Notebook received mixed reviews but performed well at the box office and received several award nominations, winning eight Teen Choice Awards, a Satellite Award and an MTV Movie Award. The film became a sleeper hit and has gained a cult following. On November 11, 2012, ABC Family premiered an extended version with deleted scenes added back into ...more on Wikipedia
Actors: Rachel McAdams, Ryan Gosling, James Garner, James Marsden, Joan Allen, + more
Released: 2004
Directed by: Nick Cassavetes
Would a Taurus love this?