Best Movies

The Best Movies You Never Want to Watch Again

116.9k votes
9k voters
327.3k views
155 items
Follow
List Rules Vote up any movie that was good, but so gut-wrenchingly sad, disturbing, awkward, scary, or gross that you would never want to sit through it again. Vote down the ones you wouldn't mind watching again - or don't think belong on the list at all.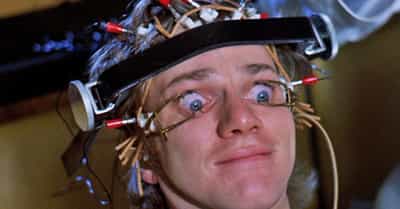 A list of the most disturbing movies that, for whatever reason, you never, ever want to watch again. This list is full of great movies that you would never re-watch. These disturbing films hit their mark: they affected you, you connected with the characters or the themes... They are great films, but you got it the first time and would be just fine to never be reminded of what you just watched. These are some of the creepiest movies, scariest, and saddest films that were ever made.
Each of these films contains at least one heartbreaking or gory scene or truly creepy character that will always be with you, even if you never voluntarily watch any of these disturbing movies again. Whether the movie vividly depicts addiction, like Leaving Las Vegas; drug use, like Requiem for a Dream; rape, like Irreversible; violence, like Nil By Mouth and Salo - or it just makes you feel dirty watching it, like Kids... These are all highly acclaimed, disturbing movies that you will try to forget about as soon as you have watched them. Some of the films on this list are depictions of true-life, heartbreaking events, like United 93, or ill-fated love stories, like Brokeback Mountain. These really good, sad movies are on this list because they can still make you cry just thinking about them.
Vote on this list of the most disturbing movies of all time, and add any movie you only want to watch once if it is not on the list.
See also:
Top Tearjerker Movies That Make Men Cry
,
The Scariest Movies Ever Made
, and
The Most Nausea-Inducing Great Films
for more masochistic fun. You weirdo.
1

Requiem for a Dream Metacritic score: 68 Requiem for a Dream is a 2000 American psychological drama film directed by Darren Aronofsky and starring Ellen Burstyn, Jared Leto, Jennifer Connelly, and Marlon Wayans. The film is based on ...more
2

A Clockwork Orange Metacritic score: 78 A Clockwork Orange is a 1971 dystopian crime film adapted, produced, and directed by Stanley Kubrick, based on Anthony Burgess's 1962 novella A Clockwork Orange. It employs disturbing, violent ...more
3

Schindler's List Metacritic score: 93 Schindler's List is a 1993 American epic historical period drama, directed and co-produced by Steven Spielberg and scripted by Steven Zaillian. It is based on the novel Schindler's Ark by Thomas ...more
4

Boys Don't Cry Metacritic score: 86 Boys Don't Cry is a 1999 American independent romantic drama film directed by Kimberly Peirce and co-written by Andy Bienen. The film is a dramatization of the real-life story of Brandon Teena, ...more
5

American History X Metacritic score: 62 American History X is a 1998 American crime drama film directed by Tony Kaye and written by David McKenna. It stars Edward Norton and Edward Furlong, and co-stars Fairuza Balk, Stacy Keach, ...more
6

Brokeback Mountain Metacritic score: 87 Brokeback Mountain is a 2005 American epic romantic drama film directed by Ang Lee. It is a film adaptation of the 1997 short story of the same name by Annie Proulx; the screenplay was written ...more
7

mikeyisawesome1 added

The Passion of the Christ Metacritic score: 47 The Passion of the Christ is a 2004 American epic biblical drama film directed by Mel Gibson and starring Jim Caviezel as Jesus Christ. It depicts the Passion of Jesus largely according to the ...more
8

ShelbyLegros added

The Green Mile Metacritic score: 61 The Green Mile is a 1999 American fantasy drama film directed by Frank Darabont and adapted from the 1996 Stephen King novel of the same name. The film is told in a flashback format and stars ...more
9

charlesminorversion1 added

The Exorcist Metacritic score: 82 The Exorcist is a 1973 American supernatural horror film directed by William Friedkin, adapted by William Peter Blatty from his 1971 novel of the same name. The book, inspired by the 1949 ...more
10

Irréversible Metacritic score: 51 Irréversible is a 2002 French mystery thriller film written and directed by Gaspar Noé, starring Monica Bellucci, Vincent Cassel and Albert Dupontel. The film employs a non-linear ...more
11

Precious Metacritic score: 79 Precious is a 2009 American drama film, directed and co-produced by Lee Daniels. Precious is an adaptation by Geoffrey S. Fletcher of the 1996 novel Push by Sapphire. The film stars Gabourey ...more
12

zxray added

Natural Born Killers Metacritic score: 74 Natural Born Killers is a 1994 American crime film directed by Oliver Stone starring Woody Harrelson, Juliette Lewis, Robert Downey, Jr., Tom Sizemore and Tommy Lee Jones. The film was released ...more
13

Seven Metacritic score: 65 Seven is a 1995 American psychological thriller film directed by David Fincher. The film stars Brad Pitt and Morgan Freeman, with Gwyneth Paltrow, R. Lee Ermey, John C. McGinley, and Kevin ...more
14

Antichrist Metacritic score: 49 Antichrist is a 2009 Danish experimental horror film written and directed by Lars von Trier, starring Willem Dafoe and Charlotte Gainsbourg. It tells the story of a couple who, after the death ...more
15

Salò, or The 120 Days of Sodom Metacritic score: 69 Salò, or the 120 Days of Sodom, commonly referred to as simply Salò, is a 1975 Italian-French art film written and directed by Pier Paolo Pasolini, with uncredited writing ...more
16

Kids

Metacritic score -

Kids is a 1995 American drama film written by Harmony Korine and directed by Larry Clark. It features Chloë Sevigny, Leo Fitzpatrick, Justin Pierce, and Rosario Dawson, all in their film ...more
17

zxray added

Deliverance Deliverance is a 1972 American dramatic thriller film produced and directed by John Boorman, and starring Jon Voight, Burt Reynolds, Ned Beatty and Ronny Cox, with the latter two making their ...more
18

Hostel Metacritic score: 55 Hostel is a 2005 American horror film written, produced, and directed by Eli Roth and starring Jay Hernandez. It is the first installment of the Hostel film series, followed by Hostel: Part II, ...more
19

zxray added

One Flew Over the Cuckoo's Nest Metacritic score: 79

One Flew Over the Cuckoo's Nest is a 1975 drama film written by Lawrence Hauben and Bo Goldman and directed by Miloš Forman.
20

NateinMpls added

A Serbian Film Metacritic score: 44 A Serbian Film is a 2010 Serbian erotic thriller and exploitation film, Srđan Spasojević's first feature film. Spasojević directed, co-wrote, and produced the film. It tells the story of a ...more
21

RodrigoSchmidt added

The Road Metacritic score: 64 The Road is a 2009 American post-apocalyptic drama film directed by John Hillcoat from a screenplay written by Joe Penhall, which is in return based on the Pulitzer Prize-winning 2006 novel of ...more
22

Leaving Las Vegas Metacritic score: 82 Leaving Las Vegas is a 1995 romantic drama film written and directed by Mike Figgis and based on a semi-autobiographical novel of the same name by John O'Brien. Nicolas Cage stars as a suicidal ...more
23

Black Swan Metacritic score: 79 Black Swan is a 2010 American psychological thriller-horror film directed by Darren Aronofsky and starring Natalie Portman, Vincent Cassel, and Mila Kunis. The plot revolves around a production ...more
24

Hard Candy Metacritic score: 58 Hard Candy is a 2005 vigilante thriller film focusing on the torture of a suspected sexual predator by a 14-year-old female vigilante. The film was directed by David Slade, written by Brian ...more
25

Silence of the Lambs Metacritic score: 84 The Silence of the Lambs is a 1991 American thriller film that blends elements of the crime and horror genres. Directed by Jonathan Demme and starring Jodie Foster, Anthony Hopkins, and Scott ...more
26

The Machinist Metacritic score: 61 The Machinist is a 2004 English-language Spanish psychological thriller film directed by Brad Anderson and written by Scott Kosar. The film stars Christian Bale with Jennifer Jason Leigh, John ...more
27

12 Years a Slave Metacritic score: 97 12 Years a Slave is a 2013 period drama film directed by Steve McQueen, based on the 1853 memoir by Solomon Northup In the antebellum United States, Solomon Northup (Chiwetel Ejiofor), a free ...more
28

The Elephant Man The Elephant Man is a 1980 American-British biographical film about Joseph Merrick, a severely deformed man in 19th century London. The film was directed by David Lynch and stars John Hurt, ...more
29

AndreaPoole-Presslor added

The Pianist Metacritic score: 85 The Pianist is a 2002 historical drama film co-produced and directed by Roman Polanski, scripted by Ronald Harwood, and starring Adrien Brody. It is based on the autobiographical book The ...more
30

slaft added

One Hour Photo

Metacritic score: 64

One Hour Photo is a 2002 American psychological thriller film written and directed by Mark Romanek and starring Robin Williams, Connie Nielsen, Michael Vartan, Gary Cole, and Eriq La Salle. ...more
31

AndreaPoole-Presslor added

Titanic Metacritic score: 74 Titanic is a 1997 American epic romantic disaster drama film directed, written, co-produced, and co-edited by James Cameron. A fictionalized account of the sinking of the RMS Titanic, it stars ...more
32

Hotel Rwanda Metacritic score: 79 Hotel Rwanda is a 2004 American historical drama film directed by Terry George. It was adapted from a screenplay written by both George and Keir Pearson. It stars Don Cheadle and Sophie Okonedo ...more
33

AndreaPoole-Presslor added

Saving Private Ryan Metacritic score: 90 Saving Private Ryan is a 1998 American epic drama war film set during the Invasion of Normandy in World War II. Directed by Steven Spielberg and written by Robert Rodat, the film is notable for ...more
34

AndreaPoole-Presslor added

Sophie's Choice Metacritic score: 68 Sophie's Choice is a 1982 American drama film directed by Alan J. Pakula, who adapted William Styron's novel of the same name. Meryl Streep stars as Sophie, a Polish immigrant who shares a ...more
35

Grave of the Fireflies Metacritic score: 97 Grave of the Fireflies is a 1988 Japanese animated drama film written and directed by Isao Takahata and animated by Studio Ghibli. It is based on the 1967 semi-autobiographical novel Grave of ...more
36

United 93 Metacritic score: 90 United 93 is a 2006 drama film written, co-produced and directed by Paul Greengrass that chronicles events aboard United Airlines Flight 93, which was hijacked during the September 11 attacks of ...more
37

JonMcLaughlin added

The Butterfly Effect Metacritic score: 30 The Butterfly Effect is a 2004 American psychological thriller film that was written and directed by Eric Bress and J. Mackye Gruber, starring Ashton Kutcher and Amy Smart. The title refers to ...more
38

Open Water Metacritic score: 63 Open Water is a 2003 drama psychological horror film loosely based on the true story of an American couple, Tom and Eileen Lonergan, who in 1998 went out with a scuba diving group, Outer Edge ...more
39

Dismalhead added

Dead Man Walking Metacritic score: 80 Dead Man Walking is a 1995 American crime drama film starring Susan Sarandon and Sean Penn, and co-produced and directed by Tim Robbins, who adapted the screenplay from the non-fiction book of ...more
40

The Last House on the Left Metacritic score: 42 The Last House on the Left is a 1972 American exploitation-horror film written, edited, and directed by Wes Craven and produced by Sean S. Cunningham. The story is inspired by the 1960 Swedish ...more
41

Scott Klingaman added

A.I. Artificial Intelligence Metacritic score: 65 A.I. Artificial Intelligence, also known as A.I., is a 2001 American science fiction film written, directed, and produced by Steven Spielberg, and based on Brian Aldiss's short story Super-Toys ...more
42

SokSopheak added

A Beautiful Mind

Metacritic score: 72

A Beautiful Mind is a 2001 American biographical drama film based on the life of John Nash, a Nobel Laureate in Economics. The film was directed by Ron Howard, from a screenplay written by Akiva ...more
43

AlexanderRay added

Philadelphia Metacritic score: 66 Philadelphia is a 1993 American drama film and one of the first mainstream Hollywood films to acknowledge HIV/AIDS, homosexuality, and homophobia. It was written by Ron Nyswaner, directed by ...more
44

Martyrs Metacritic score: 55 Martyrs is a 2008 horror film written and directed by Pascal Laugier. It was first screened during the 2008 Cannes Film Festival at the Marché du Film, and the film's French release was ...more
45

Dancer in the Dark Metacritic score: 61 Dancer in the Dark is a 2000 Danish musical drama film directed by Lars von Trier and starring Icelandic singer Björk, Catherine Deneuve, David Morse, Cara Seymour, Peter Stormare, Siobhan ...more
46

zxray added

Super Size Me Metacritic score: 73 Supersize She is a 2005 television documentary focused on British professional female bodybuilder Joanna Thomas. The title was a take-off on the success of the film Super Size Me. The one-hour ...more
47

Audition Metacritic score: 69 Audition is a 1999 Japanese psychological horror-drama film, directed by Takashi Miike and starring Ryo Ishibashi and Eihi Shiina. It is based on a Ryu Murakami novel of the same title, from a ...more
48

The Revenant The Revenant is a 2015 American semi-biographical epic western film directed by Alejandro G. Iñárritu. A frontiersman (Leonardo DiCaprio) on a fur trading expedition in the 1820s ...more
49

FrankLehmann added

Memento Metacritic score: 80 Memento is a 2000 American neo-noir psychological thriller film directed by Christopher Nolan. The screenplay was written by Nolan based on his younger brother Jonathan Nolan's short story ...more
50

Prisoners Metacritic score: 74

Prisoners is a 2013 crime drama thriller film written by Aaron Guzikowski and directed by Denis Villeneuve.