Sports
The Greatest NXT TakeOver Matches Of All Time

Updated July 31, 2019
2.7k votes
542 voters
14.1k views
15 items
List Rules Vote up the NXT TakeOver matches that delivered the most thrills, drama, and athletic artistry.
Even though it's supposed to be a developmental program for the WWE, NXT has earned a reputation as one of the most reliable wrestling promotions in the world. Fans anticipate every NXT TakeOver card about as much as major pay-per-views like WrestleMania or SummerSlam, with memorable matches that put NXT superstars on the map well before their main roster debuts.
TakeOvers began as sporadic WWE Network events to draw more attention to the talent on WWE's third brand, NXT. The shows filmed at the black-and-gold brand's home base, Full Sail University in Florida, and often felt like an extended (albeit very good) episode of the weekly series. This quickly changed as these specials started producing dynamic, dramatic bouts that held their own against the best WWE moments of all time. With all of the memorable contests to take place on NXT's black mat and new NXT matchesmatchest all the time, it's hard to pick just one as the greatest NXT TakeOver match of all time.
Andrade Cien Almas Vs. Johnny Gargano - NXT TakeOver: Philadelphia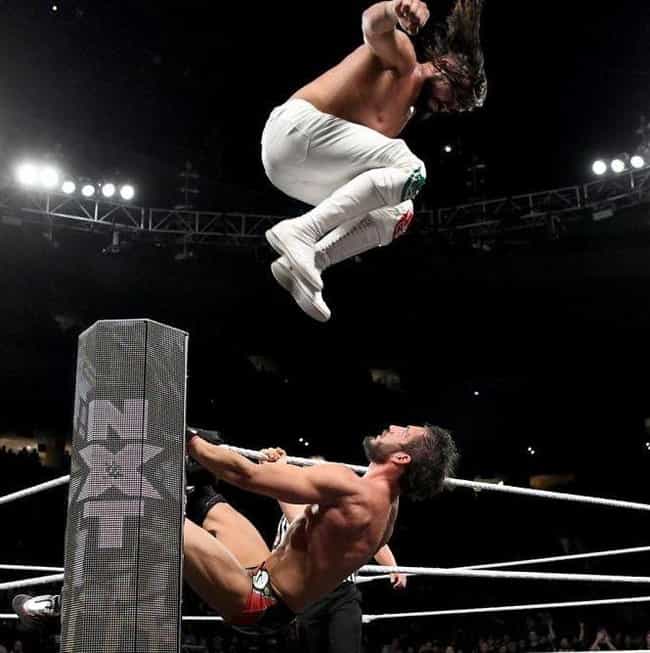 On paper, fans expected this match to be good. No one ever expected it to be the first WWE match to get five stars from Dave Meltzer since Punk/Cena at Money In The Bank 2011.
Almas and Gargano hit each other with everything they could. Seemingly every variation of the DDT was used in thrilling fashion, with too many near-falls to count. When Gargano's wife Candice LaRae hopped the barricade to spear Zelina Vega, the crowd blew up. The ending sequence where Almas hit his double knees into a prone Gargano slumped against the ring post was vicious, and his final hanging top-rope DDT not only earned a standing ovation from the crowd, but cemented him as a bright star in WWE.
Johnny Gargano Vs. Tommaso Ciampa - NXT TakeOver: New Orleans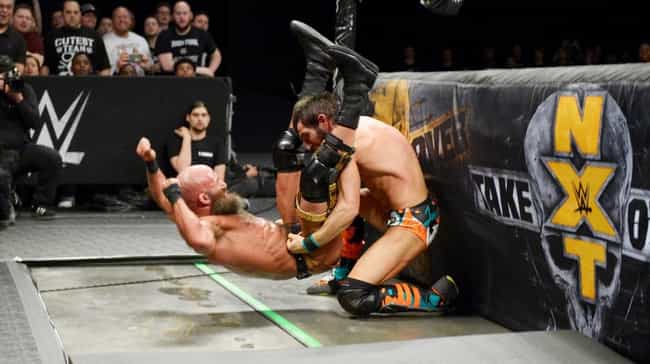 Drama makes for the best wrestling matches, and this contest between Johnny Gargano and Tommaso Ciampa was overflowing with drama. The feud between former the NXT Tag Team Champions brewed and then boiled over without Ciampa even setting foot in the ring for the better part of a year. While fans were ready to boo him for attacking Johnny Wrestling at TakeOver Brooklyn III, Ciampa's use of social media built even more heat and earned him the title of "Blackheart."

Ciampa and Gargano's "unsanctioned" match at NXT TakeOver: New Orleans was a clear highlight of WrestleMania weekend and one of only three NXT matches to have ever earned 5 stars from Dave Meltzer. The moment when Gargano went to clock Ciampa with his broken crutch and stopped was one of the most heartfelt and emotional moments many fans ever witnessed inside of a ring. Ciampa turned down that moment of mercy, leading to a epic finish with Gargano using the Blackheart's own knee brace to lock in the Gargano Escape and submit the heel.
Adam Cole Vs. Ricochet Vs. Lars Sullivan Vs. Killian Dain Vs. EC3 Vs. Velveteen Dream - NXT TakeOver: New Orleans
Shawn Michaels and Razor Ramon put the ladder match on the map at WrestleMania X. The Hardys, Dudleys, Edge, and Christian redefined it at WrestleMania 2000. The six men involved in the ladder match at NXT TakeOver: New Orleans turned the ladder match into a work of art by blending contrasting styles into a symphony of devastation. The aerial brilliance of Ricochet, brute force of Sullivan and Dain, fearlessness of Velveteen Dream, and veteran ring awareness from EC3 and Cole created a perfect storm for what might be the greatest ladder match of all-time.
Pete Dunne Vs. Tyler Bate - NXT TakeOver: Chicago I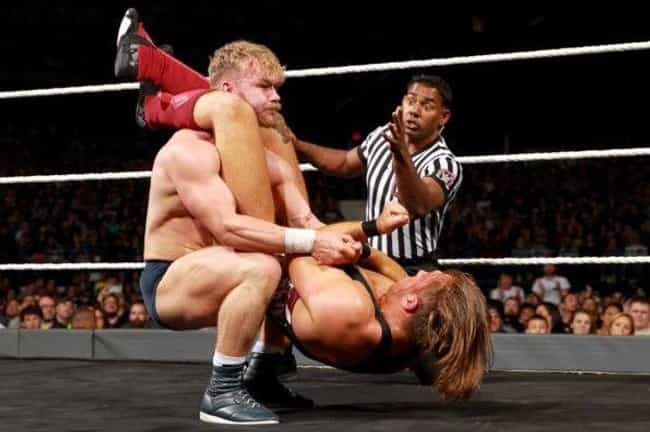 When Pete Dunne and Tyler Bate walked into their bout at NXT TakeOver: Chicago, they received polite applause. After their match, they received a standing ovation. Fighting for the WWE U.K. championship, Bate and Dunne produced a clinic on modern British professional wrestling. They combined the traditional World of Sport style with lucha, Japanese Strong Style, and American sports entertainment.
The Chicago crowd leaped to their feet to cheer on the then 20-year-old Bate and 22-year-old Dunne as they threw punches in the middle of the ring. The crowd in the arena praised the match, and even respected wrestling figures like Jim Cornette became fans of the young Brits after the fight.