Board/Card Games
The Best Editions Of The Operation Board Game

103 votes
30 voters
1.7k views
20 items
List Rules Only licensed editions of the classic Operation board game.
The Operation board game is the classic silly skill game. It is a great way to teach hand eye coordination as both kids and adults try to remove funny ailments from Cavity Sam. Some would say the original is the best version of Operation but you should have a look at this list of special edition Operation board games. Now you can play different versions from your favorite shows and movies such as Family Guy, Disney Junior's Doc McStuffins Toy Hospital, and Trolls. You can even help save Dave the Minion in the Despicable Me 3 version. If you're a fan of science fiction be sure to check out the three Star Wars editions: Chewbacca, R2-D2 and BB-8 all need help with their custom ailments. Each collector's edition of the Operation board game comes with a unique set of Funatomy and their own lights and sounds!
There is also a Noah's Ark edition of the Operation board game where you help Noah collect all the animals before the flood. No matter what you are a fan of there is a version of Operation for you.
Vote up the best editions of Operation you like to play or would like to play the most!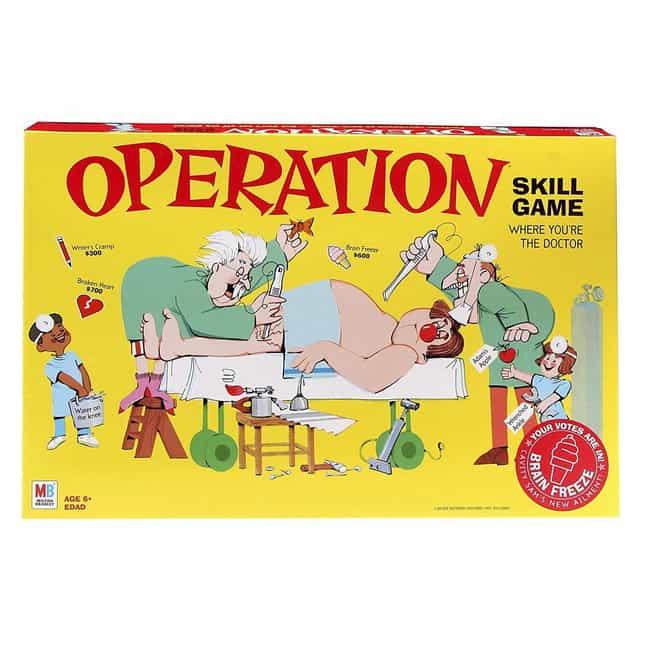 Features:
Take turns removing as many Funatomy parts as you can without setting off the buzzer.
Successfully removing the Funatomy parts earns you money.
The player with the most money at the end of the game wins!
Price: $19.99
Operation is a battery-operated game of physical skill that tests players' hand-eye coordination and fine motor skills. The game's prototype was invented in 1964 by John Spinello, a University of Illinois industrial design student at the time, who sold his rights to the game to Milton Bradley for a sum of USD $500. Initially produced by Milton Bradley in 1965, Operation is currently made by Hasbro, with an estimated franchise worth of USD $40 million. The game is a variant on the old-fashioned electrified wire loop game popular at funfairs around the United States. It consists of an "operating table", lithographed with a comic likeness of a patient with a large red lightbulb for his nose. In ...more on Wikipedia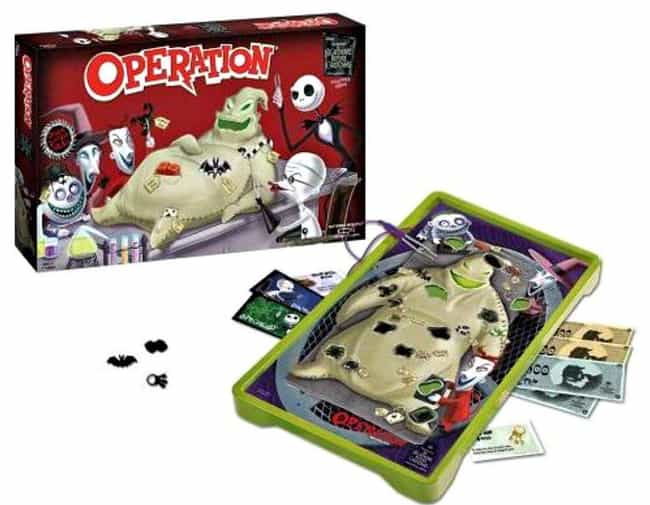 Features:
Play the classic game with your favorite characters from Nightmare Before Christmas.
Operate on Oogie Boogie!
Remove the 12 custom Funatomy pieces without setting of the alarm.
Price: $49.99
Tim Burton's The Nightmare Before Christmas 3D is a 2006 3D version of the 1993 film of the same title directed by Henry Selick and written by Caroline Thompson. ...more on Wikipedia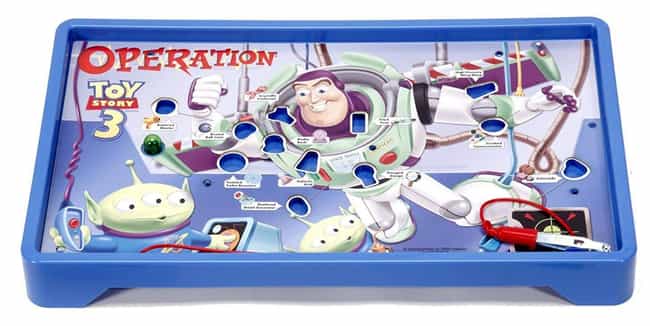 Features:
Help Buzz Light Year overcome galactic ailments.
Use the tweezers and avoid the laser sounds!
Includes 12 unique plastic galactic ailments.
Price: $33.99
Toy Story 3 is a 2010 American 3D computer-animated comedy film, and the third film in the Toy Story series. It was produced by Pixar Animation Studios and released by Walt Disney Pictures. Directed by Lee Unkrich, the screenplay was written by Michael Arndt, while Unkrich wrote the story along with John Lasseter and Andrew Stanton, respectively director and co-writer of the first two films. The film was released worldwide from June through October in the Disney Digital 3-D, RealD, and IMAX 3D formats. Toy Story 3 was the first film to be released theatrically with Dolby Surround 7.1 sound. The plot focuses on the toys Woody, Buzz Lightyear, and their friends dealing with an uncertain future ...more on Wikipedia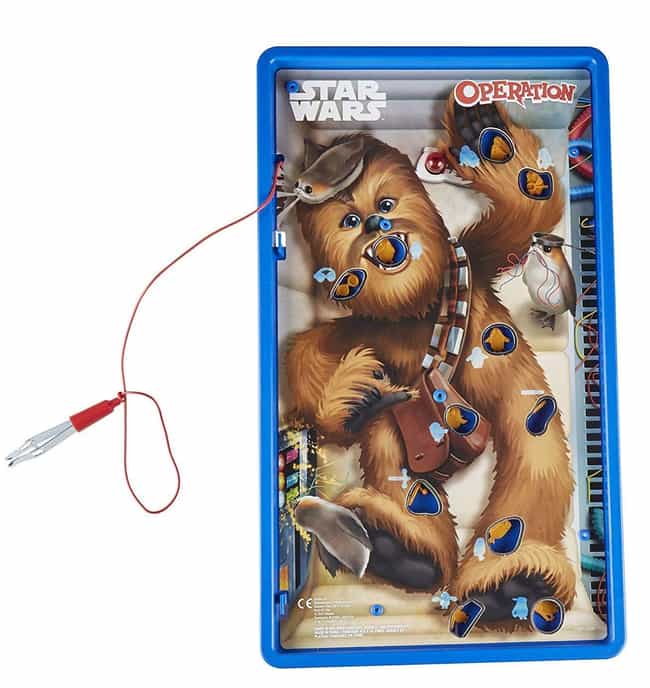 Features:
Help Chewie by removing Porgs from his hair!
11 unique Porg pieces
Remove the most Porgs to win!
Price: $19.55
Chewbacca, or "Chewie," is a fictional character in the Star Wars franchise. Chewbacca belongs to the Wookiee species, who are tall, hirsute bipeds native to the planet of Kashyyyk. Chewbacca is fiercely loyal to Han Solo, and serves as co-pilot on Solo's Millenium Falcon. Chewbacca was portrayed by actor Peter Mayhew in the Star Wars films. The character has also appeared on television, in books, comics, and video games. ...more on Wikipedia